It was supposed to be a day in which the old guard at Michigan was supposed to take it on the chin one final time. The death knell of Lloyd Carr's tenure, and on the grander scale, the era of Schembechler, was supposed to roll over and die one final time, reassuring the masses that the change was necessary. We were all supposed to sit back and take it as The Annointed Tebow did to us what so many had done in the past. McNabb. Kustok. Smith times three. Young. Edwards. Dixon. The cards had all been laid out. The future had already been predetermined based on the past. With the heir to the Michigan football throne in attendance, the Wolverines took the field with a nation watching, expecting to throw out the same old cliches: Typical Big Ten team. Slow. Plodding. SEC speed. Predictable.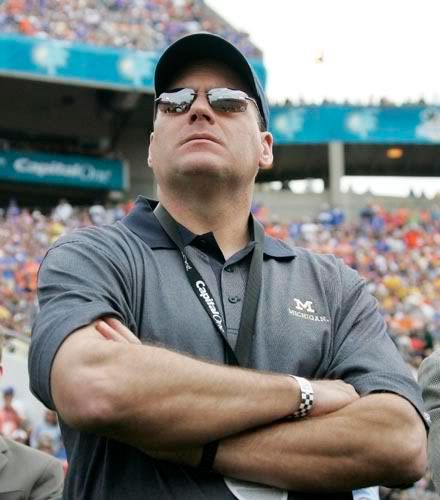 Every single factor one could conceive went against Michigan heading into New Year's Day. The game had passed Carr by. Henne and Hart didn't know how to win the big game. The defense was still too slow. Tebow is invincible. Michigan is just like Ohio State from last year, too slow and too lazy to keep up with the Gators. When it was over we were supposed to recycle the same old schtick that we were just a bunch of lumbering neanderthals dragging our knuckles up here in the snow and we would always be burned by the speed demons from the South that played with fire.

For a half, they teased us. The offense, led by a healthy and hungry Henne and Hart, caught everyone off guard, going to the shotgun more often than not and moving the ball at will against a young Florida defense that didn't have any idea what hit them. The same offensive line that spent November 18th scraping themselves off the ground spent New Year's Day feasting on the Gators in their own backyard. The wide receivers that have long been speculated to have been going through the motions en route to Sunday ball spent the holiday blazing past the Florida secondary. And the two faces of the team, the seniors who returned in 2007 expecting so much but getting so little, thrilled us. They each turned it over once in the first half, but mixed in enough brilliance to enthrall us. Any Michigan fan who tried to detach themselves before the game started was drawn in slowly.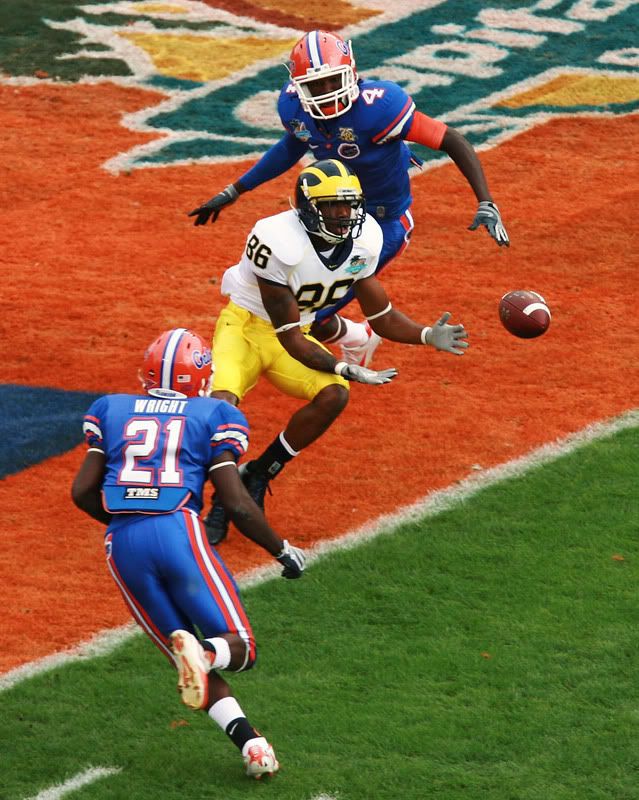 What the hell was going on? Michigan 21-14 at halftime? Over Florida? MICHIGAN with almost 300 yards of offense in one half? They don't know it's a damn show, they think it's a damn fight!

Except there was one factor no one thought about; one factor nobody considered: the love and loyalty those players that wear the winged helmets have for their coach. They hear all the abuse he takes, they read the newspapers. They know they were supposed to show up, take the beating from Tebow and Meyer, smile, and leave. And in that moment, they stole the zippo from the Gators and burned them with their own weapon. In the ultimate irony in a world full of them, Michigan, while saying goodbye to 3 yards and a cloud of dust forever, used the spread to burn the team that does it the best.

The team that for so long was like classical music - nice to listen to but totally outdated - was suddenly turning into the Rolling Stones.

A 21-14 halftime lead turned into an ambush onside(ish) kick and a 28-14 lead. The Gators wouldn't roll over, though. Not until they had the Wolverines in their jaws. The Tebow Show carried Florida back to within a touchdown. It took the suddenly fast Wolverines five plays to go 56 yards though, and Mike Hart carried the ball on first and goal from the 6. He burst through a small hole, and as he was being dragged down, stretched for the goal line. And then the world burst into flames, as the unthinkable happened. Not one, but TWO lost fumbles by Hart inside the five? There is no god. There was blood in the water now, and Gators love that. 8 plays later, tied up, 28-28.

Michigan answered with a field goal, and I grimaced. Flashbacks to the 2005 Rose Bowl filled my mind, with Vince Young scoring fourth quarter touchdowns while Michigan kicked field goals - bringing a knife to a gun fight. On this day though, Michigan's defense was paradoxical. They didn't contain Florida's offense; Percy Harvin ran wild and Tebow DID score four touchdowns. But this was the first time in a long time I watched and was still proud of the defense despite giving up yards and points. I knew the defense was outgunned. If Dave Harris, LaMarr Woodley, Prescott Burgess, Alan Branch and Leon Hall had been in this game under the same conditions, the Gators would've been carrying bodies off the field. But those guys weren't here. In their place was the maligned defense still carrying the stigma of Appalachian State and Oregon. Here was Morgan Trent, still trying to redeem himself for the Ohio State and USC games of 2006, chasing down Percy Harvin 66 yards downfield on a possession that ended with a blocked field goal. Here was Jamar Adams, a safety with all the tools except the infuriating tendency to take very bad angles. Here was Shawn Crable, the lone assassin in the linebacking corp, the holdover from the Burgess-Harris-Crable trio of death. Crable had always been the freelancer of the group, playing with an edge that allowed him to deliver heartstopping blows but at the same time making him reckless and not fundamentally sound. Here was Tim Jamison, the 3rd wheel of the 3-headed defensive end monster that terrorized quarterbacks in 2006. Only Woodley and Biggs were gone, and he was stuck trying to replace them. Here was Terrance Taylor, trying desperately to be Alan Branch.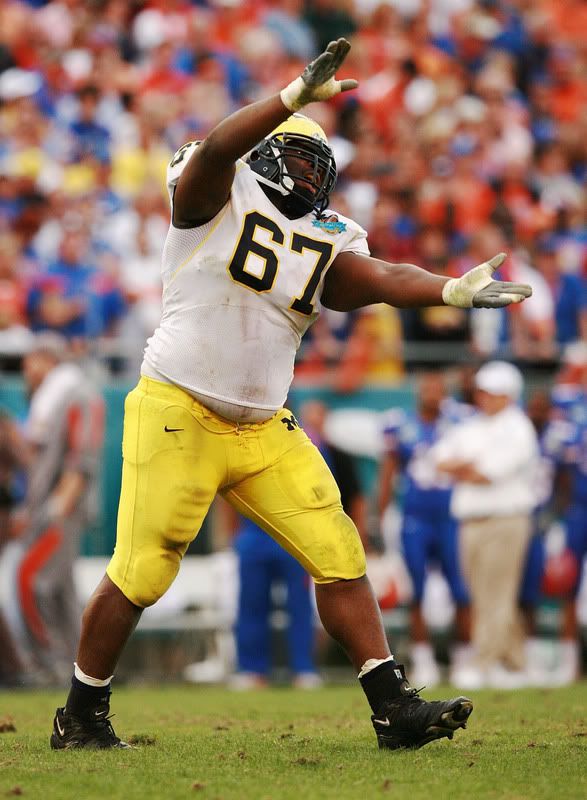 And leading them all was Ron English. He's a very polarizing figure in Michigan circles. At one end, he's either the fire-breathing ass kicker that gets the very best out of all his players and can recruit with the best of them. At the other, he's the one whose defense laid out spread eagle for Ohio State, Southern California, Appalachian State and Oregon. There was a middle ground, suggesting that he was a great coach simply being held back under the omnipresent conservative Carr. We'll personally never know, because Ron English is gone now, headed to Louisville. This was known before the game - and still English was the one who said what no one else would: that this was all for Coach Carr, that the defense would make Tebow pay every time he dared to take off. It was English whose defense finally rose up in the dying minutes, forcing six straight incompletions and two fourth down stops to clinch the first bowl victory any of these players have ever known. It was English who wept openly after the game was over. Why exactly, is unknown. It could've been because of the victory. It could've been because he had fulfilled his promise that his defense wouldn't lose this for Coach. It could've been because he knew this chapter of his coaching career and life was closed.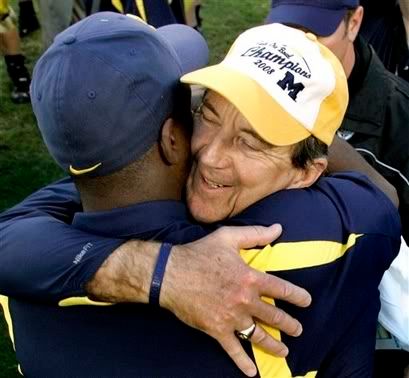 When Florida took the lead with less than six minutes to play, I refused to give up. For the first time in forever, I didn't resort to cynicism and pessimism to lessen the blow of impending doom and defeat. Instead, I waited anxiously. On a day where Michigan was running the spread and handoffs to Manningham and passes between the hashes and turning the ball over on trick plays and tipped screens and still putting up 500 yards and still having a chance to win, I knew that all things were possible. And apparently Adrian Arrington did, too. He definitely brought his good gloves to Orlando.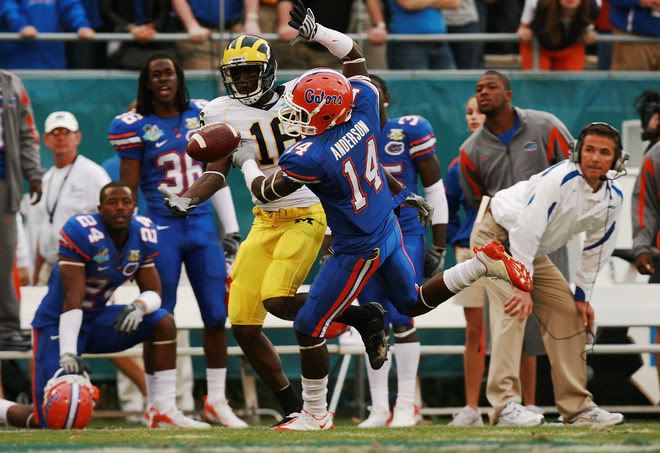 I didn't realize how badly Michigan's defense wanted this game until the final play they were on the field for. 4th and 10 for Florida, and Tebow rolled out to his left, threatening to run. In the past, Dennis Dixon gets to the corner and sprints for the first down. Or Vince Young gets the corner and breaks an arm tackle and runs for 40 yards. Or Troy Smith breaks a tackle and finds Ted Ginn open 25 yards downfield. This time however, as Tebow headed for the corner, Obi Ezeh appeared before him, and the Heisman winner flinched, recoiling back and throwing up a lame duck pass across the field. It was slapped away, and with it five years of frustration went with it. Finally, Michigan fans welcomed the new year with a smile. Since the 2003 Outback Bowl, we've endured two humilating losses in the Rose Bowl to USC, a clusterfuck of an Alamo Bowl loss to Nebraska, and a Rose Bowl groin kick by Texas that still haunts my nightmares. All of that was extinguished deep in SEC territory, against the team that represents all that the SEC represents in its purest form - speed.

When it ended, I found myself conflicted. I had truly not anticipated victory in this battle. I had resigned myself to the fact that Michigan would lose the game, Lloyd would retire, and the Rich Rod era would begin. That was it. And now the game was over and Michigan had more points and Lloyd was being hoisted onto his players shoulders and there was jubilation and celebration by Michigan fans and players and Lloyd was nearly in tears giving his final postgame interview on the field. And in that moment, nothing else mattered. All the wrongs that I had laid at Coach Carr's feet over the years, all the disdain I threw at him for the AppSt and Oregon debacles; none of it mattered anymore, because dammit storybook endings were real for today, and everything in the world was right.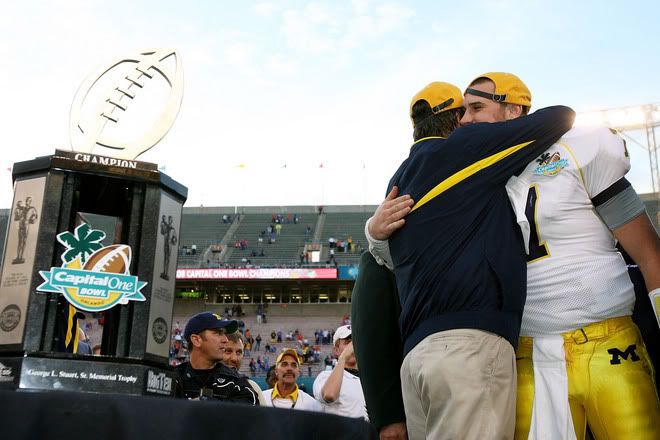 When the dust started to settle, I felt a wave of remorse fall over me. I thought about guys like Scot Loeffler, Ron English, Soup Campbell. Guys who either won't be back or might be back or are already gone. They poured their hearts and souls into this program for so long, and finally, they get something in return, only to be gone 24 hours later. It's a sobering slap in the face that the world isn't fair, but it is what it is. For now, we bask in the glory. The glory of seeing those we cheer for the most finally having something to cheer about.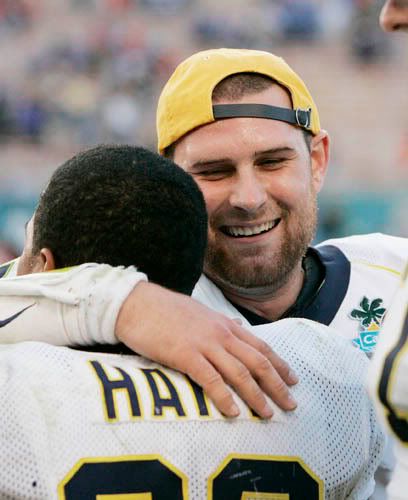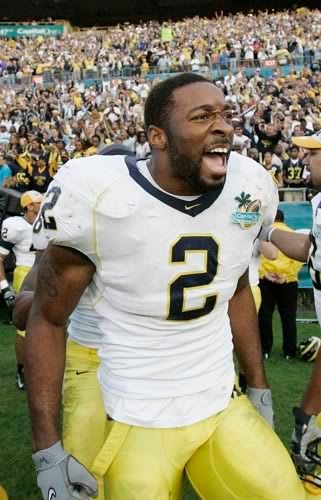 It seems fitting to end this post using a quote Coach Carr said to his players after the game yesterday. I direct it at every single player and coach that left it all on the field in Orlando less than 24 hours ago.

"So gentlemen, what a happy day you've given me to remember the rest of my life."