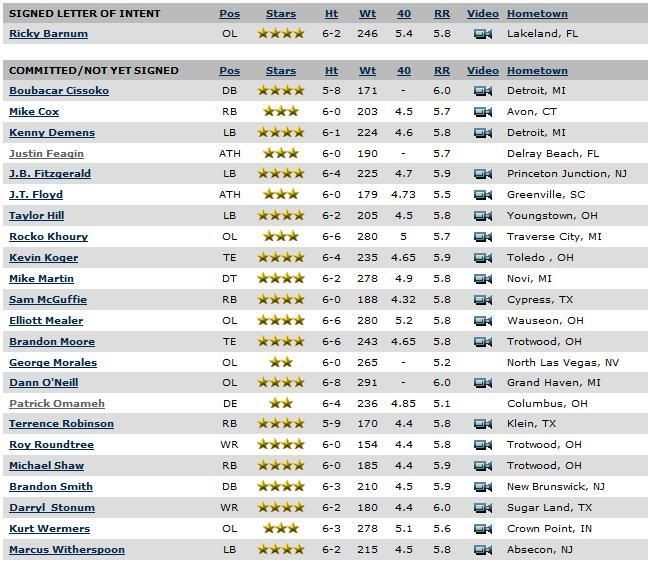 Notes:
-Added today: Barnum, Feagin, Roundtree, Shaw.
-O'Neill on signing his LOI: "It feels great. It's just a big load off my shoulders."
-Cissoko on signing his: "It's a relief, because now I won't have all the coaches calling me, and I can concentrate more on my schoolwork and getting better. I'm excited to be at Michigan, and I'm getting ready to do great things down there. I'm on the computer now, checking to see who else is coming."
-Yeah, about that...Nick Perry is NOT coming. Second straight year, USC gets the best player in the state. Ugh.
-Pryor news: There is no news. He held a press conference...to announce he's delaying his decision.
-McGuffie: Wavering. Late push by Cal (?!). Might know more later.

UPDATE: 21 of the 24 names on the list above are signed, sealed and delivered. The three that aren't are McGuffie (mentioned above), Kenny Demens and George Morales. Demens had a funeral to attend today and was unable to send his LOI in, but will soon. No word on Morales yet.

UPDATE #2: Per the list at MGoBlue.com, Demens' LOI is in.