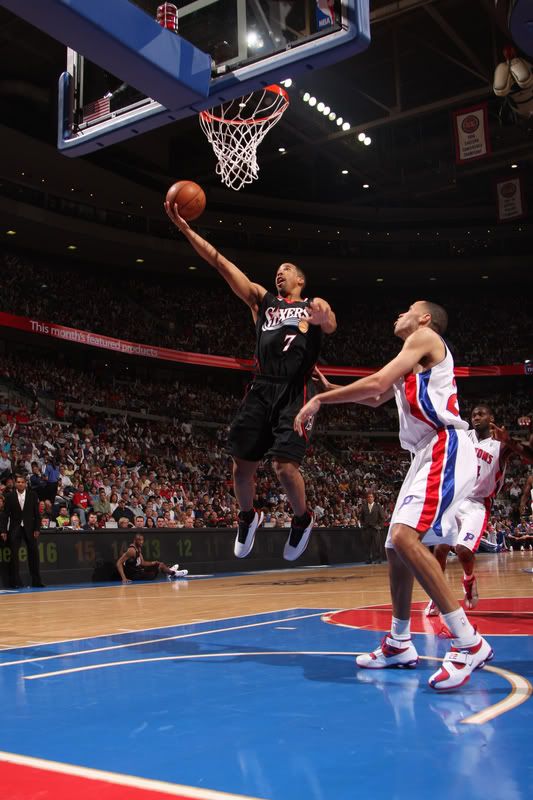 Philadelphia 90, Detroit 86; Eastern Quarterfinals, 0-1


Flip Saunders sucks. He sucks hard. He sucks harder than many females who choose to make money in the adult industry. That would be fine, if Flip Saunders wasn't being paid NOT to suck.
This is probably a kneejerk reaction; god knows I'm still really pissed. But in watching the Pistons shit away a 15 point 3rd quarter lead and losing their 5th playoff game in a row, I learned something.
This "team" is gutless.
They might man up and win this playoff series, maybe even the next. But when Chauncey Billups and Rip Hamilton are missing free throws in the 4th quarter, Tayshaun Prince is missing a wide open jumper to tie the game, and Rasheed Wallace blows what was essentially a layup to tie the game, that shows me that this team doesn't have that edge anymore. The balls to the wall, lay it all on the line mentality that won this same nucleus of players two Eastern Conference Championships and one NBA Championship is gone, and it didn't leave with Ben Wallace; it left with Larry Brown. It left with that homely looking old fellow who professed his love for his team in the heat of a timeout in Game 7 in Miami three years ago. Larry Brown's Pistons would never blow a 15 point lead in the 2nd half of a playoff game. Larry Brown's Pistons would never play the type of defense being shown in the above photo. Larry Brown's Pistons wouldn't get booed off the court at the Palace.
Flip Saunders, you're no Larry Brown.
You're just a flop. You're Larry Coker. You were given the keys to the Ferrari by Daddy Dumars, and you're crashing it. Instead of cruising in the fast lane winking at chicks, you're bumbling around like the fuckup that you are. You've taken the team that lost the most gut-wrenching of games to New Jersey in triple overtime in 2004 only to rebound and win on the road in Game 6 and turned them into a pack of mutts. You've taken the team that won crucial Game 6s in Orlando, Philadelphia, New Jersey, Indiana, Indiana (again), Miami and San Antonio, and turned them into a team that got blown off the court in Game 6s in Miami and Cleveland.
Don't worry, it's not ALL on you. The players have whimpered like whipped dogs when faced with adversity now. The thing is, they didn't act like that until YOU got here. They were an actual TEAM when Larry Brown coached them. When Larry Brown coached them, they delivered one world title and two conference titles. What have you brought? A whimpy defensive mentality, a fractured locker room, and back to back playoff fold jobs that leave us with disgusting tastes in our mouths for the summer.
Is it over? No. Not yet. After all, it's only one game. They could come out and go gangbusters on Philadelphia in Game 2 and win by 30. They could still win the series.
Will it be? You betcha. The other shoe will drop eventually. If not against Philly, then against Toronto or Orlando. If not against them, then against Boston. Nothing has changed. Well, that's not entirely true. The "fatigue" excuse is gone. Good job, Flip. You did the right thing resting the starters down the stretch and infusing the young talent on the bench. But you didn't do jackshit for that whole "holier than thou" attitude that the players have.
The attitude they developed after Larry Brown left.
LB's not coaching anywhere at the moment...is it too late to sack Flop and bring in LB for the postseason? Sort of like, a closer in baseball? Flop's got nothing left, where's the hook? Send in LB from the bullpen!