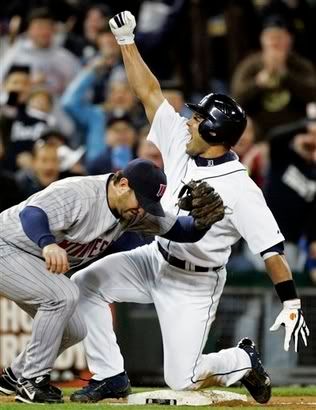 Detroit 11, Minnesota 9; 3-10, 5th place

On April 17, 2006,
the
Tigers lost to the Indians 10-2
at Comerica Park. After a 5-0 start, that loss dropped them to 7-6. After the game,
Jim Leyland unleashed his fury on his ballclub in the form of a booming, expletive-laced tirade:
DETROIT (AP) -- The Cleveland Indians beat the Tigers so badly Jim Leyland was compelled to unleash a booming, expletive-filled tirade that could be heard outside the clubhouse.

Detroit's Chris Shelton hit his major-league leading ninth homer, but it wasn't enough to overcome Paul Byrd's seven solid innings or a six-run third in Cleveland's 10-2 victory over the Tigers on Monday.

"We stunk," Leyland said while speaking to reporters for less than a minute, a terse session that ended with him abruptly storming out of his office. "The whole ball of wax was lackluster.

"It's been going on here before."
The Tigers lost the next day in Oakland before railing off 28 wins in their next 35 games, putting them at 35-14 and sitting pretty for a playoff run. The ignition to the hot streak, where everything clicked and it was evident that Leyland's rant had worked?
April 20th in Oakland,
where the Tigers scored three runs in the 9th, turning a 3-1 deficit into a 4-3 win.
Fast forward to the present now
, where the "mighty" Tigers have been pussy cats for the entire season up to now. Prior to last night, I was planning on doing a post tearing down basically every person in the front office and dugout; that has, for the moment, been shelved now while we wait and see what the latest will bring.
What's the latest?
Another Leyland explosion,
this one after an embarrassing 11-0 loss in Chicago that bottomed the Tigers out at 2-10 and saw them make the final nine outs of the game on just 24 pitches.
The response? A stirring 6-run 8th inning last night, turning another ugly outing into a surprising 11-9 win over the Twins.
Time will tell now. If the Tigers follow this up with another series of humiliating performances that plunge them deeper into the cellar, then that rant I had planned will explode here. This is a team that is full of prideful men that haven't played like it so far; they've been playing for their paychecks and the names on the back, not the Olde English D on the front. Leyland has been anything but innocent in all of it, too. The Tigers have been entirely mediocre since the All Star Break in 2006, and it has become apparent that Leyland's specialty is rallying the troops when nobody believes in them. Was the whitewashing in Chicago the wakeup call they finally needed?
Was the venom spewed by Leyland enough to make these sleeping cats lie no longer?