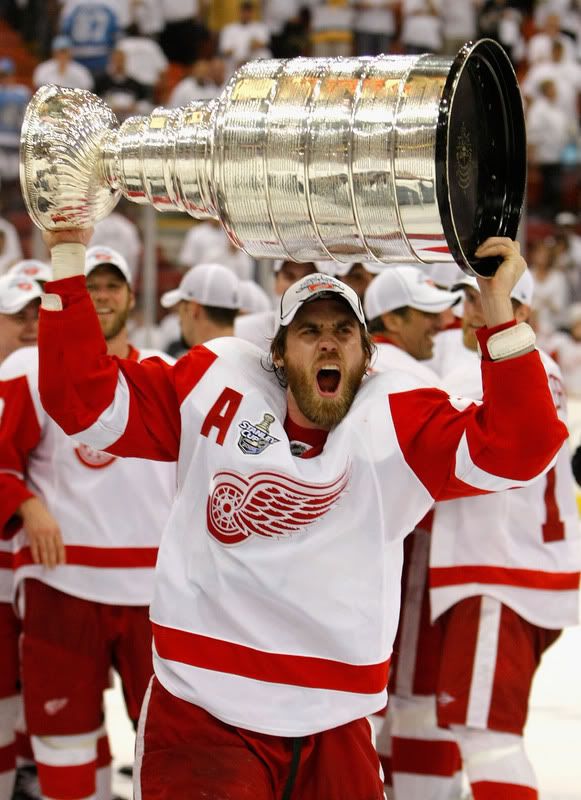 Detroit 3, Pittsburgh 2
STANLEY CUP CHAMPIONS, 4-2


It was so sweet when the Pistons won in 2004, defying the odds by beating the Lakers. It was magical when the Tigers got off the mat and made a cinderella run to the World Series.
But make no mistake - this is Hockeytown.
And tonight, the Red Wings reclaimed the city as theirs.
If you'll excuse the theft of a trademark used for another Detroit team...
Bless you, boys. Bless you. And thank you for bringing Lord Stanley's Cup back to where it belongs.
I'm sure I'll have something more poetic and reflective tomorrow or the next day...but the adrenaline high isn't over. I'm going to rewatch the last 2:00 of this game 100 times tonight.
So for now, I shall conclude this post with incoherent, delirious championship babble...
Ready, set...
OMG YES YES YES WELCOME BACK STANLEY THANK YOU OZZIE THANK YOU HANK F OFF CROSBY THANK YOU BABCOCK YOU LOVEABLE DRUNKEN MASTER OF A COACH I ALREADY ORDERED MY T-SHIRT YAY YAY YAY STANLEY