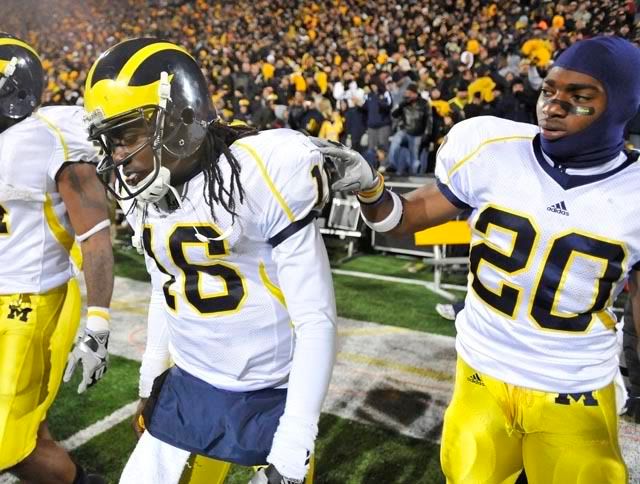 Iowa 30, Michigan 28; 4-2 (1-2)
Okay, not really. I don't really hate being a Michigan fan 90-95% of the time.
Tonight just happens to fall into the other 5-10% when I do.
Not because of what happened on the field. There have been worse losses than this, and there will be worse losses than this in the future. So why does this stand out? Because just like Michigan State fans being unable to handle prosperity, Michigan fans cannot handle adversity. One coaching decision, of which the average fan has almost zero real knowledge about, and the Michigan internet burns like it's 2008 all over again. I suppose in some way allowances should be made. Michigan has never been "bad" before. Essentially every fan, irregardless of age, is used to Michigan being a good team. So after 3-9, everyone's a little fucked up in the head, and every misstep from here on out is cause for alarm and cliff jumping and general insanity on the internet. Nobody wants to hear about the youth that still dominates this team, or about the patchwork defense that is still shuffling people around, trying to find a combination that works. Everyone who watches the game from the comfort of their couch with a beer in their hand is an elite head coach who has a 1.000 winning percentage, and to see something transpire on the television in front of them that they don't agree with is abominable and unacceptable.
The truth is this: Nobody - not you, not I - was on the sideline tonight in Iowa City. Not a single person passing judgment right now knows what went on when Rich Rodriguez talked to Tate Forcier on the sideline, what he saw in his body language, or what he saw when he looked him in the eye. I don't want to hear any of this crap about how Forcier led three game winning/tying drives to date. Coaches, in every sport, cannot base decisions on anything other than what is happening right in front of them. And what happened in front of them is this:
Passing         Cmp-Att-Int Yds TD Long Sack
--------------------------------------------
Forcier, Tate     8-19-1     94  0   35    0

He played terribly. He looked rattled, turned the ball over twice, did his usual thing of throwing into coverage, and above all, he looked like he was sulking on the sideline. Denard Robinson, on the other hand, went into the game for the first time and led a 59-yard touchdown drive. What's that cliche about "the meaning of the word 'insanity'"? Something like, insane is when you try to do something over and over and expect different results. Tate Forcier had shown nothing in this game to make the coaches believe he would suddenly snap out of it and lead a game winning drive. Using his performances against Notre Dame, Indiana and Michigan State as justification doesn't work. None of the above are Iowa. This was the best defense we've faced this year, and Forcier played like it. If Rodriguez had put Forcier back in and he threw an interception in double coverage, or yakety sax'd the snap, then everyone's getting their torches and pitchforks out about RR going away from the QB that just scored a touchdown for us and instead putting in the one who played badly all night long. It's a no-win situation.
Look, I understand. The basis of all this goes above and beyond Michigan Football. It's a sample of where we're at in society as a whole, really. We all demand immediate results immediately, and anyone who fails to deliver flawlessly must be ridiculed and berated to the point of humilation. I'm not saying coaches should be above reproach. Not at all. Hell, I criticized some of the playcalls last week. But there are people literally making complete fools of themselves tonight. Was no one versed on the 24 hour rule? In the wake of a disappointing loss, do yourself a favor and unplug your computer. Go for a walk. Go binge eat chocolate. Go sleep it off and then come back tomorrow. Posting stupid shit like "If Tate is not injured, I'm not sure how much longer I want RR", "RR lost this game for us" and "RR IS TRYING TO RUN TATE OFF" makes you look foolish. RR lost the game for us? Really? The team was poorly coached? Really? I saw a Michigan team control the line of scrimmage on both sides of the ball for the majority of the game, stuff the run and score three rushing touchdowns on a team that hadn't allowed one in almost a year. I saw a secondary composed of a corner-turned-safety-turned-corner, two strong safeties - one of which being a walkon - and one superstar play about as well as it can.
This is a flawed team. People have been saying this for a long time now, and the masses still feel the urge to PANIC when the flaws are exposed. I saw Michigan finish -4 in turnover margin, suffer a couple total breakdowns on defense on the road at night against the #12 team in the country...and lose by two points. A year ago, Michigan loses this game by four touchdowns. I'm not big on moral victories at all, but if you're blinded by anger to the point where you can't see the progress this team has made because of one close loss, then I question your fortitude. I question your foresight and your ability to see the big picture, because every fan screaming about "that hillbilly Rodriguez" was screaming about John Beilein benching Manny Harris seven months ago at Iowa, leading to an overtime loss with Michigan's NCAA chances teetering on the brink of destruction.
One of the cornerstones of Rich Rodriguez's program is that your job is never safe. We've celebrated that philosophy for 22 months now. We embraced the thought that you better work your ass off and you better do your job correctly, because the guy behind you will never stop gunning for you. And then we see that very philosophy being practiced right in front of our eyes tonight, and everyone keels over and wretches. Tate Forcier didn't do his job, so he was replaced, and his replacement executed brilliantly.....and nobody's happy. I guess everyone subscribed to the thought of results-based employment in theory only? Me personally, I'd rather see the guy doing a better job in there. It didn't work tonight. Shit happens. Everyone involved is going to be better for it. If the price of teaching our freshman quarterbacks a lesson they need to learn is one isolated loss in their second road game ever, then I'm buying.
Of course, I don't expect this to ease anybody's pain. I just hope that when the alcohol wears off and the anger fades away, some people possess the capability to stand back and look at the bigger picture.