DeShawn Sims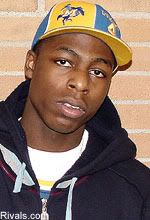 Small Forward/Power Forward, 6'7, 222
Detroit, Michigan; Pershing High School
Rivals:
4 stars, #6 PF, #31 overall
Scout:
4 stars, #9 SF, #44 overall
Committed to Michigan - August 12, 2005
Corperryale "Manny" Harris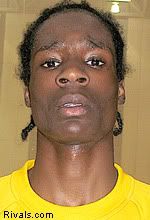 Shooting Guard, 6'4, 170
Detroit, Michigan; Redford High School
Rivals:
4 stars, #6 SG, #34 overall
Scout:
4 stars, #12 SG, #57 overall
Committed to Michigan - July 10, 2006
It was clear after the 2008/2009 season that, eventually, an ode to Manny Harris and DeShawn Sims would be necessary. Just like
Mike Hart
,
Chad Henne
, and
Mario Manningham
in football, the Detroit Duo left a mark on the program that is worth remembering, recollecting, and recapping.
Unfortunately, as per the usual in our wretched M existences now, what appeared to be headed for a storybook ending ended like that stupid Nicolas Cage movie. Which one? I don't know, there are a lot of them like that. But what looked like a story of redemption in the wake of backdoor cuts against UCLA and drives through the lane for dunks against Duke ended with putrid, ghastly, abortions in 2009/2010, and the image of Evan Turner strutting off the court in Indianapolis as Thad Matta screamed and flailed like a chipmunk on uppers.
Neither Manny Harris nor DeShawn Sims signed on for what they got. Both committed to play for Tommy Amaker, and ended up with John Beilein. But unlike those with
prophets for parents
and those who
didn't "fit"
, Manny and DeShawn stuck around and took us for a two-year roller coaster ride. Erratic at times, dominant at others, they were the closest Michigan's had to "elite" basketball players in some time. And for flashes over the past two seasons, they showed things that Daniel Horton and Dion Harris and Courtney Sims never could - the ability to excel under pressure. My lasting image of Harris and Sims is one of a complete breakdown in basketball fundamentals at the end of the 2007 regular season against the Greg Oden/Mike Conley Buckeyes - a game Michigan had no business being in, but was in nonetheless, until they displayed all the characteristics that made the Amaker era infuriating. Missed free throws, blown dunks and layups, and a 10-0 run in the final minutes by Ohio State to beat Michigan 65-61.
It would've been easy for DeShawn and/or Manny to hit the road once John Beilein arrived. As Michigan fans, we've gotten used to hearing the whole "Oh, he doesn't fit the system" thing in both basketball and football. But I think it's a testament to both Beilein and Sims and Harris that they both stuck around and did their best to make it work. In the end, Beilein's a basketball coach, and Sims and Harris are good basketball players. It's not cut and dry like football. But I don't want this to be one of those posts. I probably made a mistake by mentioning football anyway. This isn't what this is for. This is for fondly remembering #3 and #34.
DeShawn,
the mild-mannered, always-humble one who never seemed to fit into either the small forward or power forward position. Sometimes he was unstoppable, especially when his jump shot was falling. Often times, he was our only real threat on offense, and most times that was a burden that was too much to bear. When asked to set up shop in the paint, he was hit or miss. He was never a dominant finisher at the rim, often missing simple layins, rarely finishing with an emphatic dunk. We remember his dominance in the 2009 Big Ten Tournament against Iowa, which finally sent Michigan back to the NCAA Tournament. We remember this year's MSU game, where he was inches away from being a hero, despite being so obviously fouled. What's the lasting image of DeShawn Sims in a Michigan uniform?
Here's mine:
One of basketball's most fundamental plays, the backdoor cut, capitalized by a slam dunk and a player wearing a Michigan uniform running upcourt clapping his hands above his head in the world's most famous venue for basketball. That's DeShawn Sims. When I think of DeShawn, I think of the backdoor cut against UCLA that returned Michigan to some sort of relevance.
And then...
Manny
. I'm probably not the only one who gets a Mario Manningham vibe when thinking about Manny Harris's three years at UofM. Supremely talented, memorable moments...and yet a feeling that if his head had been on a little straighter, things could've been so much better. We all know the flaws in Manny's game - his jumpshot is sort of messy, he can be careless with the ball, he's too small to play small forward in the NBA, etc. We saw Manny's potential during his freshman year, which was for the most part a black hole of death. He showed flashes of what he was capable of, as Michigan lost 20 games. His sophomore year, he led us through the promised land, finishing off Duke at Crisler when he knifed through the lane and flushed the ball through the rim. We remember how he delivered Michigan's first NCAA Tournament win in over a decade with his and-one against Clemson. But for all the highs, it's hard to overlook the controversies. Being benched for overtime against Iowa his sophomore year. Being suspended this past year for the Purdue game. And now he leaves. It's pretty much unanimous that his NBA prospects aren't good, and the fact that he's hiring an agent (and closing the door on any possible return) makes it pretty clear that he butted heads with Beilein on multiple occasions. I was happy to see that Beilein was there with him at the press conference today. I hope it wasn't just for show, because if there's one thing Michigan basketball needs (aside from on the court stuff), it's former players embracing the program. We need Manny Harris to mean
what he said today
, about how his relationship with Coach Beilein is good and he will always support Michigan. This isn't
just
about Trey Zeigler, but it starts with him and expands. To land great recruits like that, Michigan basketball needs stars like Manny Harris to say, "Michigan is a great place."
I'm so tired of this, really. I truly am. I'm sick of writing these types of posts, bidding farewell to those who gave so much and got so little in return. Jesus, just wait until the Brandon Graham requiem post. Manny Harris and DeShawn Sims took a chance on Michigan. They could've picked pretty much any basketball program in America, and they took a chance on Tommy Amaker, and an even bigger one on John Beilein. They'll tell you they don't regret anything they've done. They had productive careers, led Michigan to a place it was 11 years removed from, and will get their shot at proving themselves at the next level. But as we face the specter of a 2010/2011 Michigan team, sans Manny, sans DeShawn...it's not a pretty picture.
I'm tired of scenes like this...
...where even our best isn't good enough anymore.
I long for the day where I can say farewell to a Michigan player and thank him for the beatings he put on those we detest the most, instead of only thanking him for the hard work he put in and awkwardly apologizing for how it didn't work out the way it should have or could have.
Goodbye, Manny and DeShawn. Thank you for taking a chance on Michigan. If the day should come where Michigan is great again, I hope to see the two of you back at Crisler to celebrate.