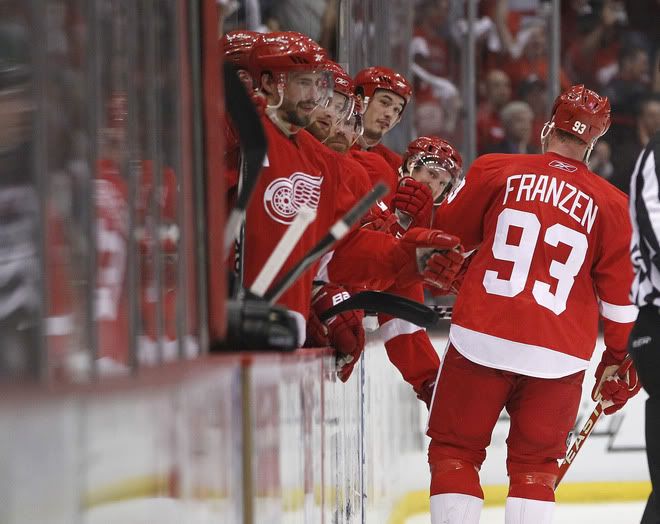 Red Wings 7, Sharks 1; Western Semifinals, 1-3
Well...there's that.

A lot of people are going to try to pump themselves up with hope now. After three straight one-goal losses that the Wings could've had if they had gotten a couple of breaks, it's easy to draw up some wild scenarios after a 7-1 ass kicking.

Well...save it.

There's a reason 0-3 deficits have only been overcome twice in the history of the sport, and never since 1975. Well, a couple reasons, actually. The number reason being, more often than not, the team in the 0-3 hole is there because simply put, they're not as good as the other team. But to delve a little deeper, it's borderline impossible to climb out of that hole because it's unbelievably hard to match the intensity required for four straight games. The Red Wings played tonight like their season depended on it - because it did. The Sharks played like they had the kind of cushion that allows for a throwaway game - because they did. It would be foolish to expect a similar outcome on the road in Game 5. The Sharks will play with much more intensity than they did tonight, and it will be quite a chore for the Red Wings to match the fire they brought in front of the home crowd in Game 4.

We'll see in a couple days whether tonight was the groundwork for history to be made, or if it was the final salvo of a champion whose time has come. I have prepared something in advance when the moment comes that they are eliminated. It is uplifting, warming, and downright positive. But until that time comes, I shall remain the pessimist, and I predict that the season ends Saturday night for the Red Wings. It's not a guarantee. These two teams are pretty close, talent-wise. But for three games, the Sharks got the breaks. They got some help from the refs, and some breaks, they created on their own.

We'll see in Game 5 who creates the breaks for themselves.