The final part of a three-part series. Part 1: The Numbers. Part 2: The War of Perception.



Sorry this is so late, I got sidetracked with real life, and then other Michigan-related happenings gave me pause as I considered shelving this for the timebeing and putting a different piece out, but that will come closer to the start of the season.
Also, much of what is said here will be rehashed and won't be new if you've been paying attention. Some people still aren't grasping the message though, so rehashing is sometimes necessary.
And, as I mentioned in Part 2, this is where I delve into the editorializing. Spartan fans, proceed with caution.
The trendy axiom in Michigan high school football goes something like, "The great teams play on the west side. The great players play on the east side." Meaning that teams like Muskegon, East Grand Rapids, Rockford and Lowell, while rarely having the elite prospects that draw attention from major colleges (players like Ronald Johnson, Terrance Taylor, and the Gradys being exceptions), the sum of their parts is greater than the teams on the east side of the state, where college recruiters routinely visit to scout the talent in the Catholic League and the Detroit Public Schools League. This is illustrated specifically by Inkster the last two years. The last two seasons, Inkster - currently an independent located just outside Detroit - has sent two elite prospects to the college ranks (Cameron Gordon and Devin Gardner) while also featuring an assortment of MAC-level talent. In terms of sheer talent, Inkster was clearly one of the best teams in the state in each of the past two years, evidenced by their 21-6 record. The catch? Two of those six losses came in the two state championship games they went to - 43-24 against East Grand Rapids in 2008 and 27-6 against Lowell last year. Neither game was particularly competitive, and yet neither EGR nor Lowell had a superstar on their roster that attracted the attention of either Michigan or Michigan State, while both schools vigorously pursued Gordon and Gardner from Inkster.
The point? For college coaches looking to pluck talent in the state of Michigan, the east side is where it's at. The debate about how much emphasis must be put on the in-state talent has been argued ad nauseum among Michigan fans since Rich Rodriguez arrived -
even if the numbers show that nothing has changed on our end.
Nobody's going to argue that the talent in this state is on level with California, Texas, Florida, Ohio, Louisiana, Georgia, etc. But at the same time, nobody will argue that each year, the mitten is good for producing one or two cream of the crop super-elite prospects that everyone in the country will want, along with a handful of very sturdy prospects who absolutely have a place on a BCS team's roster. At the heart of this is the Detroit Public Schools League, or PSL. In this league are teams many of us are familiar with, like Cass Tech, Southeastern, and Renaissance. Those three schools have been the focus of the major high-end talent in recent years, along with some particularly colorful situations (therein lies the rehashing ahead). Other schools include Crockett Tech (Brandon Graham's alma mater) and Martin Luther King High (Nick Perry). In regards to the in-state debate, my personal opinion: Ultimately it doesn't mean a thing where you get the kids from, you simply get the best players you can get...
but
, unless you're trying to build a powerhouse in Montana or the Dakotas or Rhode Island somewhere, you still need to protect your own backyard, and that's something, to an extent, and for very different reasons, both Lloyd Carr and Rich Rodriguez failed to do.
The 2007 Rivals.com rankings for the state of Michigan are horrifying to look at:
Ronald Johnson, 5* WR, Muskegon - USC
Dionte Allen, 4* CB, Orchard Lake St. Mary's - Florida State
Joseph Barksdale, 4* DT, Detroit Cass Tech - LSU
Keith Nichol, 4* QB, Lowell - Oklahoma
Darris Sawtelle, 4* OL, Birmingham Brother Rice - Tennessee
Chris Colasanti, 4* LB, Birmingham Brother Rice - Penn State
Mark Dell, 4* WR, Farmington Hills Harrison - Michigan State
Cedric Everson, 4* ATH, Detroit Denby - Iowa
Steven Threet, 4* QB, Adrian - Georgia Tech
Ryan Van Bergen, 4* DE, Whitehall - Michigan
Taurian Washington, 4* WR, Orchard Lake St. Mary's - Ohio State
Martell Webb, 4* WR/TE, Pontiac Northern - Michigan
The passage of time has given some leeway into the epic fail the above represents: Allen and Washington have been major disappointments, Sawtelle quit football, Colsanti is just now getting on the field, Dell has been average at best, Everson was arrested, Nichol is now a Michigan State wide receiver (and wasn't recruited out of high school by Michigan), and there were some...special circumstances with Rojo and Barksdale. But the fact remains, Michigan offered the majority of these 12 kids when they were in high school (8 of 12), and landed only two of them. This shows the beginning of a slow erosion of in-state relationships between Michigan's coaching staff and high school coaches throughout the state - an erosion that was kicked into overdrive when Lloyd Carr exited and Rich Rodriguez entered.
Let's defeat one notion flat out right off the bat: Rich Rodriguez does not ignore or neglect the city of Detroit, the PSL, or the state of Michigan. There is a myth going around that players like William Gholston and Lawrence Thomas would've come to Michigan in the past had Rich Rodriguez not come in and destroyed everything that had been established. This is inherently false, and I honestly can't believe these lies have generally been accepted. Price of living in an age where the media isn't interested in actual facts anymore, I suppose.
So, let's play Mythbusters. Let's pull back the curtain on some of what's gone on in the past three years. Oh, and a disclaimer to some who selectively live in a black and white world: If you're going to doubt or dismiss what I say here because I don't "provide links" as evidence, so be it. In that same vein, I could provide you with links that show how Rich Rodriguez is a renegade coach trampling the practice rules set forth by the NCAA. Point is, just because something is written by a "respected" journalist through a "respectable" news outlet doesn't mean it's true, just as something is not automatically false if it's not written about in a newspaper. If you don't believe what I have to say because it's not "supported" by the Detroit Free Press or the Detroit News or whatever, fine. If you've listened to Sam Webb on the radio long enough and read the words of people who have proven to be reliable in the past enough, you'll know I'm not just making this up as part of some elaborate fantasy. I am piecing together the words of people I trust. It's your perogative to doubt or question the validity. But don't fill up my comment section with nonsense about how I shouldn't be saying things without proof. I've received all the backing I need behind closed doors.
So, without further adieu, I just rehash what has happened at two particular schools in Detroit over the past three years or so. I repeat,
rehash
. I have discussed all of this in the past, so if it's not new to you, feel free to skim.
Renaissance High School (Chris Norman, Lawrence Thomas, Antonio Watts)
1. Chris Norman.
The situation at Renaissance is more a case of some people being stupid and some people seizing the opportunity than a case of people being sinister. Chris Norman was, for the most part, a casualty of the coaching transition at Michigan. While Rich Rodriguez was scrambling to keep together the class that Lloyd Carr had assembled in addition to spending six weeks pursuing kids in the current class (Michael Shaw, Terrelle Pryor, Roy Roundtree, etc), other schools - MSU included - were starting to move on to the next class, and MSU closed ranks on Norman quickly. He would've been at the top of Michigan's board for the 2009 class, being a highly regarded player at a position of need. So while it definitely hurts that he's not at Michigan, for the most part, nobody in Michigan circles goes crazy about this one.
2. Lawrence Thomas.
This one is slightly more annoying, as Thomas is another freakishly freaky freak of a recruit in Michigan's backyard who claimed to be a fan of Michigan as a kid but won't be playing for Michigan in college. I don't regard him as a positional loss, because like Gholston, he's going to be way too big to play linebacker. 6'4, 240 pounds before his senior year of high school? This kid's not going to be playing MIKE linebacker in college, he's going to be a defensive end. And his commitment to State is a direct result of Chris Norman (and to a lesser extent, Mylan Hicks and Dana Dixon). Thomas regards Norman as his best friend, to the point where he calls him a "big brother."
3. Antonio Watts.
This is where things at Renaissance get cast in a negative light. The video of Ren's head coach, Antonio Watts, bashing Michigan for treating his former players (Carson Butler and Andre Criswell) unfairly has been well circulated at this point. I was informed on the message board at
MGoBlog
a couple months ago that the link to the video that I have posted a couple times here in the past was setting off all sort of virus alarms, so I removed the links and won't be linking it here. If a brave soul wants to scavenge and find the link to check and see if it's still troublesome, best of luck.
Anyway, Watts acting like a fool and blaming Michigan/Rich Rodriguez for Carson Butler being a thug and Andre Criswell not being talented enough to get on the field has a lot of Michigan fans questioning if Michigan ever got a fair shake with Norman, Hicks and Thomas. Personally, I don't think he was much of a factor. Now, is it possible that as UM made the switch to Rodriguez, Watts got in Chris Norman's ear and told him he'd be much better off at Michigan State? Sure, I guess. But I've never heard anything like that from any source - including the source who mentioned that Thomas was not swayed by his coach's feelings about Michigan; he's going to State because of Norman and because of the gigantic turd Michigan's put on the field the last two days. Combine that with the fact that the main contact at Renaissance when it comes to recruiting is assistant coach Antoine Edwards and not Watts, I tend to just tip my cap to MSU for establishing a sturdy pipeline.
On the other hand...
Southeastern High School (Fred Smith, William Gholston, Johnathan Hankins, Archie Collins)
1. Fred Smith.
Fred Smith's senior year at Southeastern High School was 2007-2008. This was the time period in which Mark Dantonio was just arriving at Michigan State and trying to establish an identity, and Lloyd Carr's career at Michigan was winding to a close and was just coming off an 11-2 2006 season. As the 2006/2007 recruiting cycle wound to a close and the 2007/2008 cycle shifted into the primary position, it was already clear that the in-state dynamics were changing. Dantonio arrived at MSU in late November of 2006, and in the few short months before signing day in February of 2007, he made very serious pushes at two of the state's top prospects - Ronald Johnson and Joseph Barksdale. Both of them went out of state in the end, but it was immediately clear that Dantonio was bringing a renewed focus on the state of Michigan - a focus that was almost completely destroyed under John L. Smith. So as the recruiting class of 2008 came into the spotlight, the renewed MSU focus came with it.
Michigan rode the momentum of an 11-2 Rose Bowl season into early commitments from two of the state's best prospects (Boubacar Cissoko and Dann O'Neill), but after that, the battles began, with one coming to the forefront - Southeastern wide receiver Fred Smith. A 4-star player ranked in the top 200 on Rivals, Smith grew up a Michigan fan in a family of Michigan fans. In normal situations, this would be a slamdunk. Both UM and MSU offered Smith, and his recruitment quickly narrowed down to the two in-state schools, with a summer decision on the horizon. On Thursday, August 2nd, 2007, MSU's Rivals site put out a final article on Smith in which they predicted that Smith's commitment at the end of the weekend would be for Michigan.
Three days later, Smith committed to Michigan State instead of Michigan. As it turns out, in the three days between that final article and the commitment at Southeastern High School, Smith had been out of contact, to the point where not even his family could find out where he was. Someone had managed to whisk him away during the weekend and take him to East Lansing for a special meeting with Mark Dantonio and Tom Izzo, during which Dantonio sold him on the idea of being the face of MSU's return to prominence, with a completely hollow assist from Izzo, who told him he could play basketball for the Spartans too.
In the two years he's been at Michigan State, Fred Smith has one catch, one arrest, one position move to fullback, and exactly zero seconds spent in a Michigan State basketball uniform.
2. William Gholston.
Around the same time Dantonio was arriving at Michigan State, one of the state's most freakish of underclassmen was conveniently in the process of transferring from Mumford High School (also in Detroit) to Southeastern. Quite the coincidence I'm sure, but nevertheless, William Gholston was #1 on Mark Dantonio's wishlist from the moment he set foot in East Lansing, and a curious set of circumstances made sure that the feeling was mutual.
From the time before Gholston's junior year at Southeastern in the summer of 2008 and the time he committed to Michigan State in summer 2009, he visited Michigan around 2-3 times. He visited for Michigan's basketball game against Duke in December 2008. He made an impromptu visit to Michigan for a practice in March 2009, and made a quick visit on the day of Michigan's Spring Game in April 2009 - though he didn't stay for the actual game because of a basketball practice...
During this same time period, he made over a dozen visits to Michigan State, either for games in the fall, unofficial visits in the winter, or camps/practices in the spring before ultimately committing to MSU in June of last year. All throughout the process, and after he committed to MSU, he cited his desire to play linebacker in college.
You'll understand why I, along with many others, found this amusing yesterday:
EAST LANSING -- Top Michigan State freshman recruit William Gholston has decided he wants to play only defensive end, and has been granted his wish by coach Mark Dantonio.

"That was his decision," Dantonio said. "If he made that move I wanted it to be his decision. We never planted a seed. I think as he continued to rush the passer he saw himself as a guy that could help a little more in that area."

Putting aside Dantonio's bizarre need to mention that the MSU coaches never planted a seed and let Gholston make the decision himself (guilty conscience?)...the entire situation is laughable.
Everybody
knew that Gholston's future in college would be on the defensive line. The kid was 6'6/6'7, 250 pounds as a high school senior. You're not going to play linebacker in college when you're that big in high school, and any college coach that told Gholston otherwise flat out lied to him.
Another curious note: Every time Gholston visited Michigan (yes, all three times), it was a brief, abbreviated visit with only token tours of the weight room and other superficial things taking place. He was never able to sit down one-on-one with any coach on Michigan's staff, never had any in-depth conversations with anyone at UM, and was always gone after a short period of time. Why? Because someone was always serving as his chaperone, making sure things went a certain way, preventing certain people from getting too close...
3. Johnathan Hankins.
This kid remains a touchy subject, actually. He came up again yesterday on the premium message boards at Rivals and Scout, with some angry Michigan fans blaming Rich Rodriguez for losing Hankins (in light of the news of Hankins being a disruptive force for Ohio State in fall camp). I couldn't help but shake my head at the stunning naivete because these select people a) don't understand how things work, and b) don't have even the slightest clue as to what happened with Hankins behind the scenes.
So, once again, and read this slowly if you don't understand yet:
Michigan did nothing wrong in their recruitment of Johnathan Hankins. NOTHING.
The notion that UM lost Hankins by offering him late is asinine, and the people who continue to promote it are either mind-numbingly stupid or peddling their own agenda. Either way, they need to wise up. Rich Rodriguez and UM did NOTHING out of the ordinary with their approach to Hankins last summer. They asked him to show up to camp and earn the scholarship offer that he wanted so badly. When he failed to do so (he showed up to UM's camp with a bum ankle significant conditioning issues - he bailed from the practice field because he couldn't finish the drills for god's sake), UM told him they would keep in touch with him and check his senior film. And yet some people (MICHIGAN fans!) have an issue with this for some reason? Some people really think Rodriguez should've offered a kid who couldn't even finish the drills they asked him to do, the drills he
KNEW
he was going to have to do in order to get an offer.
But above all else, some people fail to see that even if UM
had
offered Hankins and
he
had committed during the summer, it would've all been moot. Michigan was not going to be the school for Hankins ever. It was pre-determined because of the high school he attended. In late November, after the season had ended, Michigan reviewed Hankins' senior tape as they had said they would, and they liked what they saw. They saw the explosion and disruptive force in the middle that they had expected to see at their camp in the summer. So they offered. And
immediately
, a visit was set up for the first weekend in December. During this visit, Michigan's coaches put to rest any issues Hankins and his family had with UM's later-than-expected offer. They tried to nudge Hankins toward canceling his Ohio State visit scheduled for the next weekend, but failed to do so. Even then, after Hankins' OSU visit, the "insiders" - people I trust implicitly - said that while it was close, the feeling was that the recruitment was trending in Michigan's direction. It was around this time that, out of nowhere, Alabama appeared on the radar as another possible visit destination for Hankins. Then, around Christmas time, rumors hit the internet about William Gholston suddenly waffling on his Michigan State commitment and now being bound for Tuscaloosa as well. Once that rumor was effectively squashed, Hankins was never mentioned in connection with Alabama again, and shortly after the new year, he committed to Ohio State at Southeastern High.
So what happened? Even with the word from insiders that his recruitment was trending in UM's direction and the news that UM had effectively dealt with any issues the Hankins family had with offering late, is it possible that the late offer had indeed soured Hankins on Michigan, driving him to Ohio State? That's certainly an effective cover story, and one that would satisfy a lot of people - a lot of people who would also be unaware of the man behind the curtain at Southeastern High School.
4. Archie Collins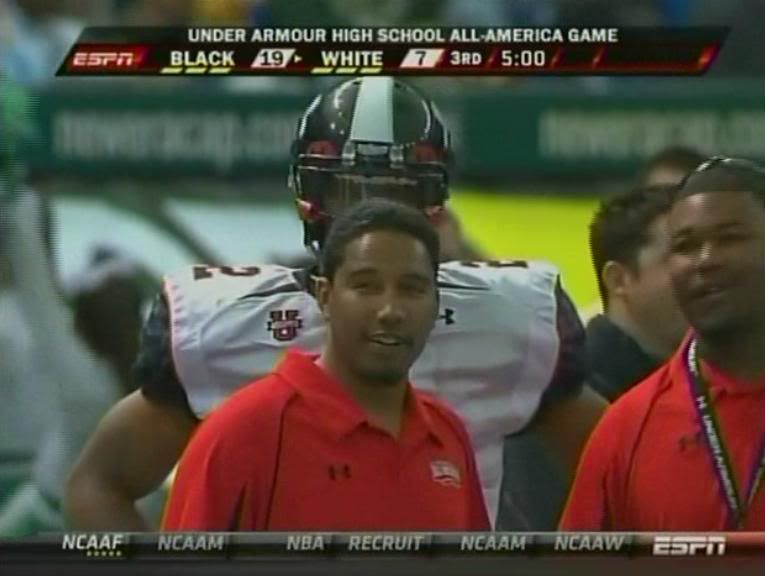 That character - positioned squarely in front of Will Gholston at last year's Under Armour All-American Game - is the aforementioned man behind the curtain at Southeastern High School, one Archie Collins, former defensive coordinator. He played safety for Michigan State in the late 1990s under Head Coach Nick Saban and Defensive Backs Coach Mark Dantonio. He is the man who whisked Fred Smith away to East Lansing and helped turn him. He's the man who served as Will Gholston's guardian (literally, the kid lived with him) and ran interference during all of Gholston's visits to Michigan while also escorting him to MSU over a dozen times. He's the one who stepped in when it appeared that John Hankins was headed to Michigan. He planted Alabama in Hankins' mind (Saban connection), and I'm sure it was a coincidence that Alabama fell off the radar when the Gholston-to-Bama rumor flared up. And when the rubber met the road for Hankins, when it boiled down to decision time, when Michigan scheduled one final in-home visit with the family, it was Mr. Collins who stepped in and convinced both the kid and his family that Michigan was toying with Hankins and didn't really want him, and if they did, they would've offered him long before they did.
The end results: Fred Smith commits to Michigan State, causing his pro-Michigan brother to leave the press conference in tears. William Gholston commits to Michigan State and accuses Michigan of dropping the ball in his recruitment. Johnathan Hankins commits to Ohio State and says Michigan offered him too late.
Oh, and today, as the rest of the Southeastern coaching staff looks for work after being the latest casualities in the mess that is Detroit Public Schools, Archie Collins now serves as the distinguished video intern at Jenison Fieldhouse in East Lansing, a de jure employee of the school of which he served as de facto recruiter for three years. All just a coincidence, I'm sure.
Now, to the naysayers:
1. When Sam Webb openly discussed the Southeastern situation on the radio a month or two back, a Michigan State....individual called in and said something to the effect of, "Oh, so when Michigan recruits to the end with Roy Roundtree, it's okay, but when Michigan State recruits to the end with Fred Smith, something dirty has to be going on?" Well, if you can't see the difference here, I don't know what to say. One situation has a school that had previously shown no interest (Michigan) in a prospect (Roundtree) and offering him a much better place than his previous school (Purdue). Were there stories of Trotwood Madison's coach stuffing Roundtree into the back seat of his car and driving him to Michigan? Any whispers whatsoever of his high school coach strong-arming him to Michigan over Purdue? No. None.
2. This is
not
a byproduct of 8-16 and all the negativity surrounding Rich Rodriguez. Has that made things easier? I'm sure it has. But Fred Smith was turned on the heels of Michigan going 11-2 and being a preseason top 5 team. The issue here existed before Rodriguez was a twinkle in Bill Martin's eye.
3. The Cass Tech comparisons are null and void. MSU fans often try to rationalize the situation at Southeastern by saying "Wilcher does the same thing at Cass Tech." Well...you might have a point. In a parallel universe where Vernon Gholston is a Michigan grad, Joseph Barksdale is entering his 4th year as a starter at Michigan, and Dior Mathis is contending for playing at at Michigan. It's a pretty safe bet that Cass Tech's head coach, U-M grad and former player Thomas Wilcher, puts in a good word for Michigan when discussing recruiting with his prospects. But Vernon Gholston and Joseph Barksdale both had Michigan offers and went elsewhere. Thomas Gordon would've gone to Michigan State if Michigan had not offered. Dior Mathis had Michigan State at the top with Oregon for months, and he picked the Ducks. Wilcher has never run interference against MSU with any of his players. Dior could've gone to MSU if he wanted. Same with Gordon and Cissoko and Campbell. When you find something substantial, like a Cass Tech kid being out of contact with his family and then suddenly committing to Michigan instead of the presumed favorite MSU, or a Cass Tech kid without a Michigan offer being driven away from Michigan State, or anything even remotely close to what I've described above at Southeastern, let me know.
What's the point? You claim ownership over the city of Detroit and the state of Michigan while simultaneously claiming that Rich Rodriguez doesn't care about the kids here and recruits Florida harder. You can't "own" something if you're not competing with someone for something, can you? And you can't "own" something when the playing field is tilted so ridiculously in your favor like it was at a certain high school. At the end of the day, all that matters in recruiting is getting the players, and in a couple particular cases, you succeeded at that where we failed. So kudos.
Meanwhile, the clock is still ticking. What I said 13 months ago still applies. Don't say I didn't warn you.