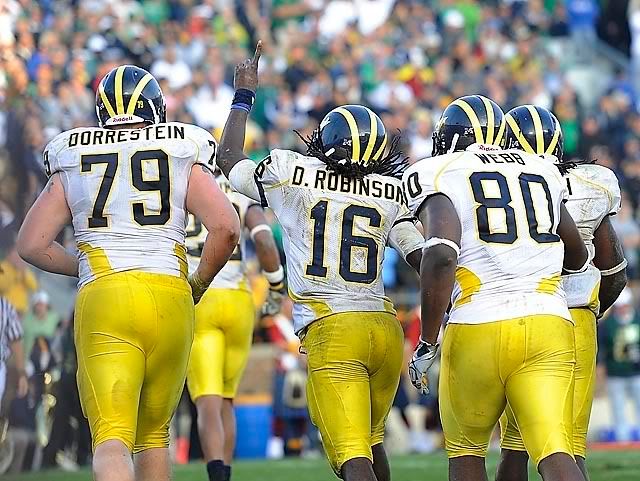 Michigan 28, Notre Dame 24; 2-0
Around 7:20 PM eastern time on Saturday, as the adrenaline just barely began to slow down, Rich Rodriguez stood on the Notre Dame Stadium turf, answering postgame questions from NBC's
eye candy
Alex Flanagan, who at one point said, "Rich, we've all seen what you've gone through these past two years", which lol no you haven't. But she concluded the interview with a simple yet poignant statement that was much deeper and encompassing than she realized.
"Just keep doing what you're doing."
Ever since Rich arrived, almost three years ago now, he has been trying to "do what he does." As each day brought another loss or another controversy or another negative story or another personal attack, the people who have wanted him to do what he does have become fewer and scarcer. I'm sure at times, even when surrounded by family and ever-loyal followers, Rich has felt alone, as if he's the only one who believes in what he's trying to do.
By the time the carnage Denard Robinson inflicted on Notre Dame started to settle and the sun faded toward the horizon in South Bend, I bet Rich felt differently; that he has finally found the life preserver he needs; that at long last, through the wind and the rain, he'll never walk alone again.
I went somewhat catatonic around the time Kyle Rudolph rumbled across the goalline late in the 4th quarter, my mind just overloading with the madness and bloody insanity of it all. I sat back on my couch, my arms crossed, my head slowly shaking back and forth. Even as the drive that slayed a dragon began to progess, I was muttering to myself, "This thing just isn't going to work out, is it?"
A few minutes later, our latest savior gave us a reason to believe. He dares us to dream, and gives us the audacity of hope.
His health remains the hot button issue, especially because if he's Batman, then his Robin is currently in an Orlando high school. Our running backs aren't awful (and contrary to popular belief, their absence on Saturday isn't all on them), but there definitely isn't a Steve Slaton or Noel Devine here; no running mate for our superstar. So as risky as it may be, running Denard like a running back is, at present, our #1 weapon. We'll hold our breaths after every tackle, tighten up until he gets up. At the moment, it appears simple: if Denard stays healthy, this ship is, in some form anyway, straightened. If Denard stays healthy, Rich will be our football coach, the clouds of uncertainty will part, and slowly but surely, order will be restored.
There is reason to restrain optimism and remain cautious. The defense is still shaky at best, with issues that remain glaring and will be pressed by all future opponents. Cameron Gordon would be perfect, absolutely
perfect
at one of the box safety spots. He's not a slow-footed linebacker playing safety like Cato June was, but he is definitely not the burner you need at the back end, and his instincts are still very much a work in progress. If it were possible to play him closer to the line of scrimmage, we'd be better off, but there's nobody else back there right now, so we have to make do and try to minimize the damage. Other issues exist, too. The pass rush isn't really there, the linebackers are still erratic (though both Ezeh and Mouton made some very impressive plays on Saturday), and we don't have a field goal kicker.
But for now, at the moment, we have a weapon capable of covering up all those issues. And while we are in the same spot we were at this time last year - 2-0 after a dramatic last minute win over Notre Dame - it's easy to see how this is different. The passage of time allows one to obtain a perspective not feasible in the heat of battle. Lost in the euphoria early last year but clearly visible now is the fact that much of the success Tate Forcier had at the start of 2009 came from improvisation and making plays when the original play broke down. This made him wildly exciting early on, but that style, predictably, gradually degraded as his feet got too happy and his ball security got looser and looser. This year, through two games, every big play and every touchdown Denard has produced has been within the offense. It was breathtaking last year when Tate scrambled and directed traffic and fired a laser to Junior Hemingway in the opener against Western, and it was ridiculous when he bobbed and weaved his way through the pocket on the penultimate play against the Irish (when Laterryal Savoy almost caught the touchdown Greg Mathews would one play later). But now? A pump fake bubble screen springs Terrence Robinson wide open down the seam. A designed quarterback draw springs Denard 37 yards to the endzone against Connecticut. A fake quarterback draw has Roy Roundtree wide open for a touchdown at Notre Dame. A designed QB off tackle play turns into an 87-yard freak show that had every jaw on the floor. All within the offense, all executed to near perfection. That's why this has staying power, as long as Denard stays healthy.
That's why Rich Rodriguez has staying power, as long as Denard stays healthy. And as long as Denard is healthy, Rich shall walk through the storm with his head held high, and he won't be afraid of the dark. And he'll never walk alone.