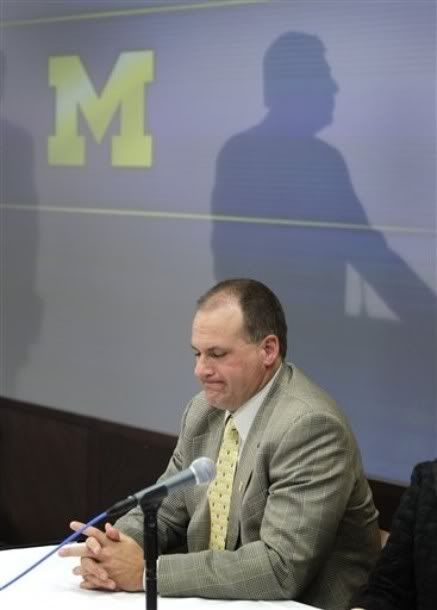 More often than not, sports always end up blurring our thoughts, distorting our most basic of human emotions. We refer to simple games as wars, to mere players as soldiers, warriors, etc, often without giving thought to what we're doing. But in no instance is this disconnect more evident than when the topic of termination of employment comes up. We're all guilty of it. We never consider the man, we always consider the coach. I suppose that's our obligation as sports fans. It's our job to look at the results, not the family or the person. We don't consider the ramifications beyond our own self-interests.
It was an easy decision to make, and one that had to be made regardless of "process" and who is or is not coming to do the job next. Firing Rich Rodriguez was the only logical conclusion after three years of seeing Michigan sink into a well of misery so deep that the prevailing emotion in the face of a 38-point bowl loss to a 5th-place SEC team was apathy. By every reasonable measure, Rich failed and failed historically as Michigan's head coach. The promise and overly confident optimism he brought 36 and a half months ago was long extinguished, replaced by anger from those within and laughter - or worse, pity - from those on the outside.
But the fact that this was the only reasonable endgame doesn't make me feel better. It doesn't take away the cold knot in my stomach, or the weight on my heart. The randomness of the universe is something that has haunted me for years. This ongoing process called life, where good, decent people can be struck down by the cruel hand of forces sometimes larger than themselves angers me, because it's never about what you deserve. I'm not talking about Rich Rodriguez the coach. I'm talking about Rich Rodriguez the man. He came here as a stranger in a strange land, in many ways the worst possible candidate in retrospect. Generally, being a simple person who just wants to succeed in your walk of life would be considered an admirable quality. Rich had no interest - and worse, no real capability - in navigating the minefields of politics at Michigan. He didn't want to hand-hold the people who couldn't cope with the outsider from West Virginia. He wasn't interested in providing counsel and leniency to those who had trouble adjusting. All he wanted to do was do things his way, install what he knows, and coach football. On the surface, that would be, and should have been, fine. But at Michigan, you can't just be a football coach. For better or worse, it's a unique place that requires a unique mind. And it saddens me that it had to play out this way, because I know that Rich Rodriguez genuinely loved Michigan. He felt blessed and honored to be the head coach at such a special and hallowed place. He knew the opportunity that was presented to himself, and he embraced it as best he could.
Unfortunately, as fate would have it, the best he could fell well short of even the most modest of expectations, and on a personal level, that saddens me most of all, and it produces a sort of repulsion in my gut that I find myself on the same side of the fence as people like Michael Rosenberg, Drew Sharp, Mark Snyder, and so many others who passed judgment not just on the coach, but on the man. The fact that these people are celebrating today brings me angst that is beyond words. They feel like they landed their prized scalp. They have Rodriguez's head on the plate they started polishing off three years ago. That special spot they picked out on their walls to mount Rich's head on is now ready, and they take delight in it, and it sickens me. That's another thing that really pisses me off, when the end result agrees with people whose process was beyond flawed, because it makes them feel vindicated in what they've done. Mike Rosenberg will sleep well tonight. He shouldn't.
My faith in this experiment was dealt a punch to the throat in early October when Michigan State bulldozed Michigan. My last shred of belief was dealt away when Penn State's backup walkon quarterback did whatever he pleased against our tremendously flawed defense. The Penn State game was the last straw for a lot of us, I think. Even during the subsequent wins over Illinois and Purdue, the feeling that this was nearing its end never left my mind. That didn't stop me from yelling and screaming at the TV during the Illinois game. It didn't stop me from enduring a six hour car ride to Purdue to stand in a driving rainstorm for three hours with the girl I love, because if there's one thing that approaches the love I have for her, it's the love I have for that team that takes the field in the winged helmets, and that's the solace I will take from this sordid tale. No matter the coach, my support for Michigan football will never die.
On December 17, 2007, I got up earlier than usual to turn on the TV and watch the ushering in of what we all believed to be a new, prosperous era. 1115 days later, we bid farewell to that era, in some ways weaker, and in some ways wiser.