In early 1942, as the Japanese flexed their military muscles and ran roughshod over southeast Asia, their barrage left General Douglas MacArthur and his contigent of men isolated in the tiny Bataan province of the Philippines. The situation was hopeless, with only two possible outcomes: either fight and die (or worse, be subjected to the brutality of being prisoners of war under Japanese control), or surrender, something most military personnel would choose death over.
MacArthur was ordered to withdraw and relocate to Australia. He did so, but he also gave a speech in which he made a promise to the people of the Philippines, vowing that he would return one day to liberate them from Japan's looming oppression. Only a few short months later, Bataan was under Japanese control. While the Japanese consolidated their power in southeast Asia, the Allies regrouped and reconfigured their strategy. This led to the Battle of the Coral Sea off the northeast coast of Australia in May 1942, which stretched the Japanese too thin, which led to the Americans crushing them at Midway in June, which put Japan on their heels for the remainder of the war. Following Midway, the grueling Guadalcanal Campaign from August 1942 to February 1943 finally tipped the scales in the Allies' favor. From there, the Allies slowly tightened the noose on the Japanese, hopping from the Solomon Islands to the Marshall Islands, to Saipan, and the Philippine Sea, and Guam, and numerous others...until finally, in October of 1944, MacArthur fulfilled the promise he made, iconically wading through the water onto the shore of Leyte, returning to the Philippines.
Ten years ago, the sinner masquarading as a saint put Michigan on the defensive, dealing a shocking blow in November of 2001 at Michigan Stadium. The tide that was stemmed two years later was only temporary, as another ambush was released on us the next year, when a mediocre Ohio State team throttled Big Ten Champion Michigan in Columbus. If it wasn't obvious in the aftermath of that game, it should've been: Ohio State had seized control of the rivalry. Michigan had a precious few number of opportunities to stop them in their tracks:
Leading 21-12 in the 4th quarter in 2005, only to humiliatingly hand the game to the Buckeyes with a gameplan that can generously be described as cowardly and accurately described as pussy-like.
Chad Henne overthrowing a

w i d e

open Mario Manningham in the first quarter of a 7-7 tie in 2006, squandering a chance to recapture momentum in the game.
Mike Hart slipping on Ohio State's ice rink of a field making a cut on 3rd down early in the third quarter. If he stays up, he runs untouched into the endzone and ties the game at 28. Instead Michigan has to settle for a field goal, and continues to play from behind.
From the moment that game in 2006 ended, nothing was remotely close between the two teams. Ohio State held Michigan at arm's length in victories in Ann Arbor in 2007 and 2009, and polished their brass knuckles before punching Michigan's skull in in Columbus in 2008 and 2010 against crippled, flailing UM teams that were bringing knives to gunfights.
Headed into this season, with the names largely the same as the previous one, it was assumed that UM would once again bring the knife. Even with Ohio State's (self-inflicted) mess, most people figured they'd still bring the firepower, if only to a lesser degree than recent years.
Imagine the surprise, then, as the season unfolded and showed that Ohio State was in possession of little more than a BB gun, and Michigan's knife was actually a bayonet attached to a rifle; a microcosm of life, where fortunes turn on a dime, with almost no warning. What was dull and desolate one day can suddenly be bright and shiny the next. A 37-7 farce of a game one year can turn into a landmark 40-34 insurrection the next.

Saturday rekindled feelings we had long forgotten, but had always lusted for. The feeling of Michigan's running game imposing its will on Ohio State, instead of feeling like a two yard gain was a success like in recent years, or the abomination that was 2007. The resolve that this team had the talent and fortitude to respond when OSU threw a haymaker, as opposed to the last four years, when it was plain as day that we were done after an OSU score. The schadenfreude that comes with petulant little shits (I cleaned it up for the kids) like Zach Boren crying about Michigan celebrating.
If the last eight years are to represent the general status quo of life - full of a harrowing combination of hope, fear, and ultimately, disappointment and bitterness - then days like Saturday are the moments that justify all the haste and drudgery of the world around us. The unfortunate few among us that are stricken with the compulsion to overanalyze things to the point of stripping them of all meaning often twist, warp, and distort things in our lives until some of them blend together, with the lines of separation becoming too blurry to distinguish. Sometimes this is acceptable, and even desirable, as combining two things we enjoy often produces an entirely new level of enjoyment greater than the parts that compose it. Other times, though, when one of our pleasures is tainted or destroyed, the entire well ends up poisoned, because we find ourselves unable to separate them anymore; they've become linked, and as one goes down in flames, it takes the other with it. When that happens, only a transcendent event can overcome the ghost in the machine.
For me, Michigan football no longer brought me joy, because I made the mistake of associating it with other aspects of my life, and they became too intertwined. So when those "other aspects" swirled the drain, it dragged with it the one thing I had been able to keep clean for years. The result was this season almost being seen from a distance. When Roy Roundtree jumped over Gary Gray to send Brian Kelly's head the way of Hiroshima, I registered maybe a five on the excitement scale. When Sam the Eagle's Traveling Band of Righteousness dealt Michigan its first defeat, what should've been overwhelming frustration and anger was only general annoyance from the realization that I would once again have to tolerate sophomoric trash talk from the most ignorant of fanbases. When Junior Hemingway's touchdown against Iowa was called back due to the traditional incompetence that is frequently exhibited by the trained apes wearing zebra shirts in the Big Ten, my agitation that would usually result in something in the house being broken faded within an hour. When Michigan began to drag the blade across Nebraska's throat, my enjoyment was muted at best.
On Saturday, to quote a vaguely familiar movie, I had what alcoholics refer to as a moment of clarity.
The 2007 class arrived with the quarterback from Texas with a thermonuclear missile attached to his right shoulder and the star cornerback we pulled over the wire of Pete Carroll's SoCal fence in some sort of bastardized hostage exchange because USC came to our backyard and turned Ronald Johnson and his family into mercenaries. Also much-hyped in the 2007 class was Toney Clemons, whose legacy in the eyes of Michigan fans is that of a rat; a snitch who couldn't keep his mouth shut, choosing to spew lies to spite the coach he didn't sign on for. After one season, Ryan Mallett flew the coop, hated by his teammates and shrouded in mystery by the fanbase. Donovan Warren cut short his serviceable Michigan career because he was no longer willing to destroy his future under Tony Gibson's so-called coaching. So Warren's time in a winged helmet came and went without merit, lost in the inferno that settled over Ann Arbor during his tenure.

But from that inferno came battle-worn, weary, loyal soldiers: Junior Hemingway. David Molk. Ryan Van Bergen. Brandon Herron. Troy Woolfolk. Mark Huyge. Individuals who pledged their allegiance to Carr, saw everything that had appealed to them about Michigan came under siege under Rodriguez, only to make it through to the other side under Hoke.
During one of the endless waterboardings we took in 2008, I vividly remember someone saying, "Molk is going to have to go." Condemning the redshirt freshman center, calling for his expulsion, his excommunication, his exile.
At their sides, the remnants of the 2008 class, the ones who endured the death by a thousand knives more than any of us. The class that saw the local star defensive back flame out in a horrifying reminder of what can happen when young men lose their way in life. The class that brought a quartet of four-star linebackers to Ann Arbor, only to see one of them never make it to campus, another leave after the first fall practice, and yet another fail to realize his potential and spend his career as a backup, his development chopped at the knees by a staff guilty of criminal negligence on defense. It was the class that brought Justin Feagin, Dann O'Neill, Brandon Smith and Kurt Wermers. It gave us Sam McGuffie, the YouTube sensation who never got the chance to fly. And Michael Shaw, who scored the first touchdown of the Rodriguez era on a playaction pass into the flat from Nick Sheridan, back when the world was our oyster, and the uncertainty of the frontier that lay ahead didn't frighten us, but excited us.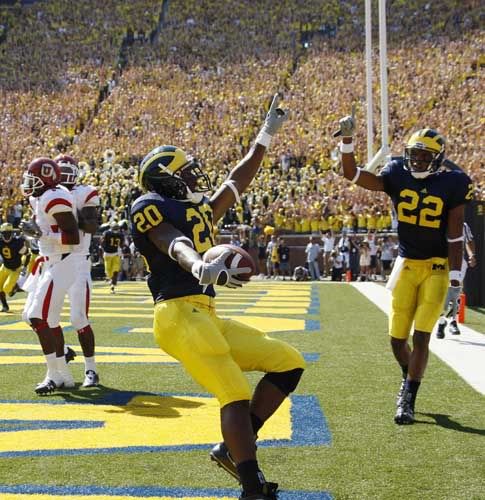 That class brought us not just Elliott Mealer, but the Mealer family as a whole, and their story that was too heartbreaking for words and illustrated all that was unfair about the world we take for granted - and the perseverance that reminded us of the power of the human spirit.
The journey is over for much of the 2008 class. Mike Martin, the high school wrestling champion who very nearly flipped to Notre Dame after Lloyd Carr retired, only to honor his word, fight his way through the fog and go out on Senior Day with a lion's roar, avoiding the tragic martyrdom that Brandon Graham had to endure two years earlier. And Kevin Koger, the Ohioan who dared to defy the Empire in favor of Michigan, at a time when Tressel's hold on the state was at its zenith. On Saturday, the tight end from Toledo got the last laugh.
Never to be forgotten is Martavious Odoms, one of the most unsung heroes I can ever recall wearing the maize and blue. Undersized, not especially fast, nothing about him stood out. Our earliest vivid memory of Odoms, aside from the random punt return touchdown against Purdue, was how he seemed to disintegrate in November of that first year, as the temperatures fell and the precipitation increased. The pint sized receiver from Pahokee seemed to wilt under the conditions of Big Ten football. But for the next three years, no one would surpass Martavious Odoms when it came to effort and sheer will to win. Countless touchdowns and big runs over the last three years came as a result of Odoms throwing a block downfield; the type of contribution too easily passed over.
The 2008 class's final chapter will be written next season. One more season for Kenny Demens, and Ricky Barnum, and JT Floyd, and Patrick Omameh. One more year for Roy Roundtree. One more year for Darryl Stonum to find some kind of salvation.
Earlier this year, I compared Michigan's explosion on the recruiting scene this cycle to the Arab Spring, an allusion to UofM rising up and challenging MSU's reign as recruiting king in the state. In my mind, the "Arab Spring" of Michigan recruiting began on March 24th when Ben Braden picked UofM over State, and ended on August 8th when Saginaw native Ondre Pipkins also picked the Wolverines, capping a four and a half month stretch that saw Michigan land 22 commitments. But as it turns out, I was wrong. The Wolverine Revolution didn't end with the pause in recruiting. It simply shifted into the seasonal phase, where the team no one expected anything out of fired back at the status quo. The defenders tossed aside as slow, small, weak and clueless in 2010 rose up in 2011 to oppress their oppressors. The same tortured souls that endured some level of Dante's Inferno against Northwestern in 2008, and saw the 2009 season slip away in one surreal sequence at Illinois on Halloween, and felt the weight of the world finally come crashing through in 2010 as Michigan State, Iowa, Penn State, Wisconsin, Ohio State and Mississippi State sealed the fate of their coach in ruthless and draconian fashion...they found a measure of vengeance last Saturday.
They made it through the storm. And against the ghost in their machine, their most corrupt and deceitful of adversaries, they learned to fly on dreadlocks of gold.