March 20, 2011, Round of 32: #1 Duke 73, #8 Michigan 71
March 29, 2013, Sweet 16: #4 Michigan 87, #1 Kansas 85
March 30, 2014, Elite 8: #8 Kentucky 75, #2 Michigan 72
In three of the last four seasons, Michigan's season has come down to one final shot in the dying moments. That's actually pretty astonishing when you think about it. All the chaos and moving parts of a basketball game, boiling down to one shot on three separate occasions in three separate games. All three involved different circumstances, and a Michigan program at different stages of its evolution. Three years ago, Michigan was a scrappy outfit that eeked into the tournament with duct tape and paper clips holding itself together. They got hot down the stretch and played themselves onto the right side of the bubble, and proceeded to nuke Tennessee into the Stone Age in the first round. Their reward was staring down the specter of facing a 31-4 Duke team that was looking to defend its national title - in Charlotte, no less. Michigan hung in for a half, but midway through the second half, Kyle Singler converted a three point play to put Duke up 58-43. The feeling of inevitability began to sink in that Michigan's Gritty McGrittersons just didn't have enough against Duke's team of 4/5 star McDonald's All-Americans.
Less than two minutes later it was 58-52 courtesy of a mostly Darius Morris-fueled 9-0 run. Duke managed to keep Michigan at an arm's length until Tim Hardaway Jr's three made it 70-69 with 90 seconds to go. It was 73-71 with 10 seconds left when Duke's Nolan Smith missed the second of two free throws, setting the stage for one final chance for Michigan's upset bid.
What ensued was one of the more heartbreaking moments (until today, I suppose) in recent Michigan history: the image of Morris's floating jumper from just inside the foul line hitting the back rim and bouncing out, followed by Morris pulling his jersey over his face, if only to hide the anguish for a few moments. The difference between overtime and elimination was a few inches. The difference between the end and continuation of Darius Morris's Michigan career just that close.
Just over a year ago, the Duke script nearly repeated itself, at least in terms of the game that was played. Last year's Michigan team was in a much, much different place than the one that put a psychic terror into Duke's hearts two years prior. That Michigan team finished 21-14, and an 8 seed in the NCAA Tournament is in the lower tier of bids that "big" conference teams get. Last year's team was 28-7 headed into the Sweet 16 against #1 Kansas, and had been closer to the discussion of being a #1 seed than they were to the bubble. College basketball is similar to other sports though, in the sense that when you're not one of the elites in the sport, going up against one of them seems daunting, no matter what. There's an intimidation factor that accompanies the aura that goes with teams like Kansas, Kentucky, Duke, Carolina, UCLA, or a few others. It's something that obviously has a bigger effect on the fans than the actual coaches or players, so when Kansas began to assert its dominance, many of us groaned, and felt it slipping away when Kansas got it to 68-54 with under 7:00 left.
But Trey Burke wasn't on that 2011 team that came to the brink of erasing a 15-point hole against Duke only to fall short. Nobody told him that to try and fight back when one of the heavyweights hits you with a right cross was a fool's errand. That's part of what makes his shot to tie the game in the final seconds so legendary: it was the
audacity
of it. To cap an already-improbable comeback with
that
shot against
that
team with
that
amount of time left defies words, even 366+ days later. A couple inches to the left or right, or if Burke had put just a little too much oomph into it and caused it to rattle in and out, and last year's Michigan team is remembered as a team that started the season red hot only to finish 4th in the Big Ten and lose in the Sweet 16. Instead, on the weight of one shot, in one moment, Michigan lived to vanquish Kansas in overtime, firebomb Florida in the Elite Eight, outlast Syracuse in the national semifinal, and come to the precipice of a championship before Louisville beat them to the finish line. The difference between national runner-up and a Sweet 16 exist cannot be accurately quantified, but it's enormous nevertheless.
Basketball, perhaps even moreso than the other sports, is a fickle, flaky, unfair dame, subject to the whims of men not engaged in the game but mere observers, often influenced by the psychotic ramblings of the masses, in between spits of Skoal. What's the difference between Julius Randle lowering his shoulder and driving it into Jordan Morgan's chest, drawing the foul on Morgan, and Caris LeVert giving a little nudge with his forearm, only to get called for the charge? The answer is there is none, other than whatever asinine rationale the officials who made the calls decided. What's the difference between Marcus Lee's putback slam in the first half that was blatant, flagrant, and obvious offensive goaltending, and his putback slam in the second half that was actually closer to being legitimate (though still illegal)? The answer is nothing; there was no difference, except the referees called one correctly, and ignored the other.
This was not a foul: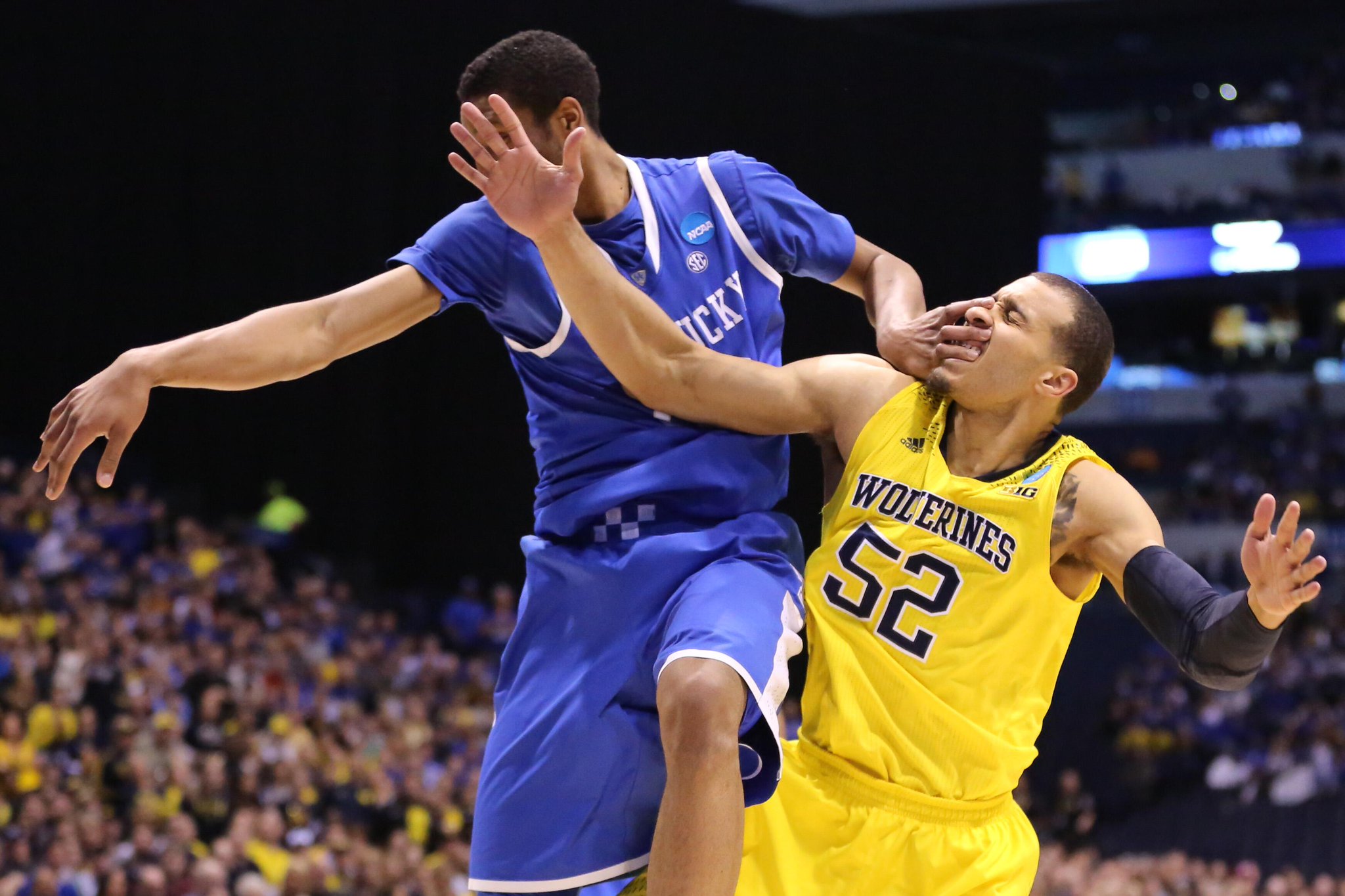 And neither was this: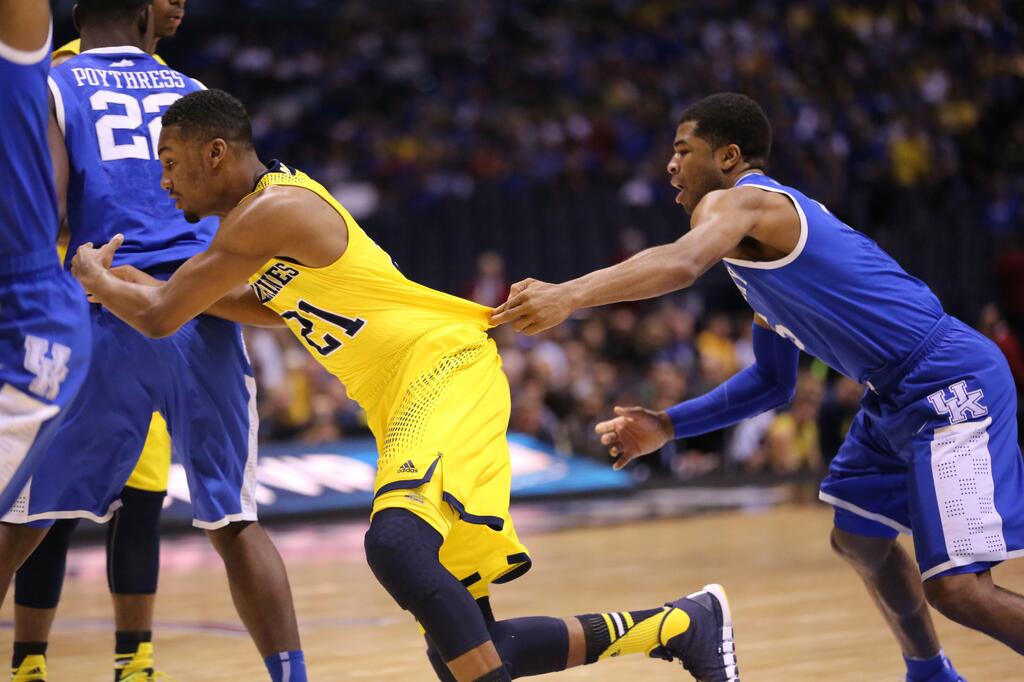 But if you ask Kentucky fans about yesterday's game, they will say the officiating was poor all-around, and Michigan fans have no business complaining about not getting a fair whistle.
And despite all of the above, today came down to, once again, one final shot. Unlike the first two, a miss would not have meant victory or defeat for either team, but overtime instead. And unlike the first two, it wasn't Michigan taking the shot this time. Instead, we could do nothing but sigh, hang our heads, and shrug helplessly as we suffered a dagger even greater than the one Burke plunged into the hearts of Kansas a year ago. Michigan didn't do anything wrong on the play. Harrison wasn't wide open. He didn't get to the rim while Michigan deployed its all-too-common matador defense in the lane. Michigan gave up a deep, contested three from a sub-35% three-point shooter; if you asked Beilein before the possession if that was an acceptable shot to allow, he would've taken it every time. Sometimes, the bear just gets you, and there's nothing you can do about it.
I'm going to say what's on my mind next at the risk of incurring the wrath of one of America's most insufferable, intolerable fanbases: I fucking hate Kentucky. I don't have a single shred of respect for John Calipari, the program he coaches for, or the psychopaths who march in lockstep with him simply because he wins. I'm hoping that this whole Northwestern football union thing
does
lead to college athletes being paid, if for nothing else than to bring some sort of level to the playing field that serpents like Calipari currently take advantage of. And I'll never respect a fanbase that spent years denigrating and hating the man when he was at Memphis, only to magically lose their voices when he changed to
their
shade of blue. I'm also not interested in hearing any apologists who take the "what has he ever been convicted of" route. Yes, it's just a
coincidence
that both UMass and Memphis had to vacate Final Four seasons after Calipari left. He certainly had nothing to do with any of the misdeeds that went on at either school, he just had bad luck. And he certainly plays by the rules without exception at one of the dirtiest programs in the history of college sports. Kentucky basketball is the equivalent of Ohio State football: both programs fell into a rut that they were no longer willing to stay in, and they placed their programs into the hands of used car salesmen who both have a history of turning a blind eye to the cheating that happens under their watch. Kentucky basketball is one of five programs in the history of the NCAA to receive the death penalty for being flagrant, unrepentant cheaters. But we're supposed to believe that their unprecedented success in recruiting is just a result of Kentucky's gravitas as a program (built on a foundation of cheating) combined with Calipari's personal charisma and previous successes (since erased by cheating). A morally bankrupt coach and a historically corrupt program teamed up and somehow negated each other's filthiness, thus creating some lily-white pure-as-the-driven-snow outfit? Please.
So yeah, this loss burns the shit out of me. "U mad"? Bet your ass I'm mad. I'm pissed. The window for a team like Michigan under John Beilein is miniscule. Beilein doesn't have the ability to buy off the next five star when he loses a player to the pros. His talent pool is reduced before he even begins recruiting because so many kids have parents, AAU coaches, and handlers going all over the country with their hands out, looking for the payoff that so many programs are willing to give. In college basketball you're only as good as your next recruiting class, and that makes Beilein's margin for error even smaller. Beilein spent years recruiting Devin Booker and Luke Kennard, and five minutes after Kentucky and Duke called, Michigan was an afterthought. And now with Stauskas almost certainly leaving, Robinson probably leaving, and McGary possibly leaving, that window gets just a little tighter, making kids like Jalen Brunson and Jalen Coleman even more important recruits than they already were; making a redshirt like Mark Donnal all the more pivotal, starting as early as next year; making it even more crucial that recruits like Kameron Chatman, DJ Wilson and Ricky Doyle pan out into great players.
This was a great, great season. Losing two first round picks to the NBA, followed by losing one of the best big men in college basketball, only to respond to all that by winning the Big Ten by three games and returning to the Elite Eight makes this perhaps John Beilein's best coaching job yet. But having to send off a warrior like Jordan Morgan, and seeing the likely end for Stauskas and Robinson by losing to that gangster and his mercenaries is a pill that is just a bit too sour for me to properly digest at the moment.