Disclaimer: The following post will contain perhaps excessive amounts of profanity. Just a fair warning.

Ah, 2007. It was supposed to be the year Michigan's offense dominated the souls of every defense it faced, starting with lowly Appalachian State. It was never a question of whether or not Michigan would beat App. State, it was a question of how badly they'd beat them. It was a question of how many points Michigan would score, how many yards Mike Hart would rack up, how many deep bombs Chad Henne would complete to Mario Manningham before Lloyd Carr finally called off the dogs. It was supposed to be Michigan's greatest offense ever, full of glorious cutback runs, Mario and Arrington blazing past DBs, and Chad slinging the ball around from the shotgun because the coaches were finally going to open things up after the disappointment of years past.

15 hours ago, hope sprang eternal. The moment I had waited so long for was upon me: The kickoff to 2007.

4 hours later, in a flurry of fuckups from every conceivable angle - offense, defense, special teams, coaching - the dream had become a nightmare. Like the hot, popular girl in high school who drops a book and makes eye contact with you for a millisecond before forgetting you exist, 2007 teased us with the aspirations of grandeur that we have so long desired, and was gone in a blink of an eye, returning us to the reality that has become all too painful to acknowledge, but all too obvious to ignore.

It was never supposed to be this way. After being as eviscerated as possible after the humiliation of another Rose Bowl no-show, it wasn't supposed to start like this. If we were to be slayed, it was supposed to be Oregon. Or Penn State. Or Wisconsin or Ohio State; even Notre Dame. It wasn't supposed to be Appalachian State, a I-AA (FCS) team. No FCS team had ever beaten a ranked FBS team. Ever. College football is pretty goddamn old, so when something happens for the first time, it's a big deal.

What happened in Ann Arbor on September 1st is unforgivable. I thought I had made my peace with Lloyd Carr. I had forgiven him for his past transgressions, assuming he would do what it takes to make his final season a magical one. But after Saturday, there will never be forgiveness. You can point at the mistakes Michigan's players made: Chad Henne barely completing 50% of his passes, overthrowing receivers all day and throwing an interception on a pass you learn not to throw as a freshman. The defense - questioned all offseason after losing Woodley, Branch, Harris, Burgess and Hall - was a sieve in the first half, as they decided to lower their heads and dive instead of actual tackling. Jamar Adams, allegedly an All Big Ten caliber safety, did his thing of being out of position. Johnny Sears, best known for being toasted by a Ball State (!) wideout last year, spent most of the day eating dust, running around wildly, and doing his best to fuck up on special teams. Multiple (!!!!!) times, the team only had 10 men on the field. What is the common denominator in all these egregious errors? Lloyd Carr. It is the head coach's responsibility to have his players and coaches prepared for the game. Instead, I saw a Michigan team make errors most high school teams avoid. Lloyd's never been a rah-rah motivational kind of guy, but what transpired at Michigan Stadium is unforgivable.

And Mike Hart...what happened? I am thoroughly convinced nobody will ever know why Mike Hart was held out for nearly a full quarter in the late 2nd through much of the 3rd. He was seen riding the bike on the sidelines as if he was trying to loosen up a leg kink or something. Big Ten Network announcer (and certified idiot) Charles Davis said he saw Hart with a "hitch in his giddyup". When asked about it on the sidelines (I'm skeptical, since I will never give Big Ten Network employees credit for doing anything), Hart reportedly said he wasn't hurt. Based on the fact that he tore it up when he returned in the third and fourth quarters, I find it unlikely he was injured enough to keep him out for a full quarter. So what's the story then? It was described as a thigh bruise, but personally I'm not buying it. My theory: Lloyd Carr and the coaches were so arrogant that the team would get it together and beat Appalachian State, they figured they didn't need to put Hart at anymore risk, and held him out much longer than was needed.

Also, on Hart...I love that man. I'm not even exaggerating - I'd take a bullet for Michael Hart. With the defense finally coming around but the offense still floundering, Mike went in and put the team on his shoulders. When his 54 yard touchdown (which took 15 seconds, by the way; when the ball was snapped there was 4:51 to go...when his teammates mobbed him, 4:36) was concluded, I was nearly reduced to tears of awe and wonder, because Mike had just single handedly won the game. There was still time left, but Mike had just done to App. State what Mario had done to Penn State two years earlier - he had pulled it out of the fire. All the mistakes were okay now; Mike had this, he had picked up the tab left by the defense, Coach Carr and Chad. On his goddamn little 5'9 frame, he had placed Michigan's dreams, hopes and aspirations, and carried them 54 yards to victory.

And then, somehow, Jim Herrmann's spirit returned to Michigan's sideline, and the defense that had clamped down on the mighty little I-AA team that could for the entire fourth quarter, wilted. Suddenly, they couldn't stop them. And suddenly, they were near field goal range. And suddenly, they were in field goal range. And suddenly, they were at the five yard line. And then suddenly...they led.

Throughout the entire second half, Appalachian State did its best to keep the status quo; they did their best to give Michigan the game. Their quarterback - who didn't throw an incomplete pass in the first half - had a second half meltdown. He threw a 3rd quarter interception to set Michigan up with a field goal. He fumbled in the third quarter to set up a Mike Hart touchdown. And after Michigan took the lead on Mike's 3rd TD, he threw another interception, and it seemed like everything would be okay.

And then, even when the defense bowed out, App. State gave Michigan one last gasp. Henne FINALLY hit that deep ball to Mario. It was supposed to be in the first quarter, as part of a Michigan glorified scrimmage. Instead, it was a desperate heave to try and save that fleeting glory. It put Michigan at the 20, and their new kicker, who wore #34, the same number Phil Brabbs wore 5 years ago when he beat Washington with a last second field goal in the season debut, got a chance to be the hero.

But the coaching mistakes and lack of preparation that had plagued Michigan all day doomed them. An assignment was blown, a block missed, the kick smacked away without ever having a chance. And in that instant, instead of narrowly missing a surprising dagger, Michigan's throat was slashed from ear to ear, and they bled out, the 2007 season slipping away in the form of the most humiliating, embarrassing, degenerative loss in 128 years of Michigan football. Nothing can ever be done to atone for this blemish. They can win the rest of their games, beat Ohio State and win the Rose Bowl, and yet from now until the end of time, this will be what Michigan is remembered for - the team that lost to Appalachian State.
This is what you have reduced us to, Lloyd. Over and over, I have made excuses for you. Oh, the losses in 1999 and 2000 were just bad luck, it happens. The loss to the Buckeyes in 2001 was just a fluke perpetrated by a team playing way over their heads against a sophomore quarterback. Oh, the losses to Oregon and Iowa in 2003 were solely on the heads of the special teams coach and the players failing to execute. The losses to Notre Dame and Ohio State in 2004 were the result of Chad and Mike being freshmen and not being used to the hostile environment. The ulcer-causing loss to Texas in the Rose Bowl was just Vince Young doing what Vince Young does. 2005 was just the perfect storm, falling on the shoulders of Chad missing Braylon, Mike being hurt and Jim Herrmann's ineptitude finally catching up to us. 2006 was more like it, that was Michigan, and when Bo died we all fell into a stupor, and Ohio State was just better. The Rose Bowl...well hey, even Bo had trouble in Pasadena, right?

No more. I will never make any excuse for you again, Lloyd Carr. Your colossal failure to motivate and prepare your team for the SEASON OPENER can never be redeemed. This is your legacy at Michigan. The five Big Ten titles, 4 Rose Bowls, countless All-Americans and national title take a backseat to the bullshit you put on that field on Saturday. It is impossible to tell what the ramifications are from such a back-breaking defeat. Your legacy is not hugging Brian Griese and accepting the Rose Bowl trophy in the early evening of January 1st, 1998, but it is watching as your alleged national championship contenders suffered the darkest moment in the history of the program. The scene when it was over resembled Spartan Stadium last year after Weis's goons were through pillaging; the fans standing around, shock and horror on their faces as they tried to compute what had happened; how something that was supposed to be so glorious could go so horribly wrong.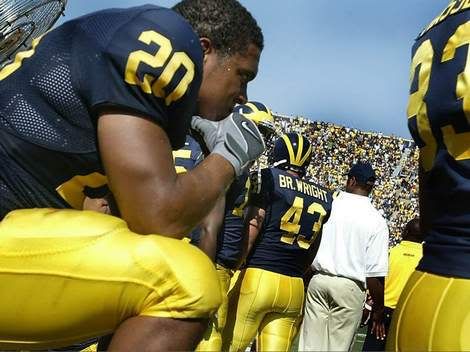 I'm so sorry, Mike. You deserved so much better than this. We all did.