powered by ODEO
The All American Rejects - It Ends Tonight

There used to be a time when a Michigan loss tore me up. It was so shocking and unacceptable that I would cry, or scream and yell obscenities. I'd throw random things in a fit of rage, and I'd be intolerable to be around - just general misery and anger.

Those days are now gone. After watching Michigan get their throats slashed by Appalachian State last week, I was in a haze, sort of detached from everything during the week leading up to the Oregon game. I read newspaper articles, I read stories online, I read quotes from players and coaches alike, all pointing toward being focused and prepared, and ready to answer the bell after a week of having the country laugh in their faces.

Instead, the same thing happened, only this time Michigan was playing an actual Division I-A opponent, and the result: Beatdown. Ass kicking. Humiliation. Oregon's spread offense - led by mobile QB (and Heisman candidate?) Dennis Dixon - put 624 yards on the board, and only 39 points because their coach felt sorry for Michigan, I guess.

There was open revolt by the fans, too. For the first time in my memory, Michigan's football team was loudly booed by the crowd at the Big House - which is quickly becoming the most overrated venue in sports.


"Your subtleties...
They strangle me...
I can't explain myself at all...
And all that wants...
And all that needs...
All I don't want to need at all..."
The rebellion began sometime in the first half, with chants of "We want Mallett", which were foolish. The playcalling was conservative and predictable with a four-year starting senior at quarterback; did the fans expect different if a true freshman was thrown in with no experience at all?

In the end, the fans got their wish, but before that happened, the bloodletting commenced, as the Ducks' offense made a mockery of Michigan's alleged defense. Dixon never felt pressured, he could sit back on his heels all day and have ample time to carve up Michigan's high school secondary. And carve it up he did, hitting for touchdowns of 85, 46 and 61 yards. Oh, but the rushing game...I wonder if the players Michigan puts out there on defense spent a lot of time at arcades in the offseason playing pinball, because they bounced off Oregon's ballcarriers all day. UO coach Mike Belotti said it didn't take him very long at all to see that Michigan's defense was essentially a bunch of traffic cones out there; so he opened up the playbook for a little razzle dazzle. A statue of liberty play netted 14 yards. My guess is Belotti saw how Michigan's defense was so confused by it, he decided to call it again, with an added wrinkle. So, on Oregon's next drive, Dixon executed the play again - fake a pass and hold the football behind your back for the running back to take - only this time the running back didn't take it. But Michigan's defense sure did, and Dixon could've moonwalked into the endzone. 25-7 Oregon.



"The walls start breathing...
My mind's unweaving...
Maybe it's best you leave me alone...
A weight is lifted,
On this evening,
I give the final blow..."



The ugliness reached an all-time high shortly after that, as Chad Henne was injured late in the second quarter as Michigan tried to respond. The crowd roared their loudest cheers of the day, and I cannot tell what they were cheering for. I don't want to believe they were cheering Henne's injury. I think it was just a combination of it looking like Henne - who isn't really good anymore for some reason - was coming out, and Ryan Mallett - freshman quarterback with all sorts of fluff - appearing to come in. Henne stayed in though, and the possession ended with a stupid pass that was incomplete. The half ended, and the booing reached a crescendo. 32-7 Oregon.

Any hope of a miraculous comeback was extinguished before the second half even began. Henne was done; he didn't even come out of the lockerroom. With an inexperienced Mallett at QB, all that could be hoped for was to save face. And then things somehow got worse. When it seemed like things would at their lowest point, Mike Hart grabbed his leg in pain after a play and came off the field, spiking his helmet onto the turf in frustration.

And after that...Michigan gave up. After all the carnage that had taken place on the field, and the rebellion in the stands, the ugliest part of Saturday was Michigan surrendering, taking it as Oregon housed them on their own field. I can only say this so many times: Mike Hart deserves better than this. He came back for his final year expecting great things, and what has he gotten? Significant time on the sidelines, either because of injury or because the coaches conceded defeat. I can't imagine a worse feeling than that: Being forced to watch your teammates mail it in, watching your defense do absolutely nothing right. Being forced to sit there because those who lead have already deemed this a lost battle. Looking up at the scoreboard, and for the fourth straight time, seeing your team with less points.



"When darkness turns to light,
It ends tonight,
It ends tonight..."



I was unfair when I said that Mike Hart is the only one who cares on this football team. I have found another who cares just as much as he does: Jake Long. Long passed up MILLIONS of dollars to come back to Michigan. And unlike Hart, he had to stay in there as the slaughter took place. Even he was beaten up at the end, pain - both physical and mental - etched on his face. In the fourth quarter he even had to play the role of a high school principal. Greg Mathews decided to take a shot at an Oregon player's groin, and a small skirmish took place. Mathews - 6'3, 231 pounds - was busy talking trash (while trailing by 32 points) when Long - 6'7, 315 pounds - essentially grabbed him by the collar and pulled him away. He then got in his face and presumably told him something to the effect of, "Are you fucking retarded? We don't do that kind of dumb shit here you idiot." Is THAT what Long came back for, to lecture to underclassmen about how to behave when you're getting your asses whipped on national TV?

While we're on the topic of dumbass wide receivers...nobody quit more than Mario Manningham did on Saturday. I don't know if Mario's been hitting the bong with Adrian Arrington or if he's already worrying about his NFL draft status, but his performance in the second half was despicable. "The New Math", he is not. He will never wear the #1 jersey now.

And then...the coaches. It was almost comical to watch Lloyd Carr stand at the podium after the game and defend himself, claiming he's not afraid to lose his job. Of course you aren't, Lloyd - you know you're a made man here. Even with Bo gone, you know being his right-hand man that you are safe. And I'm fine with that, I guess. This aborted fetus of a season is essentially done now anyway, so there's no point in firing you and your band of mental midgets. Ron English and his stupid decision making, along with Mike DeBord and his predictable playcalling are safe too, because neither of them are competent enough to take over the reigns in midseason.



"A falling star...
Least I fall alone...
I can't explain what I can't explain...
You're finding things...that you didn't know...
I look at you with such disdain..."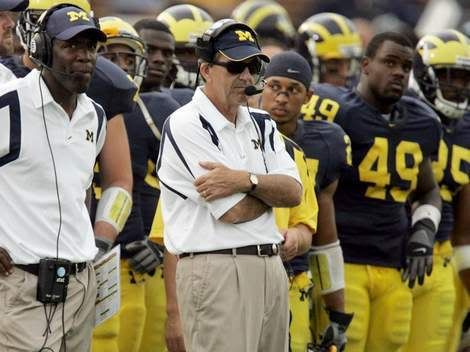 Like I said, I expected something like this to happen. I knew that no matter how angry, focused and prepared Michigan was, in the end they were facing the spread offense led by a mobile quarterback. What I DIDN'T expect was for UM to sit there and take it; to roll over and die when everyone expected them to unleash hell. And that leads me to think: Has Lloyd Carr actually lost this team? The seniors like Long and Hart and Adam Kraus tow the line, maintaining that they love their coach. But when underclassmen like Mathews and Manningham are acting like douchebags, and the defense is looking entirely disinterested, is there any unity with this team? Is there any pride? I guess we'll see in the coming weeks, starting with Ryan Mallett's first career start against Notre Dame.

I wonder at some point...did Dennis Dixon laugh? As he beat UM to the corners, as he flicked his wrist and lobbed the ball past Michigan's beaten secondary, as he made fools of them and jogged into the endzone on the fake, did he reach a point where he realized how easy it really was, and laugh? As the yards racked up...and the points piled on, and it became clearer and clearer that the day would end with the Ducks jumping around on Michigan's field celebrating with their legion in the stands...did Dixon have time to cackle? Vince Young never laughed, he was too cool. Troy Smith never laughed, he was too much of a gamer. But as the massacre became more and more laughable, and as I became more detached and numb, did Dixon, the leader of this funloving band of kids from the west coast, crack a smile and look at his coach and say, "It's all tooooooo easy"?

I'm a historian by hobby, and over the past couple days I've thought about General Douglas MacArthur. MacArthur was best known for his island hopping in the Pacific Theater of World War II as the U.S. slowly beat the Japanese back. After that though, when the Korean War broke out, MacArthur fell from grace. While his superiors wanted a cease fire, he wanted all-out war. In the end, he was relieved of his command, and after 11 years overseas, returned to America in shame. In his final address to Congress, he said the following:



"Old soldiers never die; they just fade away. And like the old soldier of that ballad, I now close my military career and just fade away - an old soldier who tried to do his duty as God gave him the light to see that duty. Goodbye."