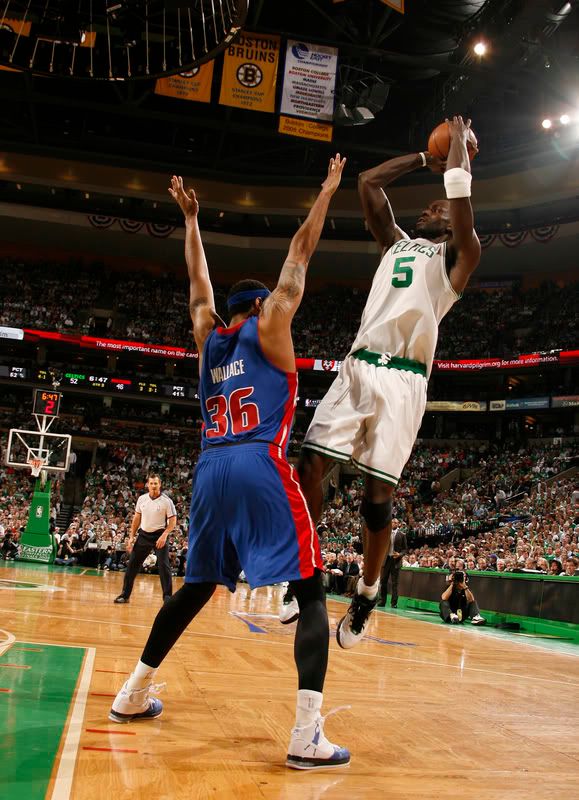 Boston 88, Detroit 79; Eastern Finals, 0-1


You
might as well disregard the last post, because the Pistons surrendered any pre-existing advantage they had tonight. That whole "rust" thing that I tried to downplay? The Celtics jumped out to an 8-0 lead. I find it amazing that the Pistons outrebounded Boston in terms of offensive boards, because I swear every time I saw the Pistons jack up shot (usually ill-advised), I saw not a single blue jersey trying to box out for positioning in case the shot missed, just 3-4 Boston players.
It gets really old seeing Rasheed not show up until the second quarter. It gets really old seeing Rasheed throw up garbage threes. My favorite part of tonight was when Rip stole the ball from Pierce in the corner and threw the ball down court - right into the hands of a Celtic. But then, the defense forced a stop, Chauncey got the ball, dribbled right down the floor and threw up a terrible three that had no chance.
It's time for Chauncey Billups and Rasheed Wallace to man up. This is the Eastern Conference Finals for christ's sake. Chauncey looked terrible tonight - 3/6, 9 points, 2 assists, 2 turnovers - if he's still injured, it's his responsibility to tell the coaches and training staff he isn't good enough to go, but he's not going to do that, because no matter how much Detroit fans want to deny it, Chauncey Billups is one arrogant motherfucker. He was a ghost last year against Cleveland, and he was a ghost tonight in Game 1 in Boston. If he's on the court, he better damn well step his game up, because anything less is hurting this team's chances of advancing.
This isn't about any metaphorical "switch" that the Pistons flip on and off. This is about desire; fire in the belly. I thought they had gained some of that back in the final two games against Orlando, but it was completely absent tonight. Could that be attributed to the week off? Or Chauncey being injured or even rustier than the rest of the team? Maybe. I guess we'll see in Game 2. But this lackadaisical, ho-hum bullshit has got to stop. 15 assists is about TEN too few for a team that is based on being unselfish and making the extra pass.
We're going to learn a LOT about the 2008 Pistons Thursday night. I don't give a crap about Boston's road woes in the postseason. If the Pistons mail it in Thursday night figuring Boston sucks on the road and they'll just get those two back at the Palace, then fuck it, this team is dead. I want to see a hungry, desperate team on Thursday at the Garden. I want to see a team that actually backs up all the things they say to the media. Rasheed Wallace said that he realizes this could be the final run for these Pistons. Well Sheed, ACT LIKE IT. If you believe this is your final chance at a title, get down on the blocks and attack Kevin Garnett. Take control of this team by the throat. Instead of being stoic and yawning during timeouts, get in your teammates' faces. This team has ALWAYS gone as Rasheed goes. Well Roscoe, it's time to go to work.
These Pistons will not beat Boston if they lose Game 2. I don't care how Boston plays away from home, you're not going to beat them 4 times out of 5. It's time to finally see what kind of guts and heart they have. 3-6 shooting nights from Chauncey Billups are unacceptable. It's time for SOMEONE to grow a pair and call these players out. I don't care if it's Saunders, I don't care if it's Dumars, I don't care if it's HR Pufnstuf with Tedy Ruxpin. It's time to stop blowing smoke up the asses of these guys, and cuss them out, because they just had a week off and lost by 9 to a team that played a Game 7 on Sunday. If it takes Flip Saunders calling them a bunch of pussy ass bitches to piss them off and make them play angry and actually want it, so be it. They already hate Flip anyway; they don't respect him at all. (Note: I think we all know Flip is incapable of doing what I just suggested.)
The light went on for the Pistons at halftime of Game 4 in Philadelphia. Maybe it burned out during the week off, but they need to turn it back on immediately, because the Celtics aren't going to wait around.