On June 7, 1997, a young boy was spending the night at his grandmother's house, like he often did in his younger preteen days. His older brothers, both 21 at the time, lived there too, and on this night, his cousin and best friend was staying the night as well. Usually they would be doing what 8-9 year old kids do; create mischief, try to weasel out of going to sleep, spy on the older people while pretending it was a matter of life or death. But June 7th was different. That night there was no yelling or running around or playing video games. That night was all about a coronation; the coronation of the first sports team the young boy had become attached to. At present day if one were to ask this fellow who his favorite team was, he would answer "Michigan football" approximately one second later. But even before the days of the winged helmets, there was the winged wheel, and June 7, 1997 was the crowning moment. Living and dying on every single play, the young lad watched his heros in the red and white skate up and down that white surface that donned the "Hockeytown" moniker at the center. When Lidstrom scored late in the first period to draw first blood, the boy shouted. When McCarty scored his most famous goal late in the second period, the boy yelled. And when the final seconds ticked away and the Red Wings mobbed each other and the crowd on TV roared in unrestrained jubilation, the boy stared. After being reduced to tears by New Jersey in 1995 and Colorado in 1996, the 8 year old kid could not properly express himself. There was no self righteous fist pump, no whooping and hollaring, just a dazed sense of fulfillment that never ended, and when Yzerman held the Cup over his head for the first time, a hazy, stupid-looking grin plastered itself on the boy's face. You'd think he'd just seen his first pair of breasts or something.

1998 was a bit different. The boy had experienced his first championship as a fan, and still, there was an empty feeling, because the celebration of that first one had been cut short by the actions of a piece of shit limo driver that ended the career and nearly the life of one of Detroit's finest players. The boy of course didn't understand it at the time, but that tragic accident would ensure that the second championship would follow right after the first. The heros he watched on the ice so often were human too, and they were a family, and when one family member falls, the rest rally around him to achieve greatness in his name. And achieve it they did. This time, the boy was at home for the final game, his parents in the same room. After the game ended and the Red Wings mobbed each other again, the boy noticed his mother crying. Being 9 years old, the boy didn't quite understand why someone would cry unless someone had died or been hurt. But when Vladdie was wheeled out onto the ice in his wheelchair, and when Stevie Y put the Cup in his lap, the boy understood, as his own eyes grew misty watching a moment that transcended sports and illuminated everything that is good and decent about humanity.

Fast forward a bit now, to the summer of 2001. Though not quite a teenager yet, that same boy was as sharp as he could be when it came to sports, and he had just watched his beloved Red Wings lose in overtime to some purple team from California and end their season by getting KO'ed in the first round. Things weren't supposed to happen like that, so the summer of '01 brought about change. Chris Osgood, out. Dominik Hasek, Brett Hull, Luc Robitaille, in. New York Yankees of hockey? Hell no. The Yankees haven't successfully bought a World Series title yet. The Red Wings got a solid return on their expensive investments. From day one when those three were brought in, every single Red Wings fan, that young 12 year old boy included, expected Cup number three, and when things started unbelievably bad with two home losses to Vancouver, people freaked out. The Wings recovered though, beat Vancouver and then St. Louis in the second round to set the stage for one of the most exciting series of all-time: the 2002 Western Conference Finals against that goddamned Colorado team. The boy had sketchy, fuzzy memories of the Devils beating his Red Wings in the 1995 Finals, but his first vivid taste of defeat, and his first vivid taste of hatred, was in 1996 when a team with an arrogant ass of a goalie named Roy and an ass period named Lemieux beat the 62-win Red Wings in the conference finals. But they didn't just beat them, they bloodied them, and set the stage for a blood feud. The Wings got retribution the very next year, beating Colorado in the Western Finals in 1997. The Avalanche had the upper hand in the rivalry though. They beat the Red Wings in the second round in both 1999 and 2000, and then evened up the Stanley Cup count at two apiece by winning it in 2001. So here it was, the 2002 Western Finals, Detroit and Colorado, Hasek and Roy, Yzerman and Sakic, Fedorov and Forsberg, Lidstrom and Blake.

If there was ever a case of a conference finals being more memorable and sweeter than the actual championship, this was it. That young lad, 13 at the time now, was at a local fair for Game 1, carrying around a bulky, old transistor radio, listening for updates (the same radio, ironically, he would use four and a half years later to listen to Game 2 of the Tigers/Yankees series while sitting on a bench shivering outside at his local college, but that's beside the point). He arrived home in time to see that old grinder McCarty finish off an improbable hat trick and a 5-3 win. Game 2 was infuriating, as Colorado took 1-0, 2-1 and 3-2 leads, with the Red Wings tying it each time before the Avalanche finally won it in overtime on a goal by who else, Chris Drury. That fucking guy, it was so glorious when Colorado traded him away. So they went to Denver tied 1-1. Game 3 went to overtime, and there's nothing quite like playoff hockey. It really is the epitome of sudden death. And the end came suddenly in Game 3, as Fredrik Olausson - WHO? - won it for Detroit midway through OT with a slapper that beat that ass Roy. Colorado would win Game 4, setting up a pressure-packed Game 5 back at the Joe. Colorado scored late in the first period, and carried that 1-0 lead into the 3rd, when good old Stevie Y did his magic. Early in the 3rd, he flicked the puck at Roy's legs, which were pinned against the post to trap the puck. But the puck managed to slip by, and although Roy did his best to hide it, ESPN's cameras picked up both the puck, and the Captain desperately exclaiming, "It's in the net!". Refs agreed, and the game was tied. Late in the period, with less than two minutes to go, Brendan Shanahan could've - should've - scored the game winner, instead opting to wait too long when he had Roy down and out of the net, allowing that annoying pest Forsberg to barely get his stick on the puck, which rang off the crossbar. Of course, as fate would have it, Forsberg would score in overtime to win the game 2-1 for Colorado and put them ahead 3-2 in the series. That 13 year old boy was shattered, devastated beyond belief. What should have been a win had become a loss. Perhaps it was a stroke of fate that the boy had prior commitments that kept him away for much of Game 6, as Hasek stood on his head and saved Detroit's season with a 2-0 win in Denver (with a little help from Patrick Roy's infamous statue of liberty play). The next day, the boy left with his family to their "up north" retreat which isn't all that far up north. It's not like, Yukon Territory north. Just the northern portion of the lower peninsula. All throughout the car ride there, the boy read the sports section of the Free Press from cover to cover as the Red Wings and Avalanche prepared for what would turn out to be - although no one knew it at the time - the final chapter of their fierce rivalry. Of course, everyone knows how it turned out - the Red Wings won the war with Roy and the Avalanche once and for all, chasing the Colorado goalie in a 7-0 wipeout in the 7th game. For the young lad, to present day nothing has matched that game, not just because of the actual events in the game, but because of the atmosphere. The boy and his parents chose to watch the game at a local restaurant "up north" while surrounded by 100 other Wings fans. Combine 100 screaming people, red flashing lights and goal horns, and you've got an experience a 13 year old sports-crazed kid can never forget.

After the Western Finals, the Stanley Cup Finals were a formality, even if they were tense for a bit. Carolina stole Game 1 in Detroit, Game 2 was tied until Lidstrom scored the winner with a little over 5:00 left, and Game 3 nearly went to Carolina before Brett Hull tied it with 74 seconds left and Igor Larionov won it deep into the 3rd overtime to give Detroit a 2-1 series lead. Outside of Game 7 of the NBA Finals against San Antonio, there has never been a more stressful and tense sporting event for that poor boy. All throughout the overtimes, he was afraid to move, gluing himself (somewhat literally) to the leather couch in his living room, fearing that the slightest movement could jinx the Wings. It had to have been about 1 or 2 AM when it ended, but it didn't matter, when the Wings scored, hands were extended to the ceiling, and screams were let loose. That effectively ended the Finals, as the Wings won Game 4 3-0 and Game 5 3-1 back home to win Cup #3. For the 3rd and final time, Stevie Y hoisted Lord Stanley over his head, this time with his little girl by his side.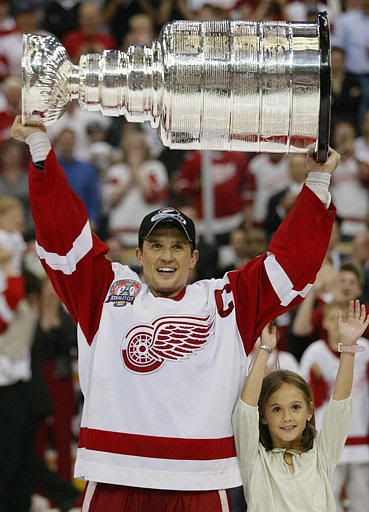 And now we come to present day. That 13 year old boy is now 19, and he is the main author of this blog and has spent the last hour or so referring to himself in the third person. Yeah, I'll stop that now. It's hard to believe it's been six years, isn't it? Since then we've had the Pistons rise to prominence with the 2004 title, but bitter disappointments since then (still crossing my fingers for this year), the Tigers rise to glory in 2006 and crash toward rock bottom this year, th Lions remain a laughingstock, and the Wings, well...Lets see.

2003: Some goalie named Giguere stands on his head, making 63, 34, 36 and 32 saves as the Wings lose four games in a row, all by one goal and two in OT including the fourth and final one in a series that puts a hatred for the Anaheim franchise in my heart that hasn't gone away.

2004: This time some goalie named Kiprusoff stands on his head, and the Wings, after splitting the first four games against Calgary, fail to score in the final two and lose Game 6 1-0 in double overtime, ending Curtis Joseph's attempt to replace Dominik Hasek.

2006: Also known as the Manny Legace Meltdown Legacy. Up 2-0 after 2 periods of Game 6 with his team trailing 3 games to 2, Legace gives up 4 goals in the 3rd period, the 4th coming with 1:06 left, ending Steve Yzerman's career on the worst possible note.

2007: The post-Stevie era begins with an improbable run to the Western Finals, but taxing 6-game series against both Calgary and San Jose take their toll on the Wings, as that fucking Giguere guy is waiting again. Oh, and the thug tactics of the dirty players that litter the Anaheim roster didn't help (although I still can't believe they lost Game 4 in Anaheim with Cheapshot Pronger in street clothes because of suspension). Hasek gives up the tying goal in the final minute of Game 5, Lilja gives it away to Selanne in OT, and Hasek spends all of Game 6 on his back as the Ducks put rebounds past him and eliminate the Red Wings on their way to the Cup. F Anaheim. I'm glad the Stars beat you. Bastards.

So, here we are. The more things change (Shanahan and Fedorov turning into Datsyuk and Zetterberg minus the abrupt postseason noshows), the more they stay the same (Lidstrom patrolling the blue line, Ozzie in net). And looking across the aisle, we see the Pittsburgh Penguins and the face of the NHL, a man named Sidney. Excuse me while I chuckle like a 12-year old.

Okay, I'm back. And I'm ready to celebrate the 4th Stanley Cup of my lifetime. I want it so bad I can taste it, and I'm just watching. Imagine how those players feel. These Red Wings have done what the Pistons have talked about for three years now - feed off the disappointment of the previous season's failure and turn it into motivation to win. While the Pistons have talked tough after losing to San Antonio, Miami, Cleveland...the Wings have taken the loss to Anaheim last season and learned from it. And here they are, four wins from Stanley. Nope, Stevie Y and Scotty aren't going to be rinkside this time. They'll be up in their owner's boxes (or at home, does Scotty go to the games? I have no idea). This isn't much different from the past couple teams that folded under pressure against Edmonton and Calgary. The old skeletons like Shanny and Sergei and Hull are gone, although Chelios is still here, and the goaltending has been better, but from the mental aspect, this team is perhaps the best of them all. They're a mixture of young and old, glitzy and gritty, but all of them are hungry and determined. Pittsburgh wants to bring their phenoms Crosby and Malkin? We'll match that point for point with Z and D. Hot third scorer in Marian Hossa? We've got one too, he's just on the mend; get well, Franzen!

Oh, by the way, I'm starting to get irked at that. For over a week now it's like we've been held hostage by Johan Franzen's doctors. His headaches are gone, he's practicing again, why is he not cleared to play? I understand he wouldn't be up to game speed, but whenever he's cleared to play (Babcock and Holland are convinced he WILL play against Pittsburgh at some point), he's going to be thrown into the fire. Why not clear him to play five or six minutes in Game 1 just to get his legs under him? Oh well.

This series looks pretty even split right down the middle, statistically. I believe the experience of the Red Wings is a tangible advantage, and along with the obvious (in my opinion) advantage Detroit has on the blue line, that should tilt the Cup in the Wings' favor. It's really impossible to predict though. I could see this ending in five, or I could see it being stretched to seven. One thing I do believe though, and admittedly it is a mixture of bias, hope, belief and analytical mumbo jumbo: Detroit will win, Nick will hoist his first Cup as captain, and Z and D will split the Conn Smythe ala Randy Johnson and Curt Schilling in the 2001 World Series.

GO WINGS!

P.S. This should answer the question of what I'm watching tomorrow. I'll have the Pistons game on the TV in my room, but the big screen HD in the living room is tuned into the Joe tomorrow night, no ifs, ands, or buts.