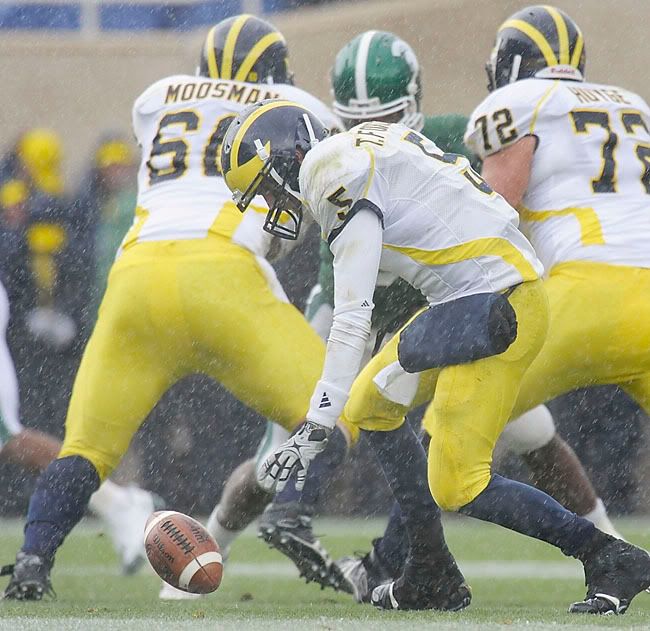 Michigan State 26, Michigan 20 (OT); 4-1, 1-1
It went exactly as it was planned. Michigan drove the field with ease, Tate Forcier was a gambling psychopath, hitting on 17 and still getting blackjack. Receivers were open. Tackles were missed. Assignments were blown. Touchdowns were scored. The Victors played. MSU's secondary was what we thought it was - entirely mediocre, bordering on terrible.
Except it took 55 minutes for all that to blossom. Before Darryl Stonum strolled into the endzone after a 60-yard catch and run touchdown with 4:03 left, Michigan's offense was totally and completely squashed, thanks to dropped passes, dubious playcalling and an offensive line missing its best and most crucial player. If Tate is UM's MVP, then Dave Molk is 1A (or 1B to Brandon Graham). We were able to tolerate his absence against Indiana (sort of), but against an OK rush defense in MSU, against a team that showed fire, determination and desperation not seen in their previous four games, the offensive line produced an epic fail. Molk is the lifeblood that keeps the engine going. He makes the calls at the line, and his foot injury creates a domino effect. David Moosman should be at guard, not center. Mark Huyge should be at tackle, not guard. Perry Dorrestein, bless his soul, should be on the bench, not at tackle. And on top of all that, Molk is far and away our best run blocker, showing the mean streak, tenacity, awareness and foot work of the prototypical spread lineman. The 4-6 week timeframe for his return will be closer to four, because he will play through the pain, because he sees that his team needs him.
It was detailed at
MGoBlog
, but I'll echo: at some point, a 2-point conversion should've been tried, either on Stonum's touchdown or the final score. If Michigan had a timeout left, I would've had no problem going for two after the touchdown pass to Roundtree. In fact, I would've encouraged it, and if it had failed, I would've held my head high with a 20-19 loss. Given the circumstances - Tate being completely spent, the rain pouring, and the general chaos that would've ensued from the coaches calling for two when all the players expected one - it's hard to disagree with kicking it. If we go for it and miss, all the pseudo analysts on ESPN and in the MSM laugh and deride Rodriguez for being a moron, when it becomes clearer day after day the people paraded out to talk about football have essentially zero in-depth knowledge about the sport because their target audience is an audience with roughly the same amount, and often less. If UM had a timeout, I would've taken it, given Tate time to catch his breath and focus the offense. Personally, I feel much more comfortable putting the game in my offense's hands with one single do-or-die play rather than reintroducing the defense to the equation. I'll give them credit, they got the stops when they needed to (with a little help from Dantonio playing Lloydball and sitting on the lead). But was anybody
really
surprised when even after losing nine yards on their first play in OT, MSU still got out of it? I wasn't. Why?
Because overall, when you step back and look at the sum of all parts, Michigan's defense is a black hole of death, and has been for a long time now. This transcends Saturday. It transcends Greg Robinson, Scott Shafer, and Rich Rodriguez. It started pretty much back in 2000, when Northwestern put 654 yards and 54 points on Michigan's defense. Ever since then, it's been a gradual decline into the abyss. Save for 11 games in 2006 with an upperclassmen-laden defense with multiple NFL players - Woodley, Branch, Taylor, Harris, Crable, Burgess, Hall, Adams, and Trent have all stuck around in some form or another - there has been failure after failure after failure in nearly every facet from every coach and almost every player. The 2003 defense couldn't cope with Oregon's speed or get them off the field. They couldn't handle USC's playmakers on the perimeter or generate any kind of pass rush. The 2004 defense gave up seven (!) touchdowns of 60+ yards over the last seven games and served as springboards for Vince Young and Troy Smith. The 2005 defense...nuff said. Even the 2006 defense crumbled at the end against the elite teams. The 2007 defense opened with two of the most embarrassing performances any of us will ever see. The 2008 defense looked worse than it was because of the offense's total ineptitude, but was still an abject failure in virtually every sense. This year's defense is undersized, flawed, shallow, and fragile. It's a result of trying to fix years of terrible fundamentals and years of terrible recruiting.
Consider this. The 2006 recruiting class consisted of the following defensive players (Rivals star rankings included):
Greg Banks, 3-star DE

: A depth player who has never done anything of substance.

Steve Brown, 4-star S

: Spent a year on special teams, two years as a touchdown producer for opposing offenses at safety, and is now one of our best players on defense as an outside linebacker as a senior.
Obi Ezeh

, 3-star RB

: A player regarded as a running back in high school is our starting middle linebacker. In his third year as a fulltime starter, he has shown almost no improvement, probably because in his third year as a fulltime starter, he is operating in his third defensive scheme.

John Ferrara, 3-star DE/DT

: Moved to OL.

Brandon Graham, 5-star LB:

Moved to DE and is Michigan's best defender. Teams gameplan around him and scheme to take him out of the game. He is an elite difference maker.

Jason Kates, 4-star DT:

Highly regarded recruit with offers from big hitters (Penn State, Notre Dame, Florida State); did exactly nothing under either regime at Michigan and left the team.

Cobrani Mixon, 4-star LB:

Spent a year at Michigan before transferring to

Kent State

.

Jonas Mouton, 4-star S

: Was a super recruit, turned down USC to come to Michigan, converted to linebacker, was Michigan's best LB by the end of 2008 and has been terrible so far in 2009. His effort on Kirk Cousins' 41-yard run on Saturday was one of the more egregiously unacceptable things I have seen from a Michigan football player.

Quintin Patilla, 3-star LB:

Transferred to

Grand Valley State

.

Adam Patterson, 4-star DE/DT

: Really hyped top 100 recruit who has done absolutely nothing to date.

Quintin Woods, 3-star DE:

Left without doing a thing, went the JUCO route and is now at Kansas.
11 players. One star (Graham), one terrible-turned-decent player (Brown), two serviceable players (Ezeh, Mouton), and seven flameouts (six if you discount Ferrara because of the position change). These are players who would be seniors or redshirt juniors on this defense right now, and exactly 27% of them are still here (on defense).
Let's look at 2007:
Artis Chambers, 3-star DB:

Transferred to Ball State, which is a bottom-feeding MAC school.

Marell Evans, 2-star LB:

Could not beat out a fellow sophomore (Brandon Herron) or an undersized true freshman (Craig Roh) at the Quick position. Transferred.

Brandon Herron, 3-star LB:

Sees intermediate time behind Roh at the Quick.

Austin Panter, 4-star JUCO LB:

This is how desperate Michigan was for linebackers. The school that never goes the JUCO route went the JUCO route. Panter never produced a thing on the field in two years.

James Rogers, 3-star ATH:

Recruited as a corner, moved to receiver.

Renaldo Sagesse, 3-star DT:

Currently backing up Mike Martin at the nose tackle spot. Would most likely be starting if Michigan ran a conventional defense.

Ryan Van Bergen, 4-star DE:

Playing out of position as more of a defensive tackle in Greg Robinson's scheme, but he's not a scrub. He's made some plays.

Donovan Warren, 5-star CB:

Living up to every bit of that 5-star hype so far this year.

Steve Watson, 3-star LB:

Listed as a TE by Rivals, he is a backup to Roh and Herron.

Michael Williams, 4-star S:

Currently starts at safety and hasn't committed any egregious errors leading to a huge touchdown, which is, sadly, a huge deal for a Michigan safety.

Troy Woolfolk, 3-star DB:

Started out at corner and is currently starting opposite Williams at the other safety spot. He's in his first year starting, so expectations must be tempered, but the early returns aren't good. Woolfolk was the one who needlessly bit on the playaction in the Western game that produced WMU's only touchdown. Getting caught flatfooted by playing the run when you're up 31 in the 4th quarter and the front seven has swallowed the running back all day is the exact lack of situational awareness Michigan's safeties have suffered from for years. He's also been pretty spotty as a tackler.

One star (Warren), three serviceable (and young) starters (Williams, Woolfolk, Van Bergen), and seven who are either backups or gone or playing offense now.
It is still too early to pass judgment on the 2008 class, but let's look at the defensive players from there for the hell of it:
Boubacar Cissoko, 4-star CB:

Consensus super-recruit, courted by several major programs. He's been hobbled by a shoulder injury, but he's also been robbed of all confidence because he's been burnt like toast so far this year, to the point where he barely saw the field (did he play at all?) against MSU. To be fair, he shouldn't have to be in the lineup right now. If Michigan had won some of the recruiting battles in previous years (Jai Eugene, Ronald Johnson, Dionte Allen), Cissoko would be a nickelback and polishing his game. Remember, he's a Detroit PSL kid. These players don't receive the type of coaching in high school that prepares them for early contribution in college. Brandon Graham spent his first year in anonymity trying to figure out if he was a DE or DT. Nick Perry was blessed with eligibility and depth chart issues that allowed him to redshirt at USC. It's the same reason all the people clamoring for William Campbell to be a regular in the rotation need to zip it. These kids are highly ranked based on measurables and potential. They are raw, and need coaching.

Kenny Demens, 4-star LB:

Hasn't been able to get on the field much at all, even with the struggles of Ezeh and Mouton. This is troubling.

JB Fitzgerald, 4-star LB:

See above. When Fitz got in the game against Eastern, he looked completely lost. Plain and simple: Ezeh and Mouton aren't very good right now. The options behind them are worse. More later.


JT Floyd, 3-star CB:

I suspect it's only a matter of time before Floyd gets scorched over the top for a long TD, because he's just not that fast, and would probably be better served playing safety...if Michigan had the luxury of moving him there, but they don't, so they can't.

Taylor Hill, 4-star LB:

Committed to Michigan after visitng Michigan State, and then bolted for home in Youngstown after about five minutes.

Mike Martin, 4-star DT:

He's not a true nose tackle, but he's still a monster. I expect MGoBlog's UFR to grade out a monstrous day for Martin from Saturday. He's doing his best, and his best is pretty damn good.

Brandon Smith, 4-star S:

Came in as a safety and blew up to the point where he is now a linebacker. He's one of the most physically impressive players on the team, but it will take time for him to learn his position. Only way he sees the field at linebacker this year is if an apocalyptic string of injuries sidelines Ezeh, Mouton, Kevin Leach, Demens, and Fitzgerald.

Marcus Weatherspoon, 4-star LB:

Waffled back and forth on his Michigan commitment after Rodriguez was hired, and then got shot down with eligibility issues at Michigan, sending him back home to Jersey, where he's now at Rutgers.
The mistakes made in recruiting over the past few years, by Lloyd Carr's staff in particular (we'll know in 2-3 years about RR) have been gaping and appalling. The disaster that was the Scott Shafer hire as defensive coordinator compounded things exponentially. There can be little to no expectation of player development or elite defensive recruiting when this program has three defensive coordinators with three separate schemes in three years. There have been numerous misses in recruiting that are haunting Michigan right now. Instead of having Jai Eugene, Dionte Allen and Ronald Johnson in the secondary, we're starting a corner-turned-safety, a redshirt freshman corner who should be a safety, and have played a walkon heavy minutes over the past four weeks. There is a walkon in the two deep at linebacker because of recruiting misses (Chris Colasanti, Chris Norman) and lack of player development. There is a walkon in the two deep at defensive end.
Simply put, the situation we are in has been building up for a long time now. It cannot be pinned on one single man, nor can it be fixed overnight. I believe that Greg Robinson is the right man to fix Michigan's defense. But he's not a miracle worker. He is installing a new scheme with precious little depth and multiple young players/first-year starters. This is not a good defense. That doesn't mean Robinson is a bad coach, just as last year's offensive offense didn't mean Rodriguez was a bad coach. The keys to fixing this are patience, fundamentals, and recruiting. I suspect RR will have the patience, because continuity is key, and we cannot afford another DC flameout. The fundamentals will come. Robinson is trying his best to fix what gradually rotted into shit under Herrmann and English. And recruiting...well, this must be addressed. Simply put. I am not "stargazing" when I say this: It's not good enough right now. There are players currently committed to Michigan who are not needed simply because their position is overstocked. I'm not going to name names, because that's bushleague. I'm not going to say they aren't "Michigan material", because I'm not smarter than the coaches. And the relative weakness of this class is directly related to 3-9. People were all awestruck and stunned when we signed a Top 10 class in February. My response: You don't understand how recruiting works. The onfield results have little effect on the
current
class. It affects the class AFTER that one. Just as the 3-9 2008 season has affected our current class, a strong start this year (and a strong finish) will positively affect the 2011 class. Sure, we may get the attention of some highly regarded 2010 kids, but it would be surprising to come out of nowhere and snag any of them, simply because they've been thinking of other schools for much longer. But my overall point remains the same: It's time for Michigan to start getting in on
elite
defensive players. We need to get in early, stick around, and be the last ones to leave. And Greg Robinson HAS to stay on as defensive coordinator for several seasons. Without continuity, this defense will never improve.