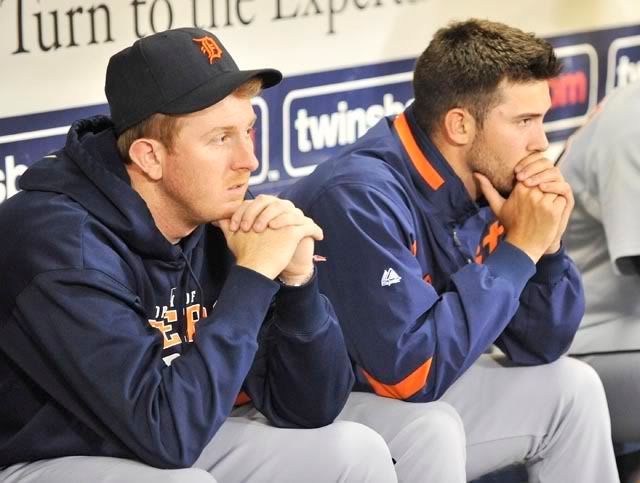 One Game Playoff: Twins 6, Tigers 5 (12)
I don't make baseball a consistent topic here, simply because it's pretty much impossible for an on-again off-again blogger to write about a sport that is always on-again...until the season ends. Until you watch your team gack up a seven game lead in a month. Until for the first time in history, a three game lead with four to play is erased. Until a 163-day stay atop the standings ends on the final day of the season. Until your team makes mistake after mistake after mistake while epically choking away the season.
I like baseball. I like the Tigers. I'm not one of those fairweather douches that magically appeared in 2006. I sat through the 2003 season, one of the worst of all-time, with nobodies like Craig Monroe, Alex Sanchez, Warren Morris, Nate Cornejo and Matt Roney. I've been blessed to see some magical moments from my teams over the years. Four Stanley Cups, an NBA title, a national championship in football. And Magglio's homerun in the bottom of the 9th in Game 4 of the ALCS to sweep Oakland and send the Tigers to the World Series was one of the holiest moments I've ever been witness to.
Despite all that, baseball is probably third on the pecking order for me, behind football and hockey. I know much, much more about the strategies and intricacies of those sports than I do about baseball.
But when you put this in front of me, it doesn't take a genius to reach a conclusion.
2006:

Swept at home by the 100-loss Royals to finish the season and lose the Central Division after leading it for 147 days; Lost the World Series to one of the worst teams to ever make the postseason in baseball history.

2007:

Led the division by a game at the All-Star Break...and finished eight games back, a complete nonfactor in the second half. Oh, and then traded a 21-year old pitcher for a 32-year old shortstop whose 12-year career at that point had been entirely in the National League save for one abortion of a season in Boston. That shortstop (Edgar Renteria) lasted all of one season in Detroit while having one of the worst seasons of his career. That pitcher (Jair Jurrjens) just finished with the 5th best ERA in all of baseball at age 23.

2008:

Traded for Renteria, traded for Miguel Cabrera, traded for Dontrelle Willis. Exactly one of those players is useful. Touted a lineup deemed one of the greatest of all-time and a shooin for 1000 runs. They started 0-7 and finished in last place with the second highest payroll in baseball.

2009:

Led the Central Division for 163 days before losing it at the very end, thanks in part to going 1-5 against last place Kansas City in the final month.
That's four meltdowns in four seasons. There have been a lot of different players on this team in the past four years. Kenny Rogers, Mike Maroth, Pudge Rodriguez, Chris Shelton, Craig Monroe, Todd Jones, Jamie Walker, Sean Casey, Gary Sheffield, Chad Durbin, Andrew Miller, Armando Galarraga, Jeremy Bonderman, Aquilino Lopez, Nate Robertson. The list goes on. All of the above are either gone or have seen their roles drastically changed. The list of players that have been with the team in a solid capacity for all four seasons from 2006-2009 is short: Polanco, Guillen, Inge, Granderson, Ordonez, Thames, Verlander, Miner, Rodney, Zumaya (I guess). Aside from them, lots of turnover.
One thing has been consistent in each and every collapse in each season: The man in the dugout signing the lineup cards.
Jim Leyland deserves credit. Before he and Dave Dombrowski took over, the Tigers were one of the biggest jokes in sports. It was never a case of injuries or being too young. They were just laughably bad at everything. Leyland and Dombrowski fixed that. They restored some semblance of respectability to the franchise, and brought fans back to the ballpark. But there comes a time when a ceiling is reached, when you've done all you can do.
The ceiling has been reached for Jim Leyland. Another night of inexplicable fielding blunders and maddeningly stranding runners in scoring positions regardless of how many outs there were when they got there, this time in the biggest game of the season. Essentially everything that went wrong for the Tigers last night has happened on a consistent basis for the better part of four years now. It isn't magically going to be fixed.
Four years. Four collapses.
It's time.
Fire Leyland.