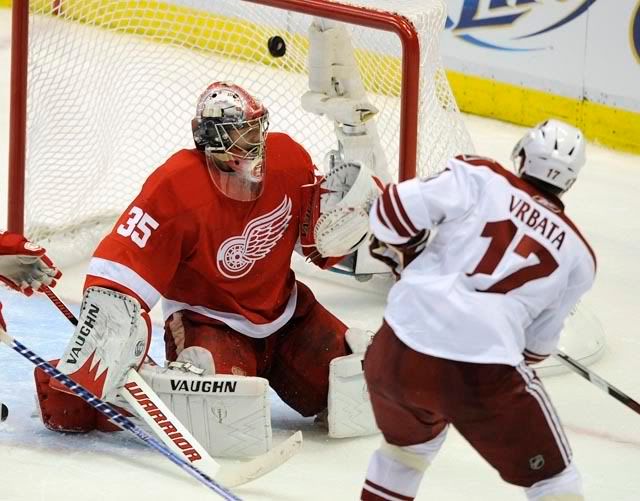 Coyotes 5, Red Wings 2; Western Quarterfinals, 3-3
| | | |
| --- | --- | --- |
| | Bruce Springsteen - Dancing In The Dark | |
| | | |
| | Found at skreemr.com | |
Two years ago, the Red Wings bury this game.


That's not to say they were excellent in closeout games or anything, despite what that idiot Pierre McGuire says. Seriously, I can't believe that tool's ignorance. He interviewed Kronwall before the game today and commented on how the Red Wings are excellent in closing out opponents.

Hey, Pierre? After today's game, the Wings are 7-7 in potential closeout games over the past three postseasons. It took them three tries to finish Dallas in 2008, two tries to finish Pittsburgh in 2008, two tries to finish Anaheim last year, and they went 0-2 at the end against the Penguins last season. And now this. McGuire gets dumber every time he's on TV.

But two years ago, you put the Red Wings on a powerplay early on, and then follow that up immediately with a 5-on-3 for over a minute...you aren't keeping them off the scoreboard. In fact you probably don't avoid a 2-0 hole.

Now? You get a shorthanded goal and you completely dismantle the Red Wings' power play. Something, probably both tangible and intangible, has changed with these Red Wings over the past two years. Tangibly, it's easy to see. Mikael Samuelsson and Jiri Hudler were here last year and in 2008. Marian Hossa was here last year. They're all gone now, and the Wings' power play has crumbled this season. Johan Franzen isn't the Mule at the moment. His laser beam shot is more of a BB gun right now, and he is dragging the first line down. Something isn't right with him - he's hurt. But the power play still has Lidstrom, Rafalski, Datsyuk, Zetterberg and Holmstrom - that should be the #1 unit now. Whether or not it happens in regular 5-on-5 play, I'm not sure if it's the right call, but on the man advantage, it's time to reunite the Circus. Zetterberg has spent most of the year on the 2nd unit with Filppula and Bertuzzi. No more. It's time for Datsyuk and Zetterberg to be reunited on the top unit, because there is entirely too much standing around and passing going on. When Datsyuk handles the puck, he creates opportunities, and those opportunities will be more abundant and even deadlier with Zetterberg on the ice at the same time. I understand the hesitation to become too "top heavy." They're both playing well, so you want to keep them apart so they anchor two lines and make their linemates better. But two years ago, they were together for essentially the entire postseason. The result? 27 points for Zetterberg, 23 for Datsyuk. They're magic together.

But what ails the Red Wings now goes beyond the basics. You look at this team, and something just feels...off. The shorthanded goal was a result of a really stupid play by Stuart and another "ack" goaltending moment from Howard. After that? Three powerplay goals for Phoenix, none of which Howard had much of a chance on, because the penalty killers in front of him basically stood around, their desperation level falling measures short of what's required this time of year. This crap happened last year too. Is it another "OMFG McCrimmon you piece of crap" thing? Maybe. It was much better two years ago. Also, I should note, although I'm not 100% sure, but I believe every Phoenix PPG was scored when Andreas Lilja was not on the ice. Once again, I can't believe I'm saying it, but he's one of the most important players on this team. Phoenix's 5th goal? Not a soul touching Pyatt in front of the net, allowing him to stand there and perfectly deflect it, because nobody wearing a red sweater bothered to even try pushing him out of the way.

That's what Lilja does when he's out there, he clears traffic and makes sure his goalie can see what's coming. Nobody else on the roster is capable of doing that, and that's one of the flaws the Red Wings have - they're too soft and small on defense. Lidstrom and Rafalski are getting older, and they've never relied on physical play anyway. They rely on intelligence, skating and stickwork to be elite defensemen. Both of them have slowly started to wane at this, but are still better than most. Kronwall and Stuart are "physical" in the sense that they deliver big hits, but neither of them are particularly skilled at clearing bodies in front. There are bigger defensemen in the ranks - Ericsson is still learning, Kindl is on the way next year, Smith will probably be in Grand Rapids in 2010-2011 - but as it stands now, the Red Wings' defense has gotten vulnerable.

It's gutcheck time. Anything goes in a Game 7, and despite the horror we endured during That Fateful Night in June last year, history dictates that the home team is the heavy favorite in these situation. So the Red Wings will have to dig deep to buck history. There once was a time where I would've been confident about their resolve and ability to get it done with their backs to the wall. But after today? After getting humiliated in front of the home crowd with a chance to advance? After dropping the ball and being forced to take another trip cross country and being forced to play a game they could've avoided. For the first time, I question their heart. I question their drive, and their ability to rise above and execute like we know they're capable of. Because they haven't shown it. Even in the games they've won in this series, they've coasted, they've sleepwalked, they've been lazy. They exploded for seven goals in Game 2 - and still had to fight the Coyotes off because of defensive lapses. Games 4 and 5, they pulled away late after being tied or holding precarious leads for most of the game, and being outplayed for large stretches. Where is the assassin-like efficiency that put the Stars away in Game 6 two years ago? Where is the stifling, never-say-die defense that smothered the Penguins' dreams in Game 6 two years ago?

I shudder to think that complacency could possibly have set in. Two years ago, they were still the hunters, still striving to be champions, and they played like it, leaving no stone unturned in their quest. Last year, it started to rot, and they tried to rely on their offense. It ended with predictable results.

Now? They're not the offensive juggernaut they were a year ago, and yet the defense remains shaky at best, the penalty killing schitzophrenic as ever. The sacrifice needed to become champions has not been there. I don't want to cast them in the same light I cast the Pistons, who rotted from the inside out from a sense of entitlement and ego fueled by a championship years earlier. The thought of that possibly happening to the Red Wings nauseates me. So who will it be in the Seventh Game? Who will bring the hellfire and brimstone? Who will yell when yelling is required? Who will carry the stone and provide the spark to fuel the Wings into Round 2?

You can't start a fire without a spark.