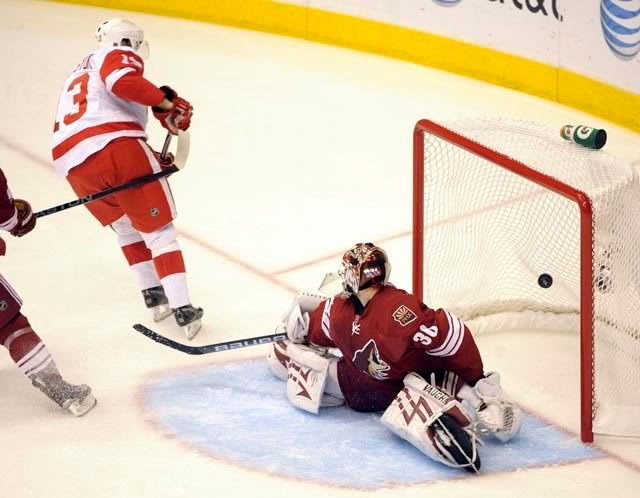 Game 7: Red Wings 6, Coyotes 1; Western Quarterfinals, 4-3
I am essentially 100% certain that nobody even remotely connected with the Red Wings organization has ever heard of me or this blog.
But after watching tonight, I can't help but wonder if somebody browsed the internet, saw
this
and passed it along to Mike Babcock and the players. I imagine Babcock's message would be something like:
"Ey, dat Brian guy, with da blog...let's shut his dumbass up, eh?"
Message sent. Message received. Brutal execution in the desert carried out.
I do have my reservations, big picture-wise. After seeing the almost violent way in which they dispatched the puppies tonight, I wonder why the Wings were so lackadaisical at times throughout the series, Games 3 and 6 in particular. I question if they will have the drive to bounce back if they fall asleep again.
But for now, it's okay. Tonight, we can revel in the afterglow of victory. We can revel in Datsyukian magic popping up when we needed it. I pondered, pleaded for the Circus of Zetterberg and Datsyuk to be reunited. Well, it wasn't entirely, save for one four-on-four shift - which featured Zetterberg floating a pass down the ice onto the stick of Pavel for one of his signature deke goals that leaves a goaltender deaf, dumb, and blind.
Tonight we saw that rumors of Nick Lidstrom's demise are still exaggerated. We saw that when the postseason arrives, unlikely heroes are required - HELLO, Brad Stuart! We saw that through all the malaise, rending of garments and profanity, the Red Wings still exist as we remember them. The assassin-like efficiency that we love so much, that I pined for in the comment section of
Abel to Yzerman
after Game 6 - it returned. I lusted for the killer instinct they showed in Dallas two years ago, and it came in spades.
The journey isn't over, obviously. In fact it's only just begun. It only gets harder from here. Despite their reputation this time of year, the Sharks are supremely talented, and honestly, I'm concerned. They're faster, more skilled, and better all-around than Phoenix was. It will be a much bigger challenge than this was.
But as we saw tonight - these Red Wings are still capable of rising to the challenge.