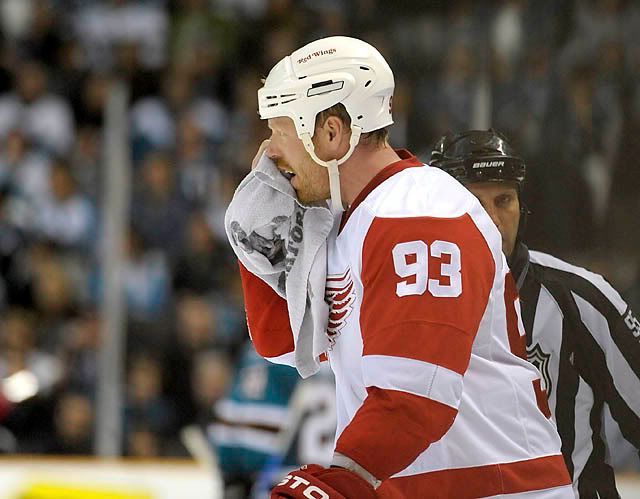 Sharks 4, Red Wings 3; Western Semifinals, 0-1
Some very quick thoughts, because I'm getting tired of this same tired ass script playing out:
1. The Sharks better pray the Red Wings don't find their legs, because outside of one 70 second flurry and a 5-on-3 powerplay goal, they were outplayed on their home ice against a team playing on zero extra rest.
2. Howard...should have stopped Pavelski's second goal.
3. Sometimes I really wish we had a true GOON on this team. Joe Thornton snows Howard in the first period - Stuart and Kronwall give him the what for. I would've preferred it if we had somebody to smash his teeth down his throat. That was a piece of crap move by a giant pussy trying to find his balls.
4. The top-heavy argument comes into play again, but honestly...if you're Mike Babcock, you have to at least
consider
putting Datsyuk and Zetterberg on the top line together. Monstrous.
5. Power play...sigh. Credit to the Sharks, or more specifically, Todd McLellan. We loved the guy when he was here because his penalty kill was a tenacious unit and the Red Wings destroyed their opponents in the faceoff circles. Well, we were on the receiving end of it tonight. Nevertheless, the PP has to be better. It's excruciating seeing them try to skate in, get stood up at the blueline, and have the puck get dumped down the ice.
6. The whole energy thing. While I do think the Wings played a pretty good game outside of those 70 seconds (how did you enjoy the play, Mrs. Lincoln?), they still looked a little rough around the edges to me. Some sloppy passes, losing battles in the corners, etc. All characteristics of a team that was operating at less than 100%. Hopefully Babcock is keen to this and gives them some R&R for the next two days.
7. Last but not least...the picture above. I mean...what a fucking joke, already. How much blood do the Red Wings have to lose before they get a goddamn high sticking call? There are no shades of grey here, no "judgment call" necessary. Lidstrom was busted open by an opponent's stick in Game 1 in Phoenix. Franzen was busted open by an opponent's stick in Game 1 in San Jose. There is no ambiguity. It's a four minute penalty, and that's twice now it hasn't been called. The next penalty on Filppula was the right call (even though Setoguchi still deserves an Academy Award for flopping to the ice like he'd been shot, only to spring up to his feet three seconds later), but it's a penalty that doesn't occur (and by extension, the winning goal on the ensuing 5-on-3) if the fucking refs make the right fucking call in the first FUCKING place. Outsiders say they're tired of me (and Red Wings fans in general) bitching about the refs. Well guess what? We're even more tired of the mind-numbing incompetence that seems to take place every single night. Yes, there is a human element involved, and with the human element comes human error. But there's a difference between making a dubious hooking call and completely ignoring a blatant high stick, as blood flows from the face of someone who just got jabbed in the face.
It's like Jeremy Roenick joked about a few years ago - do you think the players are out there cutting themselves with razor blades like professional wrestlers? I guess that would be fitting, since Gary Bettman seems hellbent on turning this from "sports" into "sports entertainment."