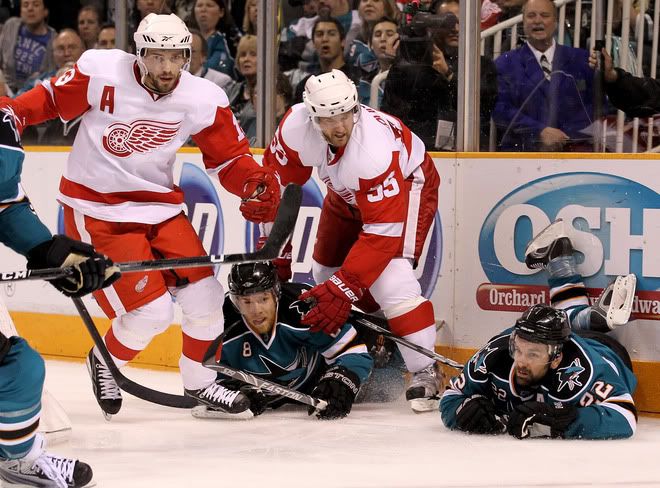 Sharks 4, Red Wings 3; Western Semifinals, 0-2
Honestly, you couldn't find a better picture to sum up what took place in San Jose tonight. While the Red Wings skated, the Sharks were on the ice, often drawing phantom penalties, which eventually piled up to the point they were able to seize momentum in a game they trailed 3-2. And they rode that momentum to a 4-3 win.
You know, I used to respect Todd McLellan. When he was an assistant in Detroit two years ago, the Wings were aces in the faceoff circles, and their special teams were dynamic. He has successfully instilled those qualities into the Sharks since taking over as their head coach after winning the Stanley Cup with Detroit in 2008.
But apparently the years of postseason gagging have caught up to the Sharks, and McLellan decided to teach them another attribute: the art of the flop.
Feel a stick near your feet? Throw your legs out from under you.
Feel a nudge in the back? Propel yourself face first onto the ice.
Feel a stick near your wrists? Lose control of the puck and then slide down to the ice.
All of the above will goad the (as usual) braindead mouth breathers masquarading as NHL referees into calling ten penalties on the team who committed the second fewest amount of infractions in the league this season. TEN power plays for San Jose tonight. Back to back five-on-threes.
After witnessing that abomination (no surprise either that one of the refs tonight was also on hand for
a previous abomination
), what more can you say? I love hockey. I love the Red Wings as much as I love Michigan football. But after yet another clusterfuck courtesy of Gary Bettman's refs and the NHL's World Cup representatives, how much more emotion can one invest? How can I continue to put so much into something so blatantly broken?
In the interest of full disclosure, I expected the Sharks to win the series. Despite dispatching Phoenix with brutal efficiency in Game 7, I saw enough problems with the Wings against the Coyotes and knew they wouldn't get away with such mistakes against a foe like San Jose. The first two games have reinforced those feelings, and I have a hard time envisioning the Red Wings beating the Sharks four out of five times.
But to have the Sharks flop and dive all over the ice like a bunch of pussies - that's embarrassing, and they shouldn't have to resort to such cowardly tactics. They're supposed to be better than that. But I guess they're not, so if they went to flop their way into the conference finals, so be it. I'm about at my wit's end with the NHL and its incompetence as it is.