Denard Robinson
Deerfield Beach, FL; Deerfield Beach HS
Rivals: 4 stars, #14 athlete, #188 overall
Scout: 4 stars, #16 cornerback, #159 overall
ESPN: 4 stars, #7 athlete, #101 overall
Committed to Michigan - February 4, 2009
I have used the "requiem" tag five times in the history of this blog; a perhaps overly dramatic way of bidding a final farewell to those who depart from the athletic programs we love so much. Five times: Mario Manningham, Chad Henne, Mike Hart, and Brandon Graham for football, and one for Manny Harris and DeShawn Sims, who stuck around to help rescue a basketball program from the wilderness. I keep the "requiem" tag tucked deeply away, and am always hesitant to bring it out; I consider it something close to sacred in my own mind, and I don't

want to cheapen it by using it too often.

I consider the aforementioned pieces some of the finest writing I've done here, based primarily on the feedback I received from them. Someone once told me (and later showed me in person) that they printed out my Mike Hart requiem and taped it up on the wall in their office. Another person told me my Graham requiem made them cry. It was later brought to my attention that Brandon Graham himself (somehow) found out about it, and wanted to let me know he appreciated

my words. So, yeah...I value the "requiem" tag a little bit more than the rest of the blog.
In this case...I feel as if I should have something more. I feel as if I owe Denard Robinson more than the simple tag given to the others. He always had something more for us. But alas, here it is. I mentioned that I use these types of posts as a final goodbye. But how do you say goodbye to someone who has meant so much, for so long? How can you simply move past one of the most important players to ever wear the helmet; someone that united so many when so many were divided? Denard Robinson arrived as a cauldron of fire boiled in Ann Arbor. He was handed the world and asked to guide it out of the fire from which he inherited it

.

He was asked to be perfect, at an imperfect time, in an imperfect world. He never knew how to be perfect, though; none of us do. But unlike the rest of us, Denard never dwelled on the negatives. To stop smiling would be akin to tying his shoes, or cutting his hair: antithetical to his very essence. Denard doesn't know how to be cynical, or pessimistic. In that sense, he's a better person than the rest of us. Today's line between college and professional football is more blurred than ever. Certain programs are run like cutthroat NFL franchises, buying the best recruits money can buy, processing those who don't cut it, and tossing in any and all incentives in between that can give them an edge. While this went on, Denard Robinson drove an old beaten up car and cherished each day he was in college. It was never about him. Other quarterbacks have come through that tunnel in Michigan Stadium, yearning for the spotlight and never shying away from a camera or microphone. While others sought the spotlight, Denard Robinson purposefully told reporters to leave him alone on September 11, 2010, as the sun faded away into the horizon in South Bend, as Denard, having completed one of the most magical games any of us will ever see, desperately sought out Manti Te'o to congratulate him on a spirited contest between two warriors. A year later, after another surreal slaying of Notre Dame, Denard laughed like a kid live on ESPN when Chris Fowler told him how many yards he had accumulated. It wasn't the laugh of someone yearning for accolades and acceptance. It was the laugh of someone too light-hearted and innocent to realize the magnitude of what he had done; too embarrassed to have the attention on him for even a second. In that sense, he

's a better person than the rest of us.
I spend an excessive amount of time on this blog-type thing comparing pedestrian things like football to the bigger picture of life. Sometimes when I look back on things I've written, I scratch my head and wonder where the hell I was going with it. The truth is, I never do "drafts" or "outlines" for anything that appears here. I never plan ahead or schedule things. I wait for the muse to hit me, and then I sit down and type, often at hours when everyone else is sleeping, because I abandoned the thought of being "normal" a long time ago. The peace and quiet that comes with being awake at 4:00 in the morning is mixed in with the haunting stillness of the night. But the combination suits me. I can't say when that process came to be, but that's what it is. So in the middle of the night, I type. Many times I end up erasing the words I type, or abandoning posts I've started altogether. If I were to go through the archives on Blogger, I'd find numerous unposted entries in some degree of completion. Usually it's because I lost interest in whatever I was creating, or my state of mind shifted away in another direction, so what I was writing no longer made sense, or appealed to me. I don't post here for the sake of posting - if I were to do that, I wouldn't go months between posts like I usually do now. I only create something and share it with others here when I feel moved enough to see it through to the end. My day-to-day feelings and moods often provide a significant hinderance to this process; there isn't much that moves the needle for me anymore. Politics are too frustrating to invest too much time in. Sports are always there, but as I've mentioned here before, the perspective of life has dulled my senses to things I used to find both joy and despair in. An optimist would look at that and comment on how that means I'm no longer a wretched, miserable mess whenever a team I cheer for loses, while the pessimist would note that victory no longer brings euphoria to me. The Red Wings just finished playing the Blackhawks in the playoffs. I know in my mind that was supposed to be a big fucking deal. But it just doesn't get my heart pumping like it once did. I slept through Game 2 of that series, that's how little it really mattered to me. So when I take those strolls down memory lane and see how dramatic I made things seem, it puzzles me. As if someone else entirely wrote all that stuff.
But at the same time, I can still see parallels. If football is a metaphor for life, then Denard Robinson is all of us. Every person who grows up in this world eventually has some sort of expectation placed on their shoulders, even if they don't realize it. We all have people in our lives who hold us to a certain standard, and expect us to live up to that ideal, even if we're unsure of the requirements. Whether it's a parent, or a teacher, or a spouse, or a friend, or a child, or a complete stranger, there is always someone overseeing all that we do, paying attention. Often times, we are completely oblivious to the eyes on us. Four years ago, I wonder if Denard Robinson had any idea what was ahead for him. This carefree, happy-go-lucky kid from south Florida who had a rough upbringing decided that his way out was going to be Michigan. Did he give any thought to the bigger picture? Was he even aware of it enough to know the true magnitude of that picture? High school recruits always throw out the size of Michigan Stadium as one of the positives about Michigan - but do they ever pause and consider what that really means? For a few Saturdays each fall, Michigan Stadium holds over 110,000 fans - but how many don't come to the games? How many people are out there, spread across this country, and even this planet, who call themselves "Michigan fans" and tune in to watch the football team each week during the season? Being a football player at the University of Michigan means something more than just putting on the winged helmet. Being a quarterback for Michigan means more than just calling plays and throwing the ball. Being a starting quarterback for Michigan is bigger than just leading a football team for a dozen games a year.
Starting at quarterback for Michigan means you are one of the most recognizable
people on campus. It means you have thousands upon thousands upon thousands of eyes watching you every weekend, with an often-irrational level of expectation. But it also means you have to grow up a little quicker than you expected. When you play QB at U-M, you inherit the legacy and prestige of those who came before you, and with that you carry the responsibility of continuing that tradition. Those men, long departed from U-M, were likely foreign to the undersized kid from Florida with the dreadlocks and the bright smile. Denard Robinson never grew up dreaming of following in the footsteps of Brian Griese, or Tom Brady, or John Navarre, or Chad Henne. He just wanted to find a good school that would give him a chance to play quarterback. When he committed to Michigan, most of us figured he'd get a year in at QB, and then move somewhere where he could be more useful, like running back or receiver. Two of the major recruiting sites listed him as an "athlete;" AKA, maybe he could play QB in a pinch, but he'd be more productive at receiver or something. Another site didn't even give him that; Scout listed him as a cornerback. If all things were equal, Denard probably would've gone to Florida - he showed up at his commitment press conference wearing a Gators cap. But Florida didn't see him as a quarterback; Rich Rodriguez did. The man who turned a three-star kid from some small town in southwestern Alabama into one of the deadliest dual-threat quarterbacks in college football history saw something in Denard that he liked.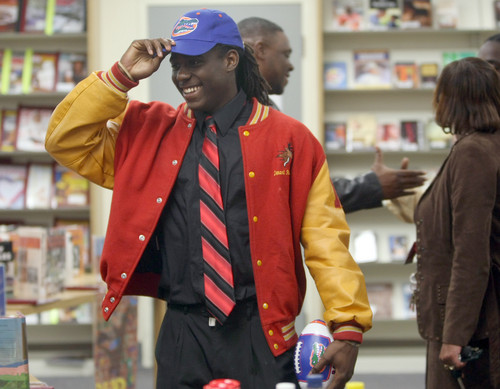 But even then, there was no expectation for Denard. We all knew about his speed, and going into Florida and snagging a speed freak from the Gators excited us, but on Signing Day 2009, the discussion of quarterback was all about the kid from California who had been groomed to be a big-time QB his whole life. Tate Forcier was supposed to be the salvation; the one who guided us from the depths of the 2008 disaster. The future of one of college football's blueblood programs rested on a teenager. And for a moment in time, he appeared ready to handle that weight. Even as we as a fanbase continue to move on from the Rodriguez era (even now rarely does a day go by on The Fort where an RR topic is not brought up), we still go to YouTube to watch what Forcier did to Notre Dame on that sunny day in 2009. Denard barely saw the field that day, and Tate engineered a miracle. There was no doubt to whom the future belonged.
But Forcier wasn't able to cope with the expectations. The weight of the world proved too much for him to hold up. In retrospect, we should've known (and in fairness, many did indeed predict) what would happen. Parents who micromanage and control their children to the point of suffocation only serve to ruin them. Forcier's story is a sad one, because while opposing fans and media chastized him for being too arrogant, too flamboyant, too cocky, what else was he supposed to be? Humility is something that is taught at a young age, but can just as easily be snuffed out. Tate Forcier grew up in a world that told him he was the greatest thing since sliced bread. When you hear that enough, the need to improve in the face of adversity withers away. And as the 2009 season slipped away and Tate gradually broke down, he encountered an adversity that he had never seen, and worse, had never been prepared for. So when that offseason hit, there was no reason, in his mind, to do anything different. He had been handed the job when he got here, so of course it was going to be his no matter what.
For Denard Robinson, the opposite holds true. When you grow up in less than ideal family conditions, in a neighborhood that most of us wouldn't dare enter, and when you're a quarterback under 6'0 without any polish to your game whatsoever, adversity is all you know. People telling you you aren't good enough becomes a rallying point for you in your own mind. Complacency isn't something that ever threatens to permeate your conscience. So while Denard spent most of 2009 on the sideline, only getting occasional plays here and there, and rarely getting to throw a pass, he never doubted himself. If anything, he would look and see Forcier leading the offense, and would be even more motivated to work harder.
At some point between the 2009 finale and the 2010 season opener, two ships passed in the night. One quarterback felt secure in his position, and did nothing. Another yearned for more, and did everything. And in that process, Denard Robinson took the title of "savior" away from Tate Forcier, and never, ever gave it back. If history beckons those who seek it out, then history will remember Denard fondly, because as the storm clouds continued to gather over Schembechler Hall, and as the inferno our beloved football program was in only got hotter, Denard grabbed the bull by the horns.
Michigan fans haven't really had a "normal" season opener in a while; at least in terms of expectations, that is. In that sense, 2007 was the last one, and by the time the 2007 season opener was over, everything we thought was true simply wasn't so. Every opener that's followed has been shrouded in some degree of uncertainty: 2008 brought the dawn of an era we thought would open us up to the future we had rejected for so long; 2009, we were hoping for simplicity in the form of completed passes and a lack of fumbles; 2010 was another new quarterback and more prayers for no more goddamn fumbles; 2011 was
another
new coach and
another
"new" offense, and the uncertainty that came with all of that; last year, many Michigan fans clung to the belief that Michigan could actually hang with Alabama.
The 2010 season opener was an unusual festival of expectation, excitement, fear, and the uncertainty of what might happen if things went sour as those ever-present storm clouds still loomed over all of our heads. UConn was viewed as a very sturdy opponent with a defense that was expected to (and ultimately would) lead them toward a possible Big East title and a BCS bowl. Michigan was starting a new quarterback for the fourth time in four seasons, and for the third straight year under Rodriguez. We had seen glimpses of what Denard was capable of as a runner in his freshman season, but his passing wasn't anything anybody had anything good to say about. Forcier was the football equivalent of a pencil that had been ground down to the eraser by the end of the 2009 season, but there was still much trepidation and worry among the fanbase when the offense took the field to start 2010 and it was Denard, not Tate, at quarterback.
Denard's first drive as Michigan's starting quarterback started at his own four yard line, and 96 yards and six minutes later, it ended in the endzone. His second drive ended with him running 32 yards for a touchdown, during which Matt Millen declared "that's six" with Denard still 20 yards from scoring. By the end of the day he had completed 19 of 22 passes for 186 yards and a touchdown, and run for 197 more, leaving most of us wondering what exactly we had just seen. The wide-eyed kid who ran with such exuberance and had no touch or skill behind his passes as a freshman now resembled some sort of ninja.
But Denard couldn't save Rich Rodriguez, because only Rich Rodriguez could save Rich Rodriguez. Doing so would've required a radical and fundamental uprooting of his philosophy - if you've ever met a football coach, you know that change is not something that tolerate kindly. Denard could only do what was asked of him; it wasn't his job to save the defense - that task was placed in the hands of an old man with some sort of stuffed animal on the sidelines. All Denard could do was take the field, regardless of what the defense did previously. He opened our eyes against UConn, and captured our hearts and minds the following week. What Denard did in Notre Dame Stadium that day is something none of us will ever forget; the fact that he somehow managed to eclipse that performance the following year is almost unfathomable. History is written by the winners - nobody remembers Michigan's offense stalling for large, yawning portions of the 2010 game in South Bend; we remember Denard's breathtaking 87-yard touchdown, and the final drive that won the game. Nobody remembers (or just chooses to forget) three quarters of flailing ineptitude in 2011; we just remember perhaps the most electrifying quarter of Michigan football any of us will ever bear witness to.
Even as the 2010 season started to fade, and Rodriguez entered the walking ghost stage of his Michigan tenure, Denard never wavered. Iowa, Penn State and Wisconsin all raced out to huge leads against Michigan; leads that they would not relinquish. But nevertheless, Denard wowed us. Against Penn State in particular, Denard brought the team to a position where a defensive stop meant a chance to tie the game. The defense failing in that task does not diminish what Denard did, even as the brutality of the season took its toll on him physically.
I sometimes wonder what Denard was feeling when the axe finally came down on his head coach in the wake of the atrocity against Mississippi State in the Gator Bowl. Was he angry? Was he distressed? Did he blame himself, or the AD? Did he cry for the man who brought him to Michigan, or did he swallow that despair? I imagine there is always a sense of guilt for players when their coach is fired. It seems it would be a very helpless feeling, knowing that you gave your best, but things ended badly anyway.
Did you know there were only six days between Rich Rodriguez's firing and Brady Hoke's hiring? I looked that up, and did a double take. I guess because it seemed so obvious for so long that Rodriguez was DOA, that the time between firing and hiring felt like weeks. 12 days after Rodriguez was fired, and six days after Hoke was hired, Denard Robinson announced he was staying at Michigan. It would've been easy, and understandable, for him to transfer. He could've gone elsewhere, taken a redshirt, and still played two more years of football. But the same fundamental attitude that allowed him to eclipse Forcier following the 2009 season is the same attitude that did not steer him away from Michigan once the man who brought him here was cast away. "Those who stay will be champions" is a punchline used by Ohio State fans nowadays because Michigan hasn't won a Big Ten championship in nearly a decade; and it is in that two-dimensional line of thought that said OSU fans expose their ignorance, and the mentality that nothing outside the football field matters. In Columbus,
no transgression is too egregious; as long as you win on the field, any sin you commit off it is just background noise.
Things are
slightly
different at Michigan. Being a champion on the field is important, certainly. But that's not the only definition of "champion" that is valued. Chris Webber had more success on the court at Michigan than Denard Robinson had on the football field. One of them has been exiled from the university for over 10 years now; the other is and will always be welcomed with open arms as long as he lives. In a twisted sense of irony, the kind that life always loves to throw in our faces, for all the "Michigan Men" that have coached Michigan over the decades, the one who was decidedly
not
part of that group was the one who brought Denard Robinson to Michigan, and I can think of no one who better exemplifies what Michigan stands for than Denard. A sub-6'0 quarterback with average passing ability on his best days would never have been recruited by Moeller, Carr, or Hoke today. Only under Bo, during his dalliance with the option, would a QB with Denard's measurables and skillset have been an option (ha!), and even then that was because Bo (and the era as a whole) didn't give much thought to passing the ball. The "prototype" that came to exist at Michigan was cultivated by Harbaugh, Grbac, Collins, Dreisbach, Griese, Brady, Henson, Navarre, and Henne, and will continue going forward under Gardner, Morris, and Speight: tall, big-armed quarterbacks who would very rarely run under any circumstance and would operate almost exclusively under center in a "pro-style" offense. Tossed in the middle of all those names though will be Denard; rarely under center, and often scampering for huge chunks of yardage. In terms of actually passing the ball as a quarterback, Denard would likely rank near or at the bottom of that long list of names. Does that tarnish what he did in his time at Michigan? To some, I suppose it does.
I, on the other hand, contend that Denard's legacy is bigger than the stats. He arrived at the darkest moment in the program's history, went through two years of nonstop controversy, when seemingly each day brought another piece of bad publicity for his coach and his program. At no point did he allow any of this nonsense to affect his play, and that showed. Denard willed the program through the storm, not just on the field during games, but off the field. If Bo's death on the eve of the Ohio State game in 2006 was the beginning of a period of immeasurable suffering for the program, then I say that Denard announcing he was staying after Hoke was hired was the end of that pain. One of the biggest arguments fans used (myself included at times) in defense of Rodriguez was the thought that another coaching change would bring about more transfers and defections and the steep hill we were already trying to get over would become steeper still. We assumed that the mass exodus that occurred in the wake of Rodriguez's hire was the norm during transitions from one coach to another. Brady Hoke not being the volatile bomb thrower that Rodriguez was certainly played a big part in that nightmare not repeating itself; but Denard Robinson was the face of the program in mid-January 2011, and him announcing that he believed in the new head coach enough to stick around despite everyone knowing that they were not a perfect match for each other transcends anything Denard accomplished on the field in a helmet and pads.
In the four games against Ohio State following the 2006 game, Michigan scored 27 points.
Total
. In each of these games, it felt like any sort of positive yardage on the ground was a major plus, because Michigan was so thoroughly outclassed in the trenches. It felt like any defensive stop shy of 10 yards was significant, because the defense degenerated into such a jumbled puddle of goo that it seemed like Ohio State could and would score on every play. When Chris Wells scored in 2007 to make it 7-3, that game was
over
, that's how non-existent Michigan's offense was. When Wells scored in 2008 to make it 7-0, that game was
over
, because that was the worst Michigan team ever and that game was basically over before it started anyway. Michigan showed one tiny glimpse of fight in 2009 when they scored early in the second half to make it 14-10, but Ohio State responded with nine straight runs before scoring on a touchdown pass, and that game was
over
. In 2010 that game was
over
before it began because Michigan's coach was a walking ghost and everyone knew it; it was just a matter of how bad Ohio State wanted to make it. The gap between the two programs that began under Carr exploded to Grand Canyon levels under Rodriguez to the point where we genuinely didn't expect anything to go right. Like I said, any miniscule gain of yardage was a success.
The lead-up to the 2011 game was unfamiliar. Ohio State was flailing around through an aborted season because their crime lord had finally bitten the dust after 10 years of cheating, while Michigan was surprising everybody and looking like a pretty decent football team. Two weeks before the Ohio State game, Michigan was 7-2 and headed into Champaign to play an Illinois team with a pretty lofty defensive ranking. U-M had a hitch in their giddyup because of that frustrating 24-16 loss at Iowa the week before. The 7-2 record looked precarious with games against Illinois, Nebraska and OSU still to come. When Michigan responded with shocking, sledgehammer-like brutality against Illinois (31-14) and Nebraska (45-17), we as fans found ourselves in a spot we weren't used to: we
expected
to beat Ohio State. The offense that stalled out against Michigan State and Iowa found some sort of groove against the Illini and Huskers. At the same time, the scars of the previous years against Ohio State kept us humble, and afraid. When Ohio State's opening drive ended with a 54 yard touchdown and Michigan's opening drive ended with three plays, five yards, and a punt, that same cold knot of dread grew inside all of us. We had seen this goddamned movie before. We knew the ending.
On the second play of Michigan's second drive, the script changed. Denard Robinson pulled the ball out of Fitzgerald Toussaint's stomach, made a one-step juke on Etienne Sabino, found the sideline, and raced 41 yards into the endzone with no one close to touching him, smiling the whole way home. On the next drive, after a safety gave Michigan its first lead against OSU in four years, Denard lobbed a pass some 30 yards down the middle of the field, into what seemed to be a mass of players, both Wolverine and Buckeye. As it turned out, though, the pass had a planned destination after all, as Junior Hemingway appeared to materialize out of nowhere in the endzone, plucking the football out of the air and putting Michigan ahead 16-7.
Denard's performances against Notre Dame in 2010 and 2011 are the ones most often cited as his best, or most electric, or whatever superlative you prefer. His virtuoso performance against OSU in 2011 almost feels overlooked at times, for reasons I can't figure out. Few players have worn the winged helmet and performed better against Ohio State than Denard did in 2011. The years of psychological torture that were laid to rest that day were done so almost entirely by Denard.
If you look through photos of Denard in action in a Michigan uniform (including the one above), he's smiling so much, so often. I can't think of any player who smiles on a football field as much as Denard. Football is a violent, destructive game, with less and less emphasis on the "game" part with each passing year. It's all about glory and power and ultimately money now; you don't really see anybody playing the game for the sheer joy of it. Denard was unique like that. He plays football the way I wish all of us could live life: light-hearted and with a smile, having fun.
One of the few times that I vividly remember Denard not smiling was against Michigan State last year. The win over Ohio State in 2011 left the Spartans as the only blackmark on Denard's resume at Michigan. The outrageous spectacle of the Spartans running their stupid mouths on Twitter during Michigan's loss to Alabama to open last season made it personal - the comedy of MSU players talking trash about someone being whipped by Alabama aside. Mark Dantonio's entire program is built on hypocrisy; for Denard to have gone winless against them during his career would've been a perverse indignity.
I get the sense that Denard felt the same way. Last year's game was one of the more "smashmouth" games I've seen Michigan involved in. Both defenses were A+ on that day (despite being stuck with a D- Big Ten Network crew that honestly made the broadcast dull and listless for such a big game, but I digress). MSU spent three years focusing every ounce of their energy on defense on stopping Denard, and they succeeded three times - the difference last year being that Michigan's defense kept MSU's offense in its rightful fetal position all day, giving Denard one final chance to exact the vengeance he specifically set out for before the season. After he completed the final pass to Dileo and spiked the ball to stop the clock, Denard marched toward the sideline, a scowl on his face, as if ordering Brendan Gibbons onto the field to win the game, as if to say, "I've had it with these motherfuckers. Enough is enough."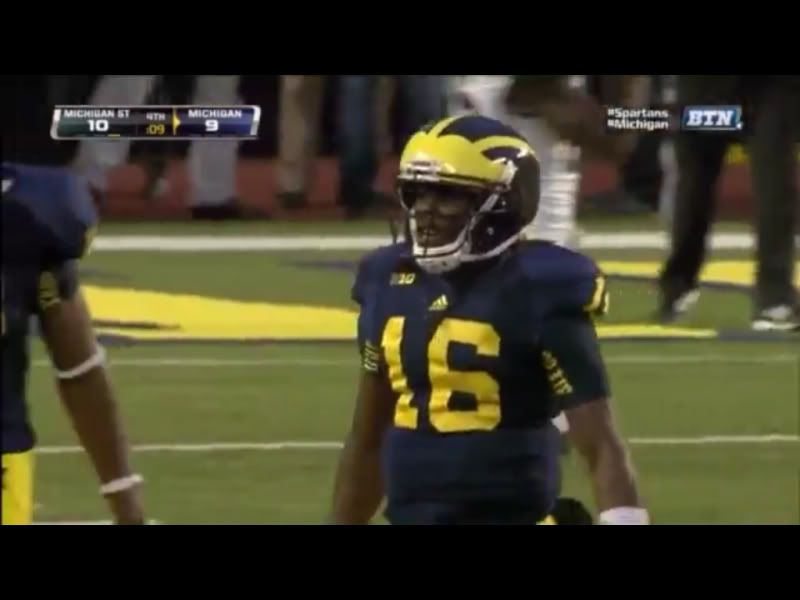 As I mention on here far too frequently, they're called storybook endings, not "real life endings." So, naturally, Denard couldn't ride off into the sunset. He would instead be strong-armed to the sideline with a weakened arm. With each game, it seemed like Al Borges grew more and more impatient with the mish-mash hybrid offense he had thrown together to accomodate Denard's skillset. Thus, even as Denard's third year as a starter progressed, his effectiveness and ability to put points on the board seemed to flounder. Even then, the instant he went off the field that night in Lincoln last year, we all witnessed just how precious and valuable he was. That was a very winnable game that lost all possibility of victory when Denard's elbow hit the turf in the wrong spot. Michigan lost the Legends Division to Nebraska by one game.
Denard was never perfect. He was an imperfect passer in an imperfect offense on an imperfect team at an imperfect
point in history
. He was recruited for one thing and ended his career doing another. The coach who recruited him at the start was fired; the coach who had him at the end wouldn't want him under regular circumstances. He had moments of strangled ineptitude mixed in with moments of sheer brilliance; the inconsolable sadness on his face after the Iowa loss in 2009, and the visceral, primal screaming of euphoria as he raced onto the field after the Sugar Bowl against Virginia Tech. What he inherited was a once-great civilization that was unraveling and depended on him and him alone to hold it together; what he leaves behind is a civilization on its way toward being great again, and has evolved to the point where he was no longer the savior, but just along for the ride. The lunacy of 67-65 triple overtime wins and last minute 42-35 wins has been replaced with boring, uneventful 45-0 and 44-13 slaughters, and in that transition, the base need for Denard Robinson to be all things at all times faded away.
Denard Robinson's college career represented everything about the everyday lives we lead: fleeting moments of both despair and delirium sprinkled amongst the everyday dramas and burdens, while always trying to move forward and make the best of what we have. An equal part tragedy and triumph, we close the book on Denard's career with the memories of Notre Dame, editions 2010 and 2011, Ohio State 2011, and Michigan State 2012, and a BCS bowl win. We remember 200 yards of offense against Bowling Green in ten minutes, and two long touchdown runs that turned out to be crucial against Air Force, and taking Illinois and Purdue and bludgeoning them back into their proper places after the horrors of 2008 and 2009. We remember him bowing in prayer and giving thanks each time he scored; ironic, because it was us who gave thanks to him even more.
The future that lies ahead for the football team we all hold dear is a bright and prosperous one. But while we anticipate it and eagerly wait to see what the five-star running back from Virginia or the five-star cornerback from New Jersey can do, let us never forget the one who set the stage for this bright new frontier; the one who bridged the gap between the darkness of yesterday and the dawn of tomorrow.
There's a little Denard Robinson inside all of us, I think. People like to talk about little angels and devils sitting on shoulders. Maybe there's a little Denard there too; that voice that encourages improvisation and creativity, and making the most of a situation, no matter how grim; a voice that tells us to smile, and to enjoy what we have, in the time we have it; a voice that doesn't take no for an answer. The next time life throws a 300 pound lineman at you, the Denard in you will help evade it. And when it clings to your ankles, desperate to drag you down in defeat, your inner Denard will give you the strength to press forward and complete the pass anyway. And when you find yourself rapidly running out of space, and your obstacles and burdens bear down on you, the Denard inside you will give you just enough to escape and move forward.
You may not reach the endzone. But you will be closer to your goal. You may drop the ball, but you'll be able to pick it up. Your best laid plans may go awry, but you'll always have a contingency.
That was Denard Robinson. Never perfect, often smiling, always humble. He helped us remember how to fly, even at our darkest moments when we thought we had forgotten forever. And for that,
he
will be remembered to Michigan fans for what he is.
A hero.