The Gods.
For the second straight game, the "21st Century Edmonton Oilers" had no answers. The New Gretzky and his sidekick Evgeni Sulken haven't disappeared during the Stanley Cup Final. They've been swallowed up and thrown into the wood chipper by the Big Red Machine. If you recall,
I said before the series started
that the Wings would win, possibly in five and perhaps in seven. I may not have given my Red Wings enough credit. Two smothering games and 7-0 later, the Wings are halfway to the Cup, and based on these first two games, I find it hard to believe a change of venue is going to cure all that ails Pittsburgh. They ARE 8-0 at home in the playoffs, and they have won something like 16 straight at the Igloo dating back to the regular season, and god knows they could be in for a slew of power plays after their coach Michelle (yes, I spelt it that way on purpose) Therrien spent the entire postgame press conference whining like a sniveling crybaby about the Red Wings getting away with all kinds of obstruction. Hey, Michelle, take off your dress, and talk about what adjustments you can make to solve your team's offensive ineptitude. Find a way to cure Evgeni Sulken's sudden allergy to the puck. Oh, wait, I forgot, you already tried mixing things up, and the end result was Gary Roberts resorting to thuggery by taking a shot at Johan Franzen's head and Ryan Malone smashing Henrik Zetterberg into the boards well after the whistle. As it was going on, I wondered aloud how the Penguins could lose their composure so badly, but when I saw the postgame presser and realized what a bitch their coach is, it made sense. Start booking your tee times, Michelle. Or should I say, tea time?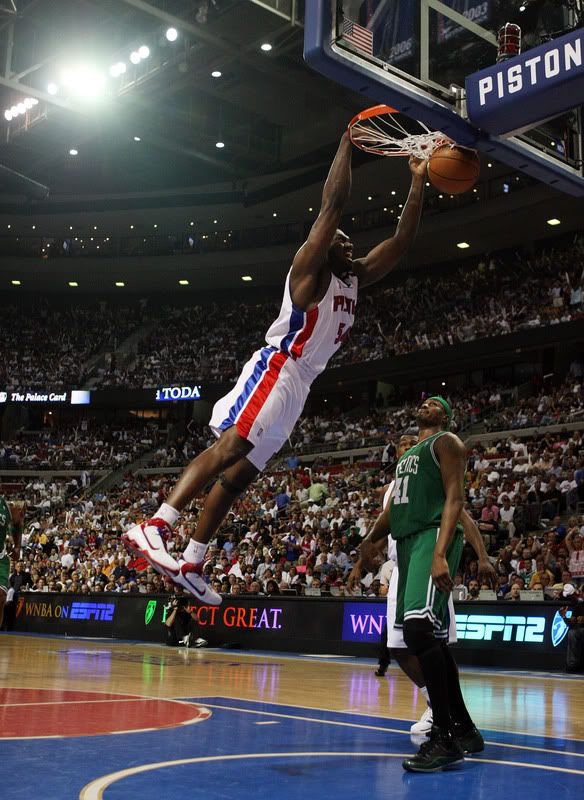 Detroit 94, Boston 75; Eastern Finals 2-2


The Ghosts.
What I'm about to say will be viewed as excessively pessimistic (also known as my modus operandi), and no one hopes I'm wrong more than me, but here goes:
What happened at the Palace Monday night was a complete mirage.
Make no mistake, the Pistons thoroughly outplayed the Celtics in Game 4. They went on a run late to make the final margin 19, but it should've been that big for the entire game. Yes, the Pistons were more physical than even their usual style of play dictates, but many of the fouls the refs were calling were just atrocious. Boston fans say it was the refs finally cracking down on all the hand checking the Pistons were doing, Detroit fans say it was the refs looking out for the NBA's golden boys, making ticky tack fouls to keep them in it. I'm not crying conspiracy; I'm not. But a lot of the fouls were lame, and I'm glad the Pistons revved it at the end to make the final score indicative of the thorough beating they laid on the Celtics.
Now, with that said, I'll repeat myself - it was a mirage.
I've grown weary of the dog and pony show these Pistons put on each night. This whole "flipping the switch" thing makes me sick. It seems obvious now that they do not have what it takes to win the NBA title. One night they're making crisp passes and running a fluid offense at one end and constantly harassing the ball and blocking passing lanes with swarming defense at the other, and the next night the offense is offensively stale, a lot of iso dribbling and jump shooting to go with lackluster, gutless matador defense that escorts opposing players to the rim for dunks and layups. This is the Eastern Conference Finals, people. If they haven't "flipped the switch" to the "on" position permanently by now, it's not going to happen. You want to look at Game 4 as a turning point, and you want to believe the same fiery Pistons that stole Game 2 in Boston will do the same in Game 5, but it ain't gonna happen. This is the most schitzophrenic team in any American sport going today, bar none, and that will never win a championship. Ever.
Antonio McDyess deserves a lot better than this. He's the only one you can point a finger at and say, "Look at that guy, he brings it every single night, leaving his heart on the floor." Yes, it's true, these Pistons fear no venue, there is no opposing crowd that can rattle them, and certainly no imaginary faux Garden mystique that's going to magically carry the Celtics past the Pistons. But the fact is that for two of the four games in this series, 50 freaking percent, the Pistons have no showed it completely. Once is abominable enough, but to not show up ready to come out guns a'blazing in Game 3 with a frenzied Palace crowd two nights after you stole all the momentum...that told me all I needed to know about these Pistons.
DetNews's Rob Parker
mentions in his latest column
that the same scenario played out in the 2004 East Finals between the Pistons and Pacers, with each team winning on the other's court while splitting the first four games before the Pistons won Game 5 in Indianapolis 83-65 before winning the East at home in Game 6. Is it possible that the same thing could happen here? Sure. Am I hoping for it? You bet your ass I am. But what you call pessimism, I call realism, and realistically, what have the Pistons shown that makes anyone think they have what it takes mentally to win three straight against Boston? They haven't even put together back to back good games yet.
They had the Celtics right where they wanted them. 1-1, two games coming up at the Palace. They had them. And they let them off the hook. And it's going to spell doom for them.