In 2004, they gave us a glimpse of what was supposed to come. The carries, yards, and touchdowns that were supposed to go to David Underwood instead went to some freshman the average Michigan fan had never heard of. Some short little tough motherfucker who wore #20 and had the perfect name. The passing yards, touchdowns and interceptions all went to that heralded Henne guy we snatched from Penn State's clutches. Instead of spending a year or two learning from Matt Gutierrez, he was thrown to the wolves right away. On the job training, all while carrying the weight of the world on his shoulders.


But they had help along the way. The brash, never-silent assassin that wore the Number One decided to return for one more tour of duty. Did he know the onus would fall on him to help the new guys? Probably not. He probably wouldn't have returned if he knew that in time. But it didn't matter. Senioritis kicked in for Braylon, but not the kind you and I laugh about before kicking back in science class and ignoring the teacher. This kind of Senioritis was the kind that motivates the hearts of men desperate to prove themselves the world over; to show those who doubt them, "I'm all I've said I was, and more. Now sit back and watch me work." And work he did.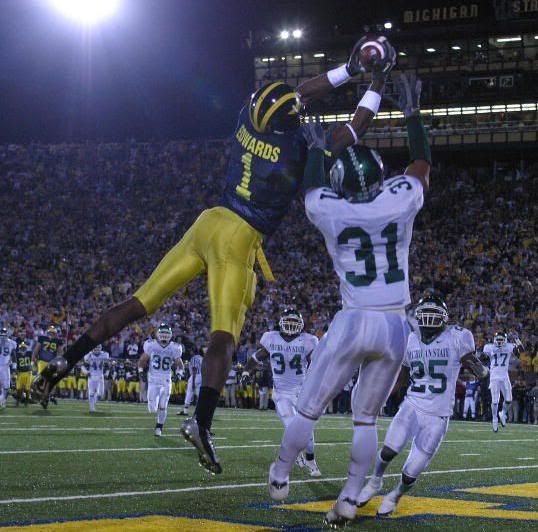 That was the night Braylon won our hearts forever. Our hearts were won, but they would be broken. Three weeks later, we saw just how much The Red-Vested Tressel was in our heads. We tried to shake it off. We were still going to Pasadena, and USC wasn't anywhere near it. This was a chance to stop the bleeding.

Instead, we watched in horror as our own beloved hero wearing #1 was upstaged by another, this one wearing #10. In a perfect representation of everything Michigan football seems to be about now, Braylon scored three touchdowns, and Vince Young scored four. Vince Young treated Michigan like we treat Michigan State - without much notice, flicking us away like annoying little insects while steamrolling to victory. In the end, Texas had 38 and Michigan had 37, and I had hours and hours to replay the fourth quarter in my head and cry about it. And I also had the lasting image of Braylon and Mike walking off the field, Braylon holding his head high, leaving the field as a member of the Maize and Blue for the final time, and Mike, the freshman, a look of devastation and sadness on his face. His hell was just getting hot. His heart was just starting to break.

If 2004 was a reminder to us of what could've been, 2005 told us what might be. Braylon was gone and Mike was hurt, leaving the coaches badly exposed. The superior talent Michigan has relied on for so long wasn't there, and the result was Seven and Five, each of the Five more painful and difficult to swallow than the last. Against Notre Dame, we were bewildered and silent. Against Wisconsin, we shook our heads and swore. Against Minnesota, we covered our faces in shame. Against Ohio State, we choked back vomit when we led 21-12, knowing what was coming, but unable to look away, and unable to accept it as truth. Against Nebraska we resigned ourselves to defeat, because that's what the football Gods had declared us the carriers of.

Those same football gods stepped out of the office for 11 games in 2006. For 11 games, Michigan football was back, kicking ass and taking names. The sinners who trespassed against us in 2005 - Notre Dame, Wisconsin, Minnesota - paid the price for their insolence. LaMarr Woodley carried the grudge of 2005. So did Mike Hart. And Dave Harris. And all the others who played prominent roles in the worst season in 20 years. Together, they united and said "not again". And for 11 games, they proved everybody wrong. They gave the finger to the talking heads that had claimed Michigan's program was sinking, that Lloyd's style was extinct.

And then that fateful 48 hours in November. The football gods returned from lunch, Bo died, Troy Smith threw four touchdowns, and Michigan's run defense gave up two 50-yard touchdowns. The smoke and mirrors of the first 11 games were extinguished, shattered, exposed. This is what we were. And we got confirmation of that 6 weeks later. Six weeks of being told "You're not good enough" after being leapfrogged by Florida. Six weeks to build up the rage and unleash it in the thorny paradise of Pasadena, against a foe all too familiar. The result was all too familiar, as well.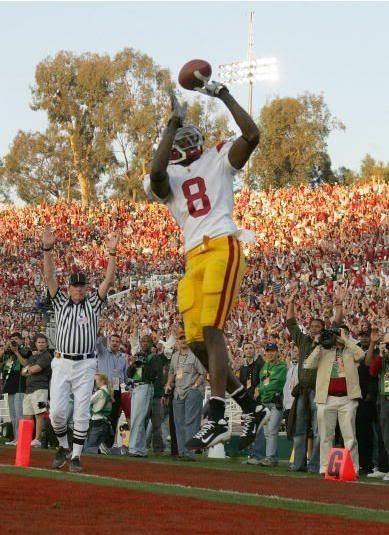 After 11 games of retro, 11 games of revenge, giving up 74 points in two games equals one thing: More heartbreak.

We should've known what 2007 would bring us. We allowed ourselves to become disillusioned. We all suspected this would be Lloyd's last year, and with Chad, Mike, and Jake back, grizzled by the past, we thought this would be different. Instead, we got moments like this one and this one. The year in which everything was supposed to come together came apart before it began. This year was in trouble the moment Woodley, Harris, Burgess and Hall graduated and Branch left early. But we bought into the hype. We set ourselves up for heartbreak.

So here we are. One last opportunity. One final chance. Nothing else matters except Chad, Mike, Jake, and probably Mario, taking the field in the Big House for the final time. Fair or unfair, they are judged by what they did against Ohio State. For all the love we have in our hearts for Hart, for all the moments we cherish from Chad, if they leave the field tomorrow while the Buckeyes celebrate, all of us will feel their pain. We'll have lumps in our throats, butterflies in our stomachs, tears in our eyes and emptiness in our hearts - our broken hearts.

One more time, Mike. You've waited for this moment since November 18th of last year. It's upon us now. I spoke to a friend of mine on the phone yesterday - ironically, a Michigan State student - and I said "If Mike's leg is ATTACHED, he's going to play, and play a lot." But I didn't say how well. That's all up to you, Mike. You've already created countless memories over the past four years, my friend. All I can ask of you now is for one more.

Just one more. Save us from further heartbreak, Mr. Hart.

Go Blue.